Wildlife Week Celebrations

CEE Madhya Pradesh State Office observed the wildlife week celebration in collaboration with Van Vihar National Park, ZOO Outreach organization and WWF- India. School and Colleges students, Press and Media, representatives from government and NGOs participated in the programme held from1-7 October. Dharmaraj Patil, CEE delivered a lecture on Biodiversity to press, media and NGO representatives on 3 October, and for teachers on 4 October. CEE organized programme with Satputra Tiger Reserve, Hosangabad on 6 October.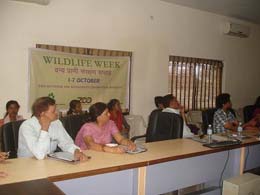 The wildlife week celebrations organized by CEE Madhya Pradesh reached out to more than 200 participants.
CEE Jaipur, in collaboration with Jaipur Zoo and Rajasthan State Pollution Control Board celebrated the Wildlife Week from 1-7 October 2010 at Jaipur Zoo.
The objectives of the five-day event were to generate interest about wildlife amongst the younger generations, develop better understanding about the role and importance of wildlife in balancing environment, and to reach out to the schools with the conservation message.
During the week, CEE supported Jaipur Zoo to conduct a number of activities including quiz, drawing and painting, essay writing, photo identification and elocution competitions. Through the week a variety of games related to environment were played.
CEE supported the event as a State Resource Agency of National Green Crops in Rajasthan.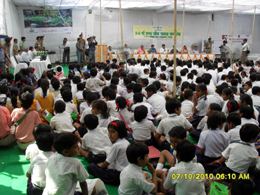 Nearly 10,000 students from 15 NGC schools and 25 other schools of Jaipur visited the Zoo, and around 2000 students participated in the different activities.
Honorable Minister of Environment and Forest
Mr. Ramlal Jat, was Chief Guest at the valedictory function on 7 October at Jaipur Zoo.