Paryavaran Mitra activities
Paryavaran Mitra at Kankaria Carnival 2010, Ahmedabad Gujarat

The weeklong Kankaria Carnival 2010 kicked off in Ahmedabad on the 25 th of December. The theme of the carnival this year was 'Bharat Jodo' with tableau representing the many facets of Indian culture and identity. Ahmedabad Municipal Corporation ( AMC ) organizes this mega event which attracts thousands of people. every year from 25 to 31 December at the Kankaria Lake.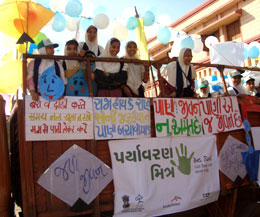 Paryavaran Mitra was showcased at this event where students and teachers worked together with the CEE West team for five Paryavaran Mitra themes of Water, Energy, Waste Management, Culture & Heritage, and Biodiversity.
The Waste Management tableau prepared and represented by Sheth CN Vidyalaya carried messages focusing on the volume of waste created and the importance of segregation. The water tableau was done by FD High School stressing water conservation by focusing on the importance of every drop of water where students showed up dressed as water droplets. The Energy tableau prepared by Vishwa Bharti School showcased the switch to CFL bulbs instead of the conventional ones and maximize the use of solar energy for sundrying and solar cooker. The biodiversity tableau prepared by Sheth Amulakh School was about Conservation of Biodiversity by bringing attention to the local flora and fauna of Gujarat . The Culture and Heritage tableau was prepared and represented by Anand Niketan School , Satellite and showcased living culture through a Chabutara, Jaalis, and students performing folk dance at the carnival.
Paryavaran Mitra Orientation Programme for NGOs

A two-day orientation workshop was organized by CEE North aimed at training the partner NGO teams who will be involved in the implementation of Paryavaran Mitra programme. During the programme, district level action plan was prepared. Each NGO developed their own strategy for the selected district/s for implementing the programme, and submitted a proposal to CEE. 6 NGO partners have been identified. They will cover 12 districts ( Allahabad , Auriaya, Barabanki, Gorakhpur , Itawah, Kanpur , Maharajganj, Sant kabir Nagar, Siddarth Nagar, Unnao and Varanasi ), which in turn will reach out to 1200 schools. Around 15 NGO members attended the orientation programme.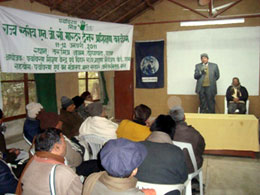 The plan includes enrollment of 100 schools, orientation workshop for teachers, school- level activities, and an event.
Paryavaran Mitra programme in Kashmir

Through special session, PM programme was introduced, the implementation strategy was shared, a recap on NGC programme, activities done through eco-clubs and success stories were shared with the participants. Role of NGC Nodal and Resource agencies in PM programme implementation was clarified. PM booklet was shared and discussed. The Urdu draft of PM booklet was also field tested during the session and comments are being incorporated in the Urdu version. Low Carbon Lifestyles kit was also shared and discussed during the TOTs.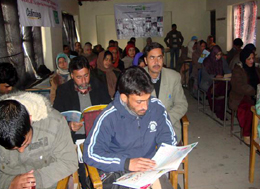 A special session for Paryavaran Mitra Programme at Kashmir
The participants also provided their observations on local climate change and its impact on agriculture, water, local weather and snow cover through a simple questionnaire designed for this purpose.
Regional Launch of Paryavaran Mitra programme at Pune by Dr. A.P.J. Abdul Kalam

Paryavaran Mitra launch by Dr APJ Abdul Kalam, with students and partner organizations from 4 states.
Paryavaran Mitra Ambassador with the students at their project stalls