World Environment Day Celebrations at CEE
CEE joined hands with rest of the world in celebrating World Environment Day (WED) on 5 June 2012 . The designated theme for this year as announced by United Nation Environment Programme (UNEP) has announced 'Green Economy: Does it include you?.' CEE's offices across the country organised events that reflected this theme and which focused on improving human well-being and social equity while significantly reducing environmental risks and ecological scarcities. A glimpse of some of the WED activities across the CEE offices.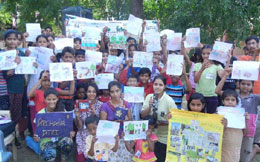 Participants creatively conveyed ideas for green action during WED event at Jaipur
CEE Jaipur, with Rajasthan State Bharat Scouts & Guides as their key partners, organized a two-day event to mark WED. A series of thematic competitions like essay writing, slogan writing, elocution, best out of waste, collage making, trendy bag making, poem writing, etc were conducted on June 4.
Around 1100 students participated in these competitions at three venues in Jaipur. Students learnt about various environmental concepts through a variety of activities like Face Painting, Painting on Canvas, Wishing Tree, Tattoos, and Environmental Bingo.
On June 5, the activities kicked off with a marathon 'Run for Environment' organized by Rajasthan State Pollution Control Board and Forest Department, Government of Rajasthan. Throughout the run, the participants communicated various slogans of environment and development through use of placards. Cultural programmes were also presented by students at the valediction ceremony. The programme culminated with an Oath for Biodiversity Conservation, and prize distribution to winners of various competitions. 400 children took the pledge for biodiversity protection, conservation, and sustainable use of resources through a signature campaign.
CEE North and Regional Science City (RSC) had joined hands to observe WED. The programme witnessed participation of 500 visitors including children and parents, and a group of 52 children from non-formal schools from a partner institution-Vigyan Foundation. The Paryavarayan Mela that began with the biodiversity-hunt engaged around 200 children. Children also participated in card making competitions in the junior and senior categories.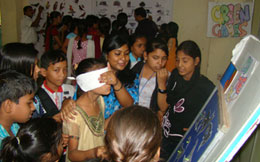 The Mela had games; creative and knowledge corners; sports activities like pin the tail, heavy weight champions, Bujho to jaane, throw the ring; pottery, body painting, message corner, Act Now exhibition.
A puppet show and a play by the school students of the Children's Forest Programme (CFP) appealing to 'Plant and Save Trees' were enjoyed by all. Winners received prizes from chief guest Mr. Atul Jindal.
On this day, the school students of the Children's Forest Programme (CFP) were invited to participate in the State-level programme organized by Uttar Pradesh Forest Department and Directorate of Environment, Lucknow. Students interacted and showcased their work to the State Ministers and Dr. R.K. Pachauri, Director General, TERI. Students had also prepared souvenirs depicting biodiversity which they presented to Dr. Pachauri.Despite the fact that the schools were closed for summer vacation, around 65 students and teachers from 4 CFP schools participated in the programme.
CFP is a programme to develop green campuses and to introduce environmental education to create better school environment. The programme focuses on schools - children, teachers, school management and local community. CEE North has been selected as one of the agency to implement this five year long programme. It was initiated in year 1991 by OISCA an international NGO from Japan.
CEE West with support from ECS Environment Ltd organized several activities for children between 6-15 years at the CEE, Ahmedabad Campus. Youth volunteers of Pandit Deendayal Petroleum University, Gandhinagar assisted facilitators in conducting various activities.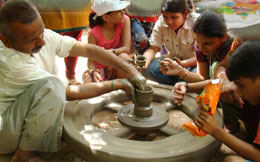 Origami, Puppet Making, Clay modelling, Pottery, tattoo painting brought out the creativity of the young audience.
The campus was buzzing with children and youth enjoying the environmental activities. Children were able to learn about local biodiversity through treasure hunt and bird watching trail. Focusing on the environmental issues the Quizzola tested the knowledge of children, whereas the poster making, slogan and poem writing competitions helped them to express their concerns about the environment and green economy in creative ways. Children also got an opportunity to capture biodiversity images at the CEE campus through a photography competition. The games corner helped children understand complex concepts of ecology and environment in a more interesting way.
Young volunteers of Government Primary School, Rajpur were the facilitators of the art-and craft corner. Solar cooking making workshop organized with the support of Swapath Trust was also widely appreciated. Children also cast their votes for the National Microbe. The event was concluded with the dance-play by children of Government Primary School, Rajpur based on the climate change theme. Winners of various activities received appreciation prizes.
Beating petrol prices with Vikalp!
The Youth Environment Network of CEE in collaboration with the Ahmedabad Police, and with support of Eco-Friendly Computech Solutions (ECS) organized the 'the Alternate Transportation Relay: Vikalp' with the objective of spreading awareness about using sustainable modes of transportation so as to achieve 'Green Economy'. Approximately 50 people from ECS, youth, volunteers, and 300 police trainees took part in a relay across the city streets by using alternate modes of transportation like walking, cycling and public bus i.e. Bus Rapid Transport System to spread awareness regarding the use of alternate modes of transportation. The relay started from ECS, Sindhu Bhavan Road and ended at Police Headquarters, Shahibaugh. Mr. Sanjay Srivasatava, the Joint Commissioner of Police and Mr. Parvez, the CEO of ECS extended their support to the cause.
CEE Andhra Pradesh (AP) celebrated WED in Shamnapur Village, Medak Mandal, and Medak District. The programme was organized with the support from partner NGOs-Society for People Awareness on Children and Environment (SPACE) and the Indira Kranti Patham (IKP) Project. On this day, demonstration of Eco-Chula was organized to create awareness on issues related to environmental pollution, and the impacts that the traditional biomass based cooking stoves have on our health. A plantation drive at Kajulawada Thanda, Shamnapur Panchayat, Medak Mandal and at Nutrition Centre, Shamnapur, Medak Mandal, Medak District were also organized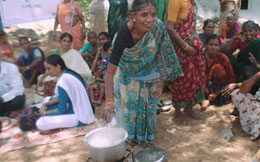 Around 120 Self Help Group members participated in the programme.
WED programme in Kanchipuram District, Tamil Nadu
CEE serves as a State Environment Resource Agency (SERA) for Pudhu Vaazhvu Project (PVP), which is funded by the World Bank and extended in 25 district of Tamil Nadu. The team from CEE AP is leading this project. CEE has been appointed to implement the Environment Management Framework (EMF) for the PVP. 25 PVP beneficiaries, who are involved in agriculture activities participated WED organized by CEE.
Ms. S. Rejini, Programme Officer, CEE briefed the project beneficiaries on WED; its background and importance, the 2012 WED Theme, the aim of Green Economy in rural livelihood: sustainable development and elimination of poverty and sectors for a Green Economy in Agriculture. Mr. P.Gunasekaran from Organic Farming Organization, Vellore facilitated the session on Organic farming. Different aspects like the impact of chemical fertilizers on soil and human health; advantages of organic agriculture; preparation of chemical-used land for organic farming; and training support were explained
The programme also included a video screening on "Malarun Poomi", an organic farming success story.
News from the Science Express-Biodiversity Special
Science Express-Biodiversity Special Flagged-off

The Science Express-Biodiversity Special (SEBS) was flagged-off by Hon'ble Environment Minister Ms. Jayanthi Natarajan and Hon'ble Delhi Chief Minister Ms. Sheila Dikshit from the Safdarjang Railway Station on June 5, the World Environment Day. The inauguration function was attended by Mr. Kartikeya V. Sarabhai, Director, CEE and senior CEE team members.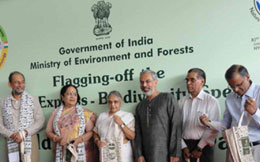 More than 250 eminent personalities including Government officials were present for the flagging off. More than 500 people visited the train on the opening day
The train was stationed at the Delhi Safdarjang Railway Station for 3 days. The CEE Paryavaran Mitra team was involved in conducting exciting, fun-filled and educative activities on the platform.
Each of the 8 coaches has models, 3-D displays; interactive and visual exhibits to keep the visitors involved and engage them in joyful learning. It also has two TV sets displaying environmental movies and slideshows. CEE has also designed and developed a kit comprising of badges, a booklet, brochures, posters etc. This kit will be given to every school that visits the SEBS.
Between June and December 2012 the SEBS will cover 18,000 kms and halt at 52 stations across India. For the schedule of the train, write to scienceexpress@gmail.com
National Microbe Campaign (NMC) – Recognizing the importance of microbial biodiversity
While India has a national flower, national animal, national tree, national aquatic animal, national heritage animal and national bird then why not a national microbe?
During the launch of this state-of-the-art exhibition in a train, a National Microbe Campaign(NMC) was launched. The NMC aims to recognize the importance of the tiny micro-organisms visible under microscope and the some of the vital functions that they perform like decomposing waste, fixing nitrogen, recycling nutrients etc. in our ecosystems, which are beneficial for both flora and fauna.
The National Microbe Campaign includes voting to select which should be the National Microbe. The candidates are Mucor, Rhizobium, Blue Mold, Wild Yeast, Bacteriophage, Spirogyra, E.coli and Lactobacillus. The winning nomination will be declared the National Microbe of India by the Committee formed by Ministry of Environment and Forests, Government of India at CBD COP 11. Online voting is invited on www.ceeindia.org
SEBS reaches out to 19000 visitors at Patna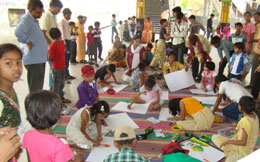 Many people cast their votes for selecting the National Microbe.
The SEBS train reached Patna Junction on June 9. The Train through its rich visuals, video clips, exhibits, artistic models and interactive panels attracted a huge crowd, with about 19000 visitors during its two-day halt on June 9-10.
The CEE North team organized several educational games for children and youth. Winners were awarded Bihar National Green Corps Eco-Chart. Around 108 youth registered themselves to be part of South Asia Youth Environment Network and 20 youths registered themselves to volunteer in CEE activities in Bihar. 30 active students took the NBA pledge to save the biodiversity of India.
The SEBS train is also equipped with facilities for teacher training. A Paryavaran Mitra teacher training workshop was organized for 16 teachers from Patna and neighboring districts.
In addition to the exhibits in the train, and the series of biodiversity education and awareness programmes on the platform, the Paryavaran Mitra Programme is organising a painting competition with support with Petroleum Conservation Research Association. More than 90 students from 37 schools participated in this competition at Patna. Schools are also invited to organize the painting competition and send in the best entries for consideration for regional level prizes and national awards. CEE will also be holding competitions in various cities and towns in addition to the other SEBS halts. For details, click here.
CEE represented at UNEP's Asia Pacific Leadership Programme 2012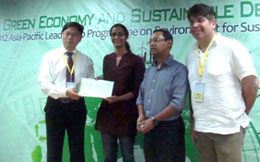 Ms. Shefali Atrey, Programme Officer, GIS Cell and Networking and Capacity Building, CEE India was selected to represent CEE at this Programme.
Green Economy was the focus of the week-long Asia Pacific Leadership Programme on Environment for Sustainable Development organized by UNEP-Tongji Institute of Environment for Sustainable Development (IESD) during June 4-8 in Shanghai, China. 25 sustainable development practitioners from 13 countries with varied geographic, socio-cultural, and economic contexts attended this programme.
The programme sessions were designed to provide participants a better understanding of various components of Green Economy. The programme also facilitated the establishment of a leadership network for sustainable development in the Asia-Pacific Region.
CEE is the ENVIS centre on Environmental Education (EE). As an ENVIS centre, CEE caters to the information needs of environmental educators. Write to the CEE ENVIS Centre at
cee.envis@ceeindia.org