e-newsletter of the Centre for Environment Education
March 1-31, 2017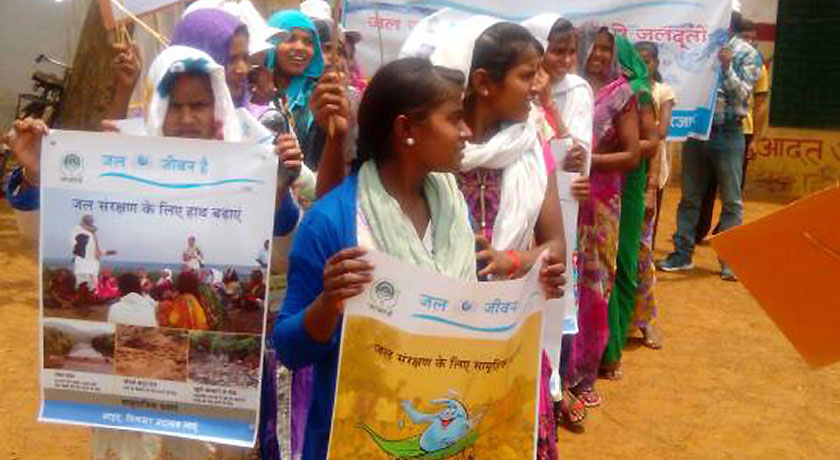 Awareness rally by locals for the water campaign

Jal Jeevan Hai Campaign
National Bank for Agriculture And Rural Development (NABARD) in collaboration with CEE has launched its water campaign - Jal Jeevan Hai - on March 22, 2017 on the occasion of World Water Day. This campaign focuses on improving public awareness and information to promote the adoption of different practices for water conservation and efficient use of water for agriculture in rain fed, water scarce and vulnerable areas of India. This campaign aims to reach out to 100,000 villages in 200 districts of 21 states of India.

CEE has been engaged in developing IEC material for the campaign. A set of 13 posters, six pamphlets and a flip chart on various issues related to water covering the different geographies of India was developed, designed and printed. CEE has trained about 200 Master Trainers all over the country in seven locations, viz. Ahmedabad, Pune, Lucknow, Kolkata, Andhra Pradesh, Chandigarh and Bengaluru. These master trainers in turn trained 8000 Krishi Jaldoots in about 200 districts to prepare them to carry out the village level activities of the campaign. The village level activities module 'Day in a Village' has been prepared to engage as many as stakeholders as possible in each village through focus group discussion, rally, village mapping and samvaad. So far, the campaign has received an overwhelming response in each of the 21 states.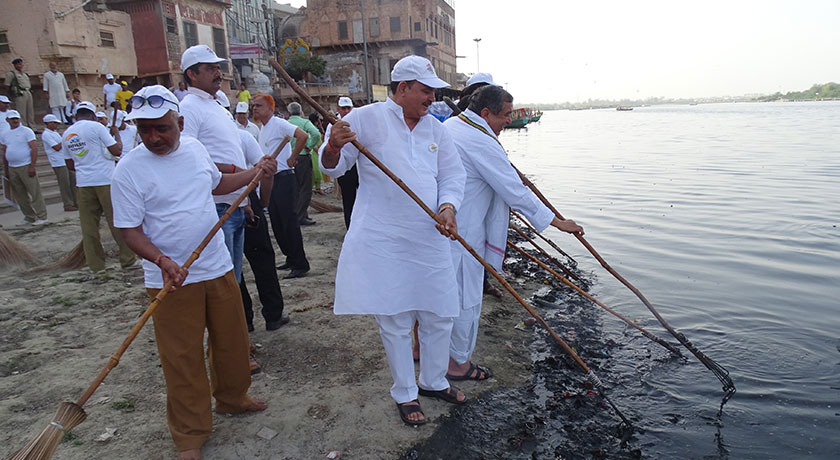 Shramdaan by the guests and youth at Vishram Ghat in Mathura

Ganga Swachhata Pakhwada
As part of the Namami Gange initiative, the 'Ganga Swachhata Pakhwada' was observed from March 16-31, 2017 by the National Mission for Clean Ganga (NMCG) and the Ministry of Water Resources, River Development and Ganga Rejuvenation, Government of India. The Pakhwada was conducted as an awareness campaign to invite citizens to come together and contribute towards keeping river Ganga clean. CEE was designated as the nodal agency by NMCG to conduct this campaign along the river Ganga, covering prime cities and towns. These events were conducted with support from State agencies like State Programme Management Groups (SPMGs), Nehru Yuva Kendra Sangathan (NYKS); urban local bodies; district administration; Nagar Nigam and Jal Nigam; Pollution Control Board; Nagar Panchyat;  Panchayati Raj Institutions. Local NGOs, schools, universities and individuals participated in this campaign.

The Pakhwada was observed in the states of Uttarakhand, Uttar Pradesh, Bihar, Jharkhand and West Bengal near the Ganga river basin, covering 17 cities and towns for conducting awareness activities. It began from Allahabad and concluded at Haridwar. At each location, various events such as Ganga samvaad/chaupal, awareness rally, shramdaan, nukkad natak, cultural evenings, and signature/pledge campaigns on different ghats were organised. Public outreach was achieved using different mediums like bulk SMSs', radio jingles, mobile exhibitions and hoardings. A variety of resource materials to motivate the public to take action for saving river Ganga, were developed by CEE. Events conducted in these locations were covered by the print and electronic media.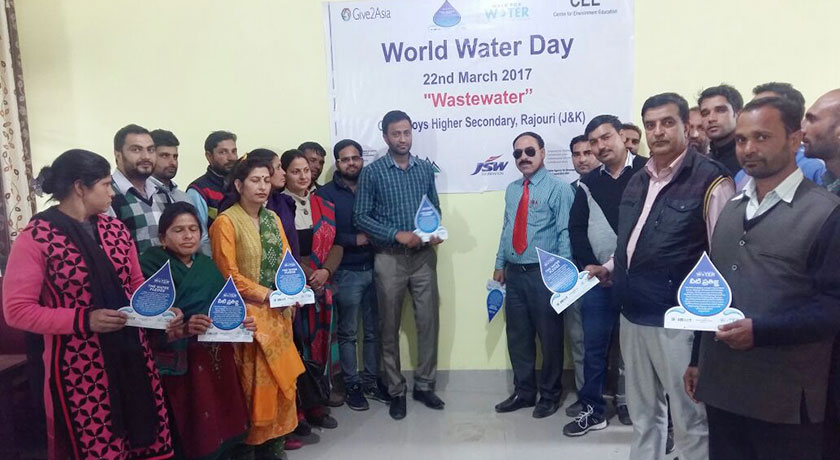 Participants and resource persons with their pledges for water conservation.

World Water Day Celebrated in Rajouri, J&K
CEE Himalaya, with the support of Give2Asia and JSW Foundation, RCE Srinagar, Mountain Partnership, and Indian Himalaya Climate Adaptation Programme, organised a one-day teachers' orientation programme on March 22, 2017 at Government Boys High School, Rajouri, Jammu & Kashmir, on the occasion of World Water Day.

The programme focused on orienting the teachers on the significance of the Day and how such important environmental days can be integrated into daily activities and curriculum of schools to inculcate positive behaviour towards the environment in students. The programme was structured into lectures and presentations, group discussions and pledging.

The chief guest of the programme Mr. Haji Abdul, Principal, Government Boys High School, Rajouri and the resource person Mr. Shahzad Ahmed, Coordinator - Teachers' Training, Education Department, Rajouri,  made presentations and conducted lectures on water problems in the district; water conservation measures that  can be taken by schools involving school students and teachers as well as reaching out to the larger community; water management in schools and communities; effective use of waste water; Water, Sanitation and Hygiene (WASH) in schools.

The lectures and presentations were followed by group discussions on how to improve WASH conditions in school as well as how to involve parents and communities at large to impact WASH in schools and communities. Measures for water conservation and management were also identified by the participants. At the end of the event, all the participants took a pledge to conserve water as well as motivate others for the same. The event was attended by 40 teachers from Rajouri district.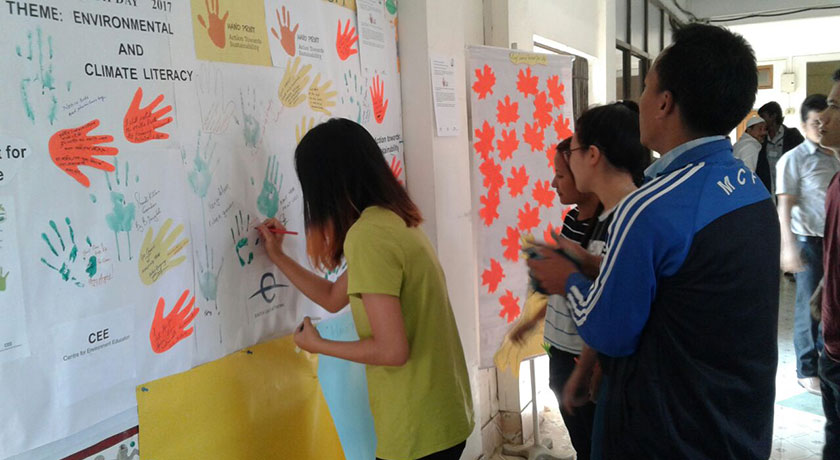 A participant signing their Handprint Actions as part of a session during the campaign

Earth Day Campaign Launched in Guwahati
CEE North East as well, along with the North East Diocesan Social Service Society (NEDSSS) and its 16 NGO partners, launched a two month Earth Day Campaign (EDC) in Guwahati on March 14, 2017. This campaign is supported by the Earth Day Network.

The EDC mainly targets school children, youth, women, environmental actors and policy makers. Various activities such as round table discussions, rallies, school level competitions and orientation seminars will be organised in all the Northeastern states, as part of this campaign.

CEE North East led a session on Handprint Action at the launch, in which NGO representatives, youth and students participated.
Speaking on the theme of Earth Day 2017 - Environmental and Climate Literacy - Fr. Varghese Velickakam, Director, NEDSSS, said that the campaign plans to organise various activities in educational institutions and civil society organisations in the region during March and April, to spread awareness regarding the human actions that cause destruction of the environment and the need to adopt an environment friendly lifestyle.

Mr. Romanus Horo, IAS and the chief guest at the launch, cited various examples of deforestation in large areas of the North East and urged the civil society and policy makers to curb such actions at the earliest.

Mr. Jaison Varghese, Associate Programme Coordinator, CEE,  led the input session  on Handprint Actions towards Sustainable Development  and introduced Handprint for Action, calling people from all walks of life to make commitments to take up activities to promote environmental regeneration.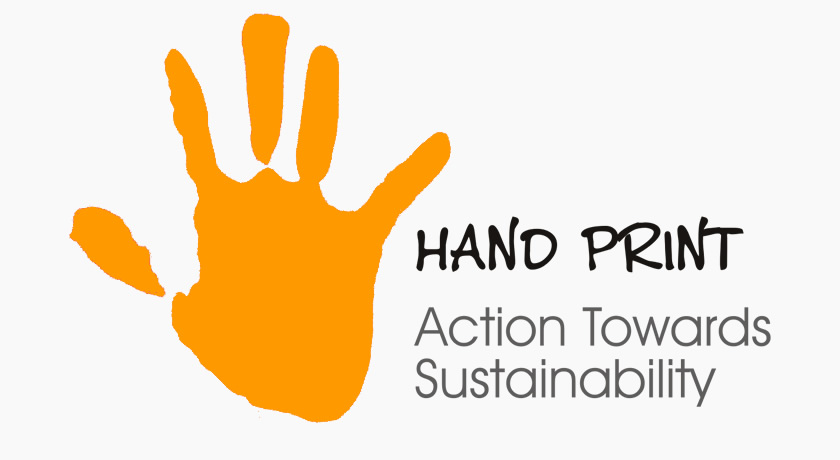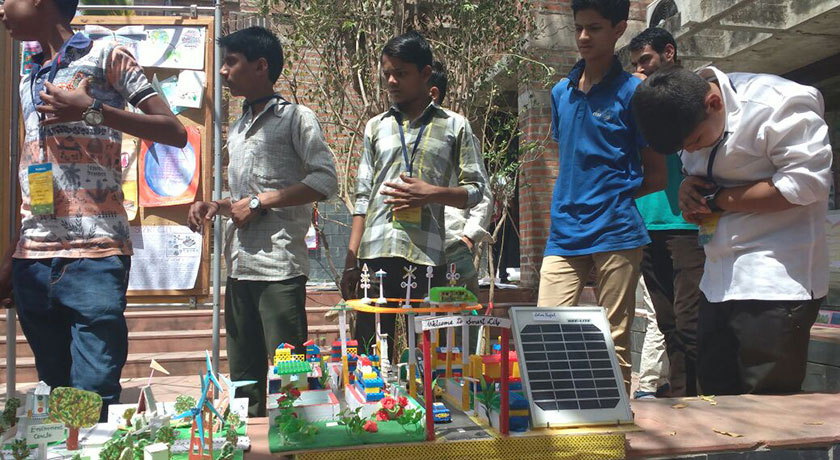 National Young Environmentalist's Conference at Ahmedabad
CEE was invited by National Bal Bhavan (NBB, Non-formal Learning Centres located across the country) to organise their annual Young Environmentalist's Conference on Smart Cities—Sustainable Cities at CEE's Ahmedabad campus, held from March 24-26, 2017.
The objective of the annual Young Environmentalist's Conference on Smart Cities—Sustainable Cities was to get students involved in contemplating and discovering sustainable solutions to challenges and searching for opportunities to be sustainable in a city.
This three-day conference included plenaries, thematic sessions, and visits (Sabarmati Ashram, Adalaj Vav, Sarkhej Roza, River Front Park and BRT Bus Station). Students were divided into four groups—Lothal, Varanasi, Pataliputra and Kaveripoompattinam—for attending the thematic sessions. The sessions were based on themes such as: Story of Ahmedabad; Understanding Cities; Governance and Citizenship; Climate Change and City; Waste or Resource?; Urban Biodiversity: Health, Nutrition, and Hygiene; and Sustainable Urban Transportation. Students also put up an exhibition on the themes of 'Smart Cities' and 'City Markets'.
Ms. Rajeswari Gorana, Mr. Amar Karan, Ms. Savita Bharti, Mr. Kedar Champhekar, Ms. Shweta Dhiman, Ms. Pooja Dave and Ms. Nivedita Shridhar from CEE along with Ms Minaxi Shukla (Former Addnl. Director & Founder Member, CHETNA) and Prof Abrar Ali Saiyed (Visiting Faculty, IIM-A) facilitated the sessions.
118 students and 29 teachers from 26 Bal Bhavan centres from the states of Andhra Pradesh, Bihar, Diu, Goa, Gujarat, Haryana, J&K, Jharkhand, Karnataka, Maharashtra, Mizoram, Odisha, and Tamil Nadu participated.

CEE is the ENVIS centre on Environmental Education (EE). As an ENVIS centre, CEE caters to the information needs of environmental educators. Write to the CEE ENVIS Centre at cee.envis@ceeindia.org


<

This message is sent to you by Centre for Environment Education, Thaltej Tekra, Ahmedabad, India and delivered by ceedo@ceeindia.org © CEE 2016 Editorial: Padma G., Divika Hinger Design: Pankaj Gorana