Bangkok Workshop for Asia NGO Network on ESD
Since its inception in 2003, the Japan Council on the UN Decade of Education for Sustainable Development (ESD-J) laid emphasis on the role that NGOs could play in having a local-centric approach in ESD. They set up a network of NGOs on ESD in Asia to facilitate this. In order to document the sustainable outreach efforts carried out by local NGOs in Asia, the Asia Good ESD Practice Research Project (AGEPP) was conducted. CEE is one such AGEPP partner NGO representing India. The partner NGOs in turn established the Asia NGO Network on ESD (ANNE) with the aim of sharing good EE/ESD practices, challenges and access relevant information on ESD/DESD.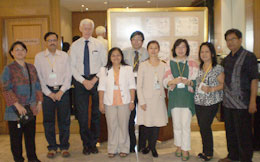 The workshop participants discussed the road map to Rio+20, and 2014 that marks the end of DESD.
A strategic workshop towards Rio+20 and 2014- UNDESD Closing was organized on 10-11 March 2012 at Bangkok by ESD-J in partnership with the United Nations Environment Programme Regional Resource Centre for Asia and the Pacific (UNEP RRC.AP). The workshop was sponsored by Japan Fund for Global Environment. The workshop not only aimed at determining the objectives, functioning, management and the shared responsibilities of ANNE but it also aimed at planning the Rio+ 20 side event and discussing the roadmap to 2014.
Mr. Ramesh Savalia, Programme Coordinator, CEE participated in this workshop as an ESD-J member and contributed towards finalizing the outcomes. The outcomes of this workshop would feed into two important events; one being Rio+20 and the other at an International Forum that would be held in October 2012 at Tokyo.
The participants at this workshop were from BINTARI (Bina Karta Lestari) Foundation, Indonesia, Korea Institute Center for Sustainable Development, Environmental Broadcast Circle Association Inc (EBC), Philippines, United Nations Educational, Scientific and Cultural Organization (UNESCO) Bangkok, UN Economic and Social Commission for Asia and the Pacific (ESCAP), Institute for Global Environmental Strategies (IGES) and UNEP RRC.AP.
Science Express Knowledge Partner Consultation Meet
To create awareness on the rich biodiversity of the country, the Ministry of Environment and Forests (MoEF) in partnership with the Department of Science & Technology (DST) will be running a train 'Science Express – Biodiversity Special (SEBS)'. It is expected that this train would cover more than a hundred stations in India over two years. The SEBS would be stationed at Hyderabad from 8-19 October 2012 where the Convention on Biological Diversity Conference of the Parties 11 (CBD COP11) would be held.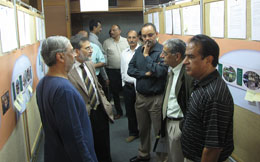 Each of the 8 coaches was reviewed and discussed during the Knowledge Partner Conusltation Meet.
CEE, a Centre of Excellence of the MoEF, is involved in developing the concept, design, fabrication and installation of this train with inputs from national level research and academic institutes like Bombay Natural History Society, Wildlife Institute of India, Indian Council of Forestry Research and Education, Wildlife Trust of India, G. B. Pant Institute of Himalayan Environment & Development and National Centre for Sustainable Coastal Management who are the 'Knowledge Partners' for this national project.
To provide critical feedback to CEE on the content it had developed so far and also on the presentation mode for the 8 coaches of the SEBS, a Knowledge Partner Consultation Meet was held on the 12-13 March 2012 at the CEE Campus. Mr. BMS Rathore, Joint Secretary, MoEF, Mr. M.F Farooqui, Additional Secretary, MoEF and representatives from the Knowledge Partner Institutions who were present at this meet, discussed each of the 8 coaches and gave their valuable feedback and suggestions on the content and mode of presentation.
At this meet, Dr Chander Mohan, Director, Department of Science & Technology talked about the department's vision for Science Express (SE), while Mr. Dilip Surkar, Director, Vikram A. Sarabhai Community Science Centre shared his experience of running the SE for the last 4 years.
The Anandshala Award 2011-12
Anandshala, 'joyful school', is a programme of Centre for Environment Education. The Anandshala programme in Gujarat is being implemented in 10 government primary schools in Vadodara district since 2008.
In order to appreciate the efforts of these schools towards enhancing the quality of education, CEE launched the 'Anandshala Award', in March 2012. A panel of experts, representing Education Department, Gujarat; local community leaders and the funding agency (SYNEFRA Engineering and Construction Ltd.), recognized significant efforts of 3 of the 10 schools. These initiatives of the schools were judged based on effective functioning of the school management committee, student-friendly infra-structural arrangements and facilities in the school campus, and the quality of teaching-learning in the classroom and associated co-curricular activities.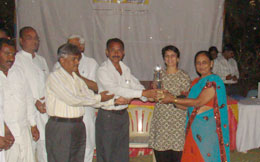 The winning schools were awareded a trophy, a certificate and award money.
The Award Function was held on 28 February, 2012, National Science Day, at Kamalapura village, Waghodia, Vadodara. The ceremony was attended by over 250 people from schools, communities and well wishers. The keynote address was delivered by Dr. Arunkumar Dave, Managing Trustee, Lokbharti, Sanosra. Dr. Anga Joshi, Assistent General Manager, Synefra E & C Ltd and Mr. B. C. Solanki, District Primary Education Officer, Vadodara were also present at the award ceremony.
Marine Camp at Beyt Dwarka
Beach combing provides a vivid picture of marine life that includes sea anemone, octopus, sea cucumbers, crabs, star fish etc.
'Beyt' in Gujarati means island hence the island in Dwarka is called 'Beyt Dwarka'. It is believed to be the residence of Lord Krishna and his family and is visited by several thousands of pilgrims daily. But, a narrow, completely sand covered, remote paradise - the "Dunny Point" (Dunny in Kacchh is "Sand dune") in the island is unknown to almost all these visitors. This is the marine campsite of Sundarvan, which becomes very busy during the winter months from December to March.
The one-and-half hour boat journey to reach the camp from Okha is the first excitement for participants. The excitement remains alive all through the two nights and three days stay. Few solar charged lanterns and light emitting diodes (LED) lamps light-up the area during nights. The stay here is in the tents/huts made up of bamboo frame covered with jute or gunny bags. The freshwater is only to drink, and sea water is for all other purposes.
As the area is very narrow, the water comes very close to tents during the full moon and new moon days, during high tide hours, leading to sleepless nights for many who fear that water may enter the tents.
The tides determine the activities in the camp. Activities include beach combing, trekking, bird watching, star gazing, visiting religious sites in the island, and sessions on marine ecosystem and its conservation, mythology of the island and taking a dip in the sea. These are some of the highlights of the joyful learning experience that draws people to visit again and again.
Working together for Sustainable Urban Mobility
The National Urban Transport Policy of the Government of India, 2006 (NUTP), has laid a very strong emphasis on building capabilities at the State and city level to address the problems associated with urban transport and has undertaken the task of developing sustainable urban transport systems. The Institute of Urban Transport (IUT India) is engaged in managing the affairs of National Urban Transport Information Centre of the Ministry of Urban Development, Government of India.
IUT India and the Sustainable Urban Mobility Network (SUM Net) jointly organized a workshop 'Strengthening Collaborations for Sustainable Urban Mobility' to analyze urban transport issues from different perspectives and also to identify partnership opportunities. Through 6 city cases—Alwar, Bangalore, Delhi, Indore, Patna and Pune—the workshop discussed issues of urban transportation planning. A session on reviewing the National Urban Transport Policy highlighted the need to upgrade clauses on demand management, parking policy and institutional arrangements at the municipal and at the metropolitan levels.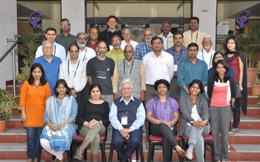 SUM Net moves beyond its related activities in initiating discussions and collaborations with IUT, India and City level stakeholders.
The participants at this workshop also discussed the possibility of integrating the principle of user participation in the standards that are being developed for the National Mission on Sustainable Habitat. The workshop was held on 13-14 February 2012 at Pune. Apart from IUT India and SUM Net, the workshop had participation from Centre for Science and Environment, International Council for Local Environmental Initiatives, Janwani, PVP College of Architecture, Pune Cycle Pratishthan and Pedestrians First.
SUM Net, has its secretariat at CEE. It has created outreach materials including poster sets, videos, website etc. The SUM Net website was inaugurated by Secretary, Ministry of Urban Development in December 2011.
Earth Charter Webinar
Earth Charter Center for ESD has been conducting a series of webinars that focus on the use of the Earth Charter as an educational tool. Speakers from different countries are being invited, to share their experiences and vision about how the Earth Charter can be used in education, to foster the transition to more just, sustainable and peaceful societies.
Ms. Mamata Pandya, Sr. Programme Director and Ms.Rajeswari Gorana, Programme Coordinator from Children's Media Unit, CEE conducted a webinar on March 15 to share experiences and learnings of using Earth Charter in CEE's work.
They traced India's and CEE's links with the Earth Charter starting from the close involvement of Dr. Kamla Chowdhry in the drafting of the Charter to CEE's Director, Mr. Kartikeya V. Sarabhai being on the Earth Charter International Council.
During the two hour session, the CEE team discussed some of CEE's programmes an initiatives which have links with the Earth Charter.
The Conference, Ethical Framework for Sustainable Development, held in Ahmedabad in November 2010, the publication Earth Charter and Gandhi, Towards a Sustainable World, the special issue Journal of Education for Sustainable Development to mark ten years of Earth Charter edited by Rick Clugston and Mirian Vilela.
They shared how the story approach was used to present Earth Charter principles for their children's website www.kidsrgreen.org in the year 2009 which focused on Earth Charter.
They a presented how Earth Charter Principles were integrated into the Explore Discover Think Act booklet developed as the first material that went into CEE's largest school programme, the Paryavaran Mitra. Open ended Question technique was used to introduce ethics and values discussion in the classroom.
Find the full schedule and more details for all webinars here:
Exploring Collaborations
Three senior faculty members from Dalhousie University, College of Sustainability, Canada visited CEE to explore possibilities of collaboration between the two institutions towards the theme of food security and sustainability.
During the five day (5-10 March 2012) visit, the faculty members interacted with the different programme groups at the Centre to learn about the different kinds of sustainable initiatives that CEE engages in. They also visited CEE's field offices at Halvad and Jasdan to understand the linkages between rural livelihood and food security in Gujarat.
The visiting team also had the opportunity to interact with professionals, researchers and academicians from renowned institutions working in the fields of agriculture, livelihood and food security in Gujarat. The experts from these institutions shared the experiences of academic collaboration and exchange programmes with them.
This visit is part of a pre-project preparatory phase which was the outcome of a visit and lecture of Mr. Kartikeya Sarabhai at the University. Mr. Atul Pandya, Programme Director and Ms. Madhavi Joshi, Programme Director from CEE will visit the Dalhousie University in mid March to detail out the collaboration opportunities.
ENVIS on EE and ESD

Mr. Ghosh and CEE ENVIS Team discussed how to strengthen and further the activities of the ENVIS Centre.
CEE is the ENVIS (Environmental Information System) centre on Environmental Education and it strives to provide information services, and answer queries related to Environmental Education and Education for Sustainable Development.
ENVIS is a network of subject specific centres to disseminate environmental information set up in 1982, by Ministry of Environment and Forests (MoEF), Government of India.
On 6 March 2012, Mr. Nilkanth Ghosh, Statistical Advisor, Government of India, who looks after ENVIS in MoEF, visited CEE, Ahmedabad. The Director Mr. Kartikeya Sarabhai and CEE ENVIS team met Mr. Ghosh, apprised him of the activities of CEE as am ENVIS centre, and had discussions on the scope and modalities of ENVIS activities. Mr. Ghosh gave valuable suggestions and inputs to strengthen ENVIS.
CEE invites teachers, students, parents, EE and ESD professionals from India and abroad to use the ENVIS services offered by CEE for their EE and ESD information needs.
Under ENVIS, one can avail lending, reference, referral, from CEE – Information Service Centre (library) at Ahmedabad; email EE and ESD queries to ceeenvis@ceeindia.org ; visit www.greenteacher.org the online EE and ESD website and subscribe to the ENVIS newsletter, Education for Change by writing to efc@ceeindia.org.
Children's Educational Fair
CEE conducted interactive environmental games and activities for over 500 children of government schools, Naroda, Ahmedabad as part of an educational-fair held on 3 March 2012. The Fair was supported by Sharda Trust, the CSR division of Arvind Mills, Ahmedabad.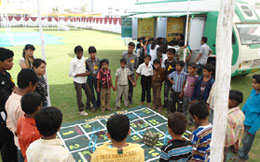 Interactive games are an effective way to teach environmental concepts.
Children enjoyed activities environmental games like snakes and ladders, ecological pyramid, identifying bird's etc. The winners received prizes which added to the excitement level among the kids. Other activities included screening of environmental films, puppet show and clay modeling.
At this educational fair, Prakriti, the CEE Environment Education Bus was showcased. It acted as an important tool to communicate and to sensitize children on critical issues related to environment. Topics like air pollution, water crisis, sanitation, disaster etc. were explained through the interactive panels in the bus.
The team also conducted a safe Holi festival campaign. CEE involved Aura, a Herbalwear group involved in making natural dyes, to demonstrate the process of preparing natural colours from flowers and vegetables.
Paryavaran Mitra Initiatives
Paryavaran Mitra Safe Festival Campaign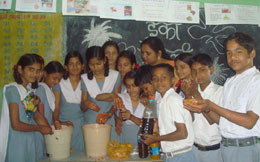 Studnets were excited to learn how to make eco-friendly colours from flowers and fruits of seasonal plants.
Safe and eco-friendly Holi was celebrated across 50 Paryavaran Mitra schools in different parts of the country. The CEE State Offices and partner NGOs conducted live demonstrations on how to make eco-friendly colours from flowers and fruits of seasonal plants and how to make pichkaris out of used bottles. They also addressed the issue of water and wood usage during the festival. This Holi CEE also launched a webpage on the Paryavaran Mitra website www.paryavaranmitra.in. The webpage addressed the need to opt for natural colours, it shared the process of making these eco-friendly colours and also provided a list of shops that sold the eco-friendly colours in the major cities of India.
School Campaign in Rajasthan
CEE Jaipur and Rajasthan State Bharat Scouts and Guides jointly organized a school campaign in Rajasthan from 20-25 February 2012. Main objective of the campaign was to capacity build these schools to become Paryavaran Mitra Lead Schools for their districts. During the campaign, eleven teams of two to four people visited more than 165 NGC schools in all 33 districts of Rajasthan. Each of these schools, in turn, will visit at least five schools. In this way the campaign is expected to reach nearly 990 Paryavaran Mitra schools in the state.
The campaign helped to enhance the effectiveness of these schools in implementing the action projects for five themes of Paryavaran Mitra. It included training of concepts and techniques of Environment Education (EE) to Environment Action (EA) that will enhance students' understanding regarding immediate environment through various approaches like games and demonstrations. The campaign was an attempt to start the process of building up model Paryavaran Mitra Schools so that other schools are motivated on the same path.
During their school visit, each team discussed components of a successful eco club, kind of activities which could be conducted and interaction of the eco club with other students of the school. The teams also carried out assessment of eco-club activities through discussions with Eco- Club in- charges and Principals. They also discussed constraints in conducting the programme and how it can be strengthened. The campaign was a wonderful learning experience for all the participating schools and the teams.
Beach Cleaning for Safe Nesting
Rushikulya river is one of the major rivers of Odisha, India. It meets the Bay of Bengal at Puruna Bandha, Chhatrapur block of Ganjam district. Large scale nesting of Olive Ridley turtles takes place near the mouth of the Rushikulya river. This area is the location of one of the largest mass nesting (arribada) sites of Olive Ridley sea turtles in India.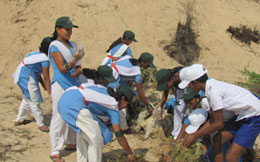 Beach cleaning helped to create a suitable site for turtle nesting.
Students, eco-club members, women from the Self Help Groups of Ganjam district, participated in the beach cleaning activity that was held on 8 February, 2012, near the mouth of the river Rushikulya. Within a fortnight of the activity, around 60,000 turtles came to nest in Rushiklya Rookery. The initiative was led by a Paryavaran Mitra NGO partner, United Artists Association (UAA).
For more information, log on to www.paryavaranmitra.in