Stockholm+40
Mr. Kartikeya V. Sarabhai, Director, CEE attended the Stockholm+40 Conference held in Sweden from April 23-25. The Stockholm+40 Partnership Forum for Sustainable Development focused on how governments, businesses, organizations and individuals can promote and contribute to sustainable development.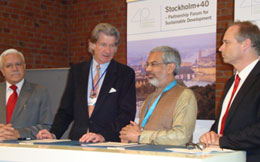 Director, CEE and Chairman of YMP Board sign MoU in presence of Indian Ambassador and State Secretary of Sweden.
During this visit Mr. Sarabhai signed an MoU with
Mr. Anders Wijkman, Chairman of Young Masters Programme (YMP) Board to offer the sustainable development programme for schools in India. YMP, developed by Lund University, Sweden is a free, global web-based education and learning network. It offers a unique learning experience by connecting high school students and enabling them to develop an understanding about sustainability issues. More than 20,000 students from over 110 countries have participated in this programme.
While the basic structure of the programme would remain the same internationally, CEE will develop features and modules which will be adapted for Indian users. Initially the programme will be in English, and subsequently be made available in local languages.
Secretary, Ministry of Environment and Forests, interacts with the CEE Team
Dr. Tishyarakshit Chatterjee, Secretary, Ministry of Environment and Forests (MoEF), visited CEE on April 27. During his one-day visit to the campus he interacted with the CEE team that is working on the Science Express - Biodiversity Special (SEBS) and gave valuable inputs and suggestions.
Dr. Chatterjee interacted with the larger team at CEE and learnt about the Centre's EE and ESD initiatives, programmes, activities and the EE material developed under various programmes.
The SEBS train would cover more than a hundred stations in India over two years. The train showcases the rich biodiversity of the country. It would be stationed at Hyderabad from 8-19 October 2012 where the Convention on Biological Diversity Conference of the Parties 11 (CBD COP11) would be held.
CEE, a Centre of Excellence of the MoEF, is developing the concept, design, fabrication and installation of 8 coaches of the SEBS train with inputs from national level research and academic institutes like Bombay Natural History Society, Wildlife Institute of India, Indian Council of Forestry Research and Education, Wildlife Trust of India, G. B. Pant Institute of Himalayan Environment and Development, and National Centre for Sustainable Coastal Management who are the 'Knowledge Partners' for this national project.
CEE is the ENVIS centre on Environmental Education (EE). As an ENVIS centre, CEE caters to the information needs of environmental educators. Write to the CEE ENVIS Centre at
cee.envis@ceeindia.org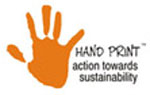 Teacher Training Workshop on Greening School Campus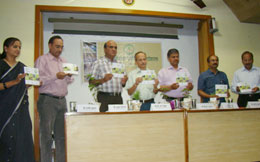 The CFP educational package, developed by CEE, was released. The package included a set of posters and stickers.
CEE North organized a two-day teacher training workshop under the Children's Forest Programme (CFP) on April 19-2l at the Regional Science City, Lucknow. CFP is being supported under Uttar Pradesh-Participatory Forest Management and Poverty Alleviation Project (UP-PFMPAP) by Japan International Cooperative Agency (JICA). CEE North is one of the agencies implementing this programme in Uttar Pradesh.
The workshop was attended by 40 in-charge teachers from 23 schools of the district. During the inaugural session, the senior officials of UP-PFMPAP and UP Forest Department addressed teachers and emphasized the fact that the CFP initiative is about engaging children in action, thus enabling them to become citizens who are environmentally sensible.
A resource person from the city popularly known as 'Ped Wale Baba' ( Man of the Tree), addressed teachers. He encouraged them to link traditional practices and ethics with environment conservation. Mr. Ganesh Kumar, Deputy Director, Education Department spoke about the scope of linking CFP with the curriculum and emphasized the key role that the teachers play in school and in society. During the workshop the teachers were oriented to various teaching-learning methods which would help them to link CFP with the curriculum. They also received guidance to develop their own CFP action codes and monitoring and evaluation plans. Teachers also enjoyed the 3D SCIMAX show that focused on Amazon Forests and its indigenous people.
As CFP schools are also covered under the CEE's Paryavaran Mitra Programme, they were guided to identify activities under five themes of the programme in order to build an eco-friendly school campus.
Running together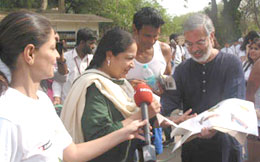 Mr. Milind Soman (second from right), Indian Model, Actor and Film Producer, ran the distance of 1500 kilometers from Delhi to Mumbai in 30 days. He reached Mumbai on May 20.
In its second year of partnership with NDTV Greenathon, CEE has involved its network of NGOs associated with the Small Grants Programme and the Paryavaran Mitra School Network. This year's Greenathon was flagged off by Ms. Jayanthi Natarajan, Minister of State (I/C), Ministry of Environment and Forests on April 20 from Qutub Minar. Mr. Kartikeya V. Sarabhai, Director, CEE; Mr. Rahul Bose, Indian Actor, Screen Writer, Director and Social Activist; Territorial Army, the First Eco Task Force; and the CEE Delhi Team were present at this event. Mr. Sarabhai demonstrated the 'Birds on the Highway' activity, designed and developed by CEE, to generate awareness about the diversity of birds along the Greenathon Route. The launch of the event can be viewed at www.ndtv.com
Rio+20 Conference: CEE Side Event

A CEE side event titled 'ESD as Driver of Change towards a Green Economy' has been scheduled for June 15, 2012 during 5.30-7.00 p.m. at the Riocentro, Rio De Janeiro, Brazil. For details contact Ms. Purvi Vyas, Programme Officer, CEE at purvi.vyas@ceeindia.org

As CEE joined hands with the Earth Day Network's 'Mobilize the Earth' Campaign, CEE offices across India and the Paryavaran Mitra School Network celebrated Earth Day (April 22) by organizing several events, ranging from a day to a month, to generate awareness and take actions to save the earth's natural environment.
Fun and Games
On an average 70 prizes were distributed daily, to encourage the students in the different activities.
To mark the World Heritage Day (April 18) and Earth Day (April 22), Paryavaran Mitra in partnership with Archaeological Survey of India (ASI), organized a weeklong event from April 18-25 at Qutab Minar, Delhi. This event for students of standards 6-8 was an initiative towards sensitizing young minds towards India's cultural, monumental and natural heritage.
CEE organized several activities during this week. The activities ranged from knowledge building through interactive discussions with resource people from ASI, CEE and other external agencies, to showcasing up their creative potential by involving them in different activities like painting, collage making, slogan writing; street theatre and extempore speech, as well as conducting sports activities like lemon and spoon race, sack race and three legged race. 1074 students and 60 teachers from 31 schools of Delhi's National Capital Region participated in this event.
Partners who supported this event include CEE Paryavaran Mitra; Ministry of Environment & Forests, Govt. of India; Department of Environment, Government of NCT of Delhi; Global Environment Facility Small Grants Program; Moserbaer Trust; Boeing International Corporation India Private Limited; Intel Semiconductor Limited; ArcelorMittal and Earth Day Network.
Paint our Planet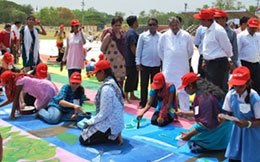 The 16,290 sq.ft. canvas was large enough to accommodate the imagination of young minds from the city, depicting various environmental issues the Earth faces today.
Nature Bodies, a group of students from Bharat Mata English Medium School (a Paryavaran Mitra School), Bilaspur, Chhattisgarh organized a massive painting campaign 'Paint our Planet' at the Railway North East Institute Ground of the city. 16,000 students and teachers from 78 schools participated in this campaign.
District Collector, Speaker of the Chhattisgarh Assembly and District Educational Officer were among the prominent dignitaries who were present at this campaign. Their presence motivated students to convey messages to the inhabitants of the city. The campaign was organized with support from the CEE Chhattisgarh State Office.
Exploring Nature and Painting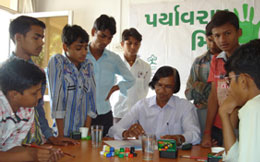 Teachers keenly observed, and participated with great enthusiasm, in all the activities along with the students.
CEE Western Regional Cell in association with Bal Bhavan, Diu organized the Exploring Nature and Painting Workshop from April 21-28 at Diu under the guidance of renowned artist, Mr. Premjeet Baria, Director, Bal Bhavan, Diu. 21 participants from 7 schools enrolled under the Paryavaran Mitra programme from Gujarat, Rajasthan and Daman attended the workshop along with 200 local students.
The workshop focused on exploring nature by teaching them the art of painting and it also provided an opportunity to the participants to express their imagination. Visits to various ecological, cultural and heritage sites were organised during the week to explore the scenic beauty of Diu with a blend of sea, sand and sun.
Poster making; sand sculpturing; cultural programme; best out of waste competition; nest making; and paper recycling by using hand-made paper enabled creative hands-on experience. A session on developing economic-friendly solar equipments, an orientation programme for teachers and a rally to raise awareness were among the activities conducted during the week.
Sharing at Sundarvan
Sundarvan, the Nature Discovery Centre of CEE, Ahmedabad organized a programme on Earth Day, on request of Computer Maintainence Corporation (CMC) Limited, a TATA enterprise.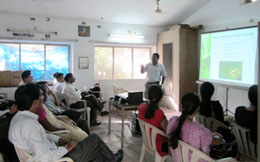 The programme was attended by 20 staff members of CMC Limited.
A power point presentation provided basic information on Earth Day; global warming, climate change, impacts of climate change on human beings and the environment and responsibility of individuals and corporates to mitigate the impacts. Critical questions pertaining to the controversy over Inter Governmental Panel on Climate Change Report, recent reports of expansion of icescape over parts of Himalayas, America's role and policy on the issue, sharing of high-end technology by developed countries with others, etc. were dealt with during the discussion hour.
A short movie on waste management was also screened, and the participants were introduced to a reptile awareness programme.