Climate Change and Natural Disaster Management : Towards Better Prepared Monasteries in Sikkim
CEE Himalaya, in collaboration with World Wide Fund for Nature (WWF)-India and Rumtek Monastery (seat of His Holiness Karmapa), Sikkim, organized a Disaster Risk Reduction (DRR) workshop from May 3-5 for the monks of 26 important monasteries of the state. The workshop aimed to capacity build monks in the areas of disaster management, thereby, enabling them to help people during disaster emergencies as well as to effectively contribute to rescue, relief and rehabilitation efforts. This workshop emerged as a felt-need following the 2011 earthquake in Sikkim. Being a predominantly Buddhist state, monasteries and monks have considerable control and influence on society, hence, the importance of equipping them with basic knowledge and skills to both protect themselves, as well as to reach out to the larger community, in times of natural disasters.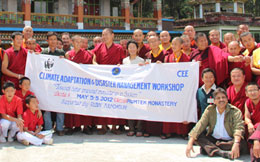 In Sikkim, monasteries and monks can play an important role in times of natural disasters.
During the three-day workshop, each monastery was helped in developing its 'Disaster Management Plan' that included identifying safe areas, marking evacuation routes, listing important contact numbers, among others. The participants were also encouraged to form their own disaster response teams. Trainings, mock drills, experience sharing sessions, lectures by experts and film shows were part of the workshop schedule.
Discovering Nature with Sundarvan
Sundarvan, CEE's nature discovery centre is a mini-zoo recognized by the Central Zoo Authority, Government of India. The Centre organizes on-campus, outreach, and camping activities. As part of Sundarvan's on-campus programmes, a one-day camp for children between the age group of 7-12 years, was organized on April 26. In order to stimulate the process of inquiry into nature, children were encouraged to observe and record the reptiles, birds and small mammals at the Sundarvan campus. Children also identified objects like slough (moult of snake), spines of porcupine, seeds and displayed feathers. A reptile awareness programme was also conducted.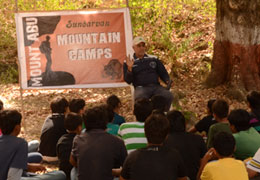 The camp activities orient participants to the mountain ecosystem, as well as the basic survival techniques in such an environment.
Sundarvan's annual summer camp is held at the wild and enchanting campsite away from the main city at Mt. Abu, a pleasant hill station. Since April 2012, five batches including a batch of tribal girls, have actively participated in activities such as nature trails, bird watching, basic mountaineering techniques of rock climbing, river crossing and abseiling, talks and nature quiz. The camps will continue till mid-June.
UNESCO International Biodiversity Learning Workshop: Multiple Perspective Approaches to Biodiversity Education
A three day workshop 'Multiple Perspective Approaches to Biodiversity Education' was organized by UNESCO in early May 2012 in Paris. Mr. Kartikeya V. Sarabhai, Director, CEE participated in this workshop and provided his inputs for preparing multiple perspective instructional strategies for biodiversity education. This workshop contributes to one of the aims of the UNDESD, to engage people in learning about biodiversity through innovative ways, by focusing on education and training. The workshop also contributes towards the education component of the UNESCO Biodiversity Initiative, to the UN Decade of Biodiversity, and to the communication, education and public awareness (CEPA) Plan of Action 10 of the Convention on Biological Diversity.
This workshop helped in presenting Multiple Perspective Tool (MPT). The components for the Biodiversity Companion booklet was developed. Through discussion, several ideas emerged on how to use the booklet, and empower participants to start training others in its use.
Special Report on the Intergovernmental Panel on Climate Change (IPCC)
CEE Himalaya's six-year long work in the field of Disaster Risk Reduction (DRR) in Kashmir has been recognized and cited as a case study in the IPCC Special Report on "Managing the Risks of Extreme Events and Disasters to Advance Climate Change Adaptation" (SREX), published this year. The citation appears on page 528 and talks about CEE Himalaya's DRR and Climate Change Education Campaign across 2000 schools and 50 villages. This was sourced from Ceenario, Volume 24 which has been included in the reference section as well. This report is available at www.ipcc-wg2.gov.
Learning through Seeing and Sharing
CEE Central facilitated an exposure visit for Gram Sudhar Samiti (GSS), Madhya Pradesh (MP) from April 27 – May 4. GSS works towards strengthening livelihoods; biodiversity conservation; and on the issue of food security for the Baiga Adivasi Community residing at the Tiger Reserve Area, Sanjay Dubari National Park, Sidhi District, MP. GSS is one of the partners in UNDP-GEF Small Grants Programme (SGP).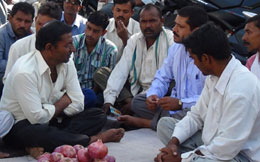 The exposure visit motivated the GSS group to replicate some of the experiences within their local context.
The exposure visit that began from MP and ended at Banglore was planned so as to link the SGP partners and facilitate mutual sharing among them. Five farmers (and also Directors of Baiga Agricultural Producers' Company) and two staff members of GSS participated in this exposure visit.
At Satna, MP, the participants visited Sarjana (another SGP partner) to learn about the system of rice intensification (SRI) and traditional seeds production; farm/bed preparation, transplantation, manuring, etc. The field visits and meetings that were organized with Lok Panchayat functionaries at Sangamner, Ahmednagar in Maharashtra; and Sahaj Samurddha, Bangalore helped them to understand the process of setting-up the Producer Company; its legal and financial aspects; procurement, branding, marketing, day-to-day functioning; and the process of Participatory Guarantee System (PGS). The exposure visit also helped them to gain an understanding of non-chemical pest management; the process of quality seed production for local varieties and the need to exchange traditional seed varieties among farmers.
During the interaction with Dr. Siddappa Setty, Fellow, Ashoka Trust for Research in Ecology and Environment (ATREE), Bangalore; the group discussed the Forest Rights Act, 2006; adivasi community organization and development; and also learnt from the experiences of ATREE and other like minded organizations.
Initiatives under the Ganges River Dolphin Conservation Education Programme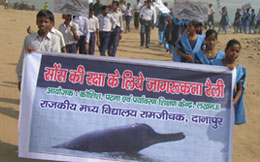 Rallies, led by students of the Dolphin Project cluster schools, were strategically planned near the river bank in order to interact with the fisherman community and enhance their awareness on the need to protect the river dolphin.
CEE has initiated a two year awareness and education programme for conservation of the Ganges River Dolphin and the aquatic ecosystem of which it is a vital part. The project with support from Ministry of Environment and Forests is implemented along the major riverside areas where this acquatic mammal is found i.e. in Ganges and Brahmaputra river system of northern, eastern and north-eastern India. The programme involves carrying out an intensive conservation education programme in schools, involving school teachers and students, and through them, reaching out to the larger community, including the fisher folk.
Under this programme, CEE in association with its partner NGOs organized awareness rallies in Assam, Bihar and West Bengal; and Melas in Assam and Bihar. Nearly 100 students participated in each of the rallies organized at Biswanath (April 30), Hoogly (April 22), Patna (April 13) and Supaul (April 23).
Dolphin Melas were organized at Biswanath Cluster, Assam by Nature's Bonyapran in association with CEE North-East, and at Supaul Cluster, Bihar by Abhiyan in association with CEE North. Each mela saw participation of more than 20-22 schools, each with a group of 150-200 students, teachers and community members. Issues related to conservation of river dolphins were presented through wall magazine, posters, models etc by the students at the mela. Students also participated in various competitions and through street play (nukkad natak) appealed to the communities to save the Ganges River Dolphin.
CEE is the ENVIS centre on Environmental Education (EE). As an ENVIS centre, CEE caters to the information needs of environmental educators. Write to the CEE ENVIS Centre at
cee.envis@ceeindia.org