International training programme in ESD in Formal Education successfully concluded in Cambodia
CEE is the Asia coordinating agency for the Sida sponsored Advanced International Training Programme (ITP) in Education for Sustainable Development in Formal Education . Coordinated globally by NIRAS Natura AB, Sweden, this programme is a nine-month long training programme that runs into five phases. For the year 2011, the priority countries were Afghanistan, Bangladesh, Cambodia, India and Indonesia. The Cambodia Final National Workshop of the ITP 2011 was held on May 24 at the National Institute of Education, Ministry of Education, Youth and Sports (MoEYS), Phnom Phen, Cambodia.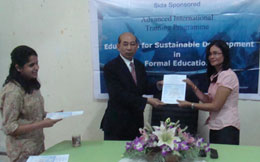 Mr. Bunroeun awarded certificates to the successful teams.
The workshop provided an opportunity to the three institutional teams—one from the Ministry of Environment and two teams from the MoEYS—to share their enhanced work in ESD in Formal Education as implemented under the ITP. Besides showcasing their Change Projects, the 3 institutional teams, during the feedback session, commented that the way the year-long training programme was designed, it had enabled them to practice the concepts, and methodologies learnt, during the implementation phase of the programme. Ms. Phon Tara, Deputy Director of Planning Department, MoEYS and herself a 2003 alumni of the ITP, highlighted that the programme had upgraded and had changed itself in terms of the content, methodology, training design, deliverables from the participating teams, among others, as compared to when she was a participant in the year 2003.
During the valedictory address Mr. Nath Bunroeun, Honourable Secretary of State, MoEYS said that ESD is closely linked to ensuring education for all and that it is integral for sustainable development of any country. As an example he talked about climate change and shared that the human activities had accelerated this phenomenon. He reiterated the need to raise awareness on the issue, to educate all and thereby adopt a sustainable path for development. The Workshop was attended by 15 participants and was facilitated by Ms. Carol D'souza, Project Officer, Networking and Capacity Building Group, CEE India.
Save the Ganga River Dolphin and a Clean Ganga Programme
CEE is in the second year of implementing the awareness and education programme for conservation of the Ganges River Dolphin and the aquatic ecosystem of which it is a vital part. CEE was invited by Ganga River Basin Authority (NGRBA) to organize a week-long event with National Green Corps (NGC) and Dolphin Cluster Schools at Allahabad to showcase the students' work to the larger community.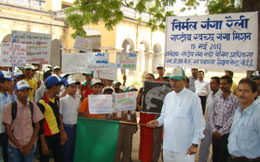 Around 200 enthusiastic eco-club and Dolphin club students participated in the rally to appeal to the communities to save river Ganga and Ganges River Dolphin.
As part of this, CEE organized a series of poster competitions in urban and rural schools of Allahabad. The winners of the poster competition were felicitated by Hon'ble Minister of Environment & Forest, Mrs. Jayanthi Natarajan. In order to raise awareness on issues related to river Ganga and Ganges River Dolphins a 'Nirmal Ganga Rally' was also organized in collaboration with NGRBA on 19 May 2012. The rally was flagged-off from an NGC school by the Mayor of Allahabad, Mr. Jitendra Choudhary.
The Ganges River Dolphin Book titled 'Gangeya Dolphin : Ek Adbhut Jeev Ki Kahani' was released by Mrs. Jayanthi Natarajan, Minister of Environment & Forests (MoEF), Govt. of India on 20 May 2012 at Allahabad. The book has been developed as part of the Information, Education and Communication package under the MoEF supported Ganges River Dolphin – Conservation Education Programme. Mrs. Natarajan congratulated CEE and the authors of the book and appreciated the efforts taken by CEE for the conservation of Ganges River Dolphin.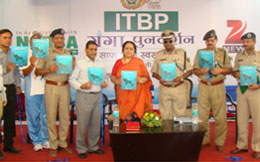 The Hon'ble Minister of Environment & Forest,
Mrs. Jayanthi Natarajan launched the Hindi version of the book which will also be available in English, Assamese and Bengali soon.
As most of the schools of the programme are located in the Ganga basin area, the book has been developed, following a story-telling format. After each section of the story, there are activities and points for discussion that have been suggested for teachers. A few points for action on how the school could involve the community by organizing event like a dolphin rally, dolphin mela, nukkad natak etc are also included.
FUN Summers at Information and Facilitation Centre
As part of DéCee - CEE's Information and Facilitation Centre, a month-long summer programme was organized for the children between the age group 6 to 13 years. The programme commenced on the May 7 and concluded on June 5 (the World Environment Day).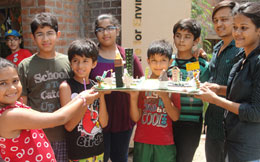 127 children, including outstation participants, took part in the one-month summer programme.
The workshop was organized thematically, and was offered to two groups- Senior and Junior. The weekly themes like Recycling, Food and Biodiversity, Sustainable Transportation and Diversity in Life were explored through a variety of hands-on activities. The activities included games, pebble painting, clay modeling, canvas painting, mask and puppet-making, street planning, nature- trails and bird-watching. Visits to Shreyas Foundation, Thol Lake, Kamla Nehru Zoo, Bus Rapid Transport System (BRTS) Control Rom added much learning.
A special exhibition at CEE's Open-House on World Environment Day provided the children an opportunity to showcase the products and other outputs of the programme.
Celebrating International Day for Biological Diversity
In order to increase understanding and awareness of biodiversity issues, UN has announced May 22 as the International Day for Biological Diversity (IDB). Marine Biodiversity is the theme for this year's IDB. The day provided CEE offices with an opportunity to raise awareness, and invite people from all sections to participate in conservation efforts.
CEE Tamil Nadu with support from the National Biodiversity Authority (NBA) conducted a public awareness campaign along the Marina Beach in Chennai. The objective was to seek the support for conservation of biological resources, particularly for the marine and coastal ecosystems.
The activities were designed along the lines of 'Anyone can lend a hand through their 'Handprint' which represents a positive action for environmental conservation. White canvases were laid out in four separate locations along the Marina Beach. At each location the Biodiversity Conservation pledge was displayed and volunteers interacted with the public on the theme and encouraged them to lend their support for the cause. Around 1200 people placed their handprints on the canvass. They included school children, rag-pickers, joggers, fisherwomen, vegetable-vendors etc. This was a good way to spread the word about the IDB and need to conserve India's rich biodiversity.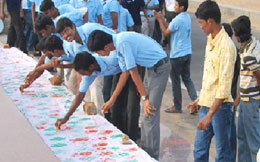 People from all walks of life participated in the different events to raise awareness on Marine Biodiversity.
A 42 feet life-sized whale shark inflatable, installed by CEE, drew the attention of onlookers. They read about the importance of marine life forms and how human actions had an impact on them. There was also an interaction with communities where they showcased their livelihood tools like catamaran with sail and nets. They also shared information about their lifestyle and performed traditional songs representing their voyage into the sea.
A special Handprint activity was also conducted at the GRT Hotel Conference Venue, where over 200 delegates expressed their commitment by sharing lend their handprint.. More on this event at www.content.ibnlive.in.com
CEE Madhya Pradesh in collaboration with Regional Museum of Natural History (RMNH), Bhopal, organized an awareness programme for students (9-12 years) under the Summer Vacation Programme for Children. The objective of the programme was to create awareness about the current ecological issues and sensitize them about the biodiversity.
Children participated in the interactive environmental games on biodiversity such as Mammals in Action, Bird Identification, Bird Puzzle and a play on Biodiversity
The Officer in Charge, RMNH Dr. S. Sethramalingam, interacted with 15 students from different schools of Bhopal on the theme, while Mr. Dilip Chakravarty, Project Officer, CEE briefed the participants on the importance of Biodiversity. Different bigeographic regions of India, and its rich biodiversity were discussed, as well as information on some of the National Parks and Sanctuaries of India. It was a joyful learning experience for the students, who requested that more of such sessions be organized at their schools.
Trainings and Exposure Visits under Gramdoot Project
During the three-day handicraft training organized at Lalavadar, thirty women members from land-less or marginal farmer learnt to make items such as flower-pots, different types of wooden jhulas (swings), decorative door entrances, cradles etc.
CEE Jasdan (field office of CEE) organized livelihood skill trainings and exposure tours for the members of Paryavaran Vikas Mandals (PVMs) from May 16-31. The objective was to enhance the sources of income, and also develop entrepreneurship abilities.
A one-day training on value added-processing of agro-products for women members of PVMs of five villages was organized at the Jasdan Field Office. Experts from Horticulture Department, Rajkot provided them training in making some value added products such as fruit jams (Mango, Pineapple), Juice (Lemon, Raw Mango), Shrikhand (Sweetened Curd) etc.
The Animal Husbandry Exposure tour for 130 women pastoralist members of the milk cooperative society of Lalavadar and Bhonyara village was organized on May 25. The group visited the Livestock Research Centre, Horticulture Department, Goshala, Amul Dairy etc. at Anand, Gujarat. The tour provided them an opportunity to enhance their understanding on better livestock care and practices.
Gramdoot (messenger for villagers) aims to enhance sustainable livelihoods through Open and Distance Learning (ODL) approach using Information and Communication Technology (ICT) and mobile technology. The project aims to initiate 'Life Long Learning (L3) for Farmers' to promote knowledge and information empowerment for informed decision making at community level, to opt for sustainable livelihood practices in Jasdan block of Gujarat. Gramdoot intends to facilitate application of the mobile technology towards strengthening horizontal transfer of knowledge in rural communities for livelihood security. The Gramdoot initiative of CEE is supported by Commonwealth Of Learning (COL).
CEE is the ENVIS centre on Environmental Education (EE). As an ENVIS centre, CEE caters to the information needs of environmental educators. Write to the CEE ENVIS Centre at
cee.envis@ceeindia.org