CEE ka Biscope 2012 commences
CEE ka Biscope (CKB), an ICT enabled educational module for students in the age group of 12-15 years (Class VII-IX) commenced for the year 2012 in July. With focus on learning for life, the activities of the module help integration of Environmental Studies, Science, Mathematics as well as Social Sciences. Designed with pedagogically sound techniques, CEE ka Biscope is being offered as a choice of two modules: Biscope Explorer (comprising of individual sessions of about 70-80 minutes each) and Biscope Investigator (comprising of a series of 15-18 sessions of 70-80 minutes each, spread over 5-6 months).
CEE ka Biscope facilitates the use of internet enabled computers in schools as 'learning laboratories', towards meeting learning goals in several subjects by linking with the school syllabus and textbooks.
CKB 2012 is reaching out to over 350 children in two schools in Ahmedabad - Rachana School and Shanti Asiatic School. With the help of project-based learning, CKB 2012 focuses on inculcating enquiry based learning among children. Some of the themes that CKB 2012 programme would address include Sustainable Agriculture, Waste Management, and Population and Development.
CEE moves ahead on providing Masters Course on Sustainability
CEE signed a MoU with ISIS Academy to initiate a Masters Programme on Sustainability, with specific reference to India. The programme is focused on providing training on sustainability to deepen understanding and to enhance ability to lead and facilitate change.
As part of initial preparation, two members from CEE - India, Ms. Shivani Jain and Mr. Praveen Prakash, and Ms. Rixa Schwarz from CEE – Germany participated in the "The ISIS Academy Master Class Change for Sustainability" workshop hosted at UNEP Collaborating Centre on Sustainable Consumption and Production, Wuppertal, Germany during 4-7 July 2012.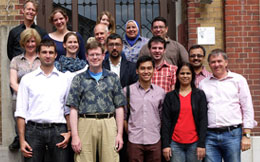 Participation in the workshop helped in understanding the key drivers for innovations in sustainability practices and its application in different scenarios and contexts.
The programme looked at developing and designing sustainability frameworks, understanding and using different sustainibiliy frameworks and linking it with ISIS methodology. It looked at enhancing stakeholder engagement and exploring the roots of Sustainability Leadership. The focus was to understand and create indicators, the process, and methodology considerations.
The participation is in line with the clear objective on initiating and delivering sustainability programmes focused for business and other interested groups both for in-house project development and as training modules. Programmes of this nature would be supportive in infusing sustainability principles in stakeholder engagement and business operations.
World Population Day at Jaipur
CEE Jaipur celebrated the World Population Day on July 11 along with the eco-club members of Tagore Vidhya Bhawan. The event attempted to help students establish linkages between environmental issues and growing population. A school-level painting competition was organized on this day to promote the idea of green economy for a sustainable future.
50 students participated in the competition and, through their drawings, expressed ideas on the use of energy-efficient CFL lights; making sustainable choices like walking to cover short distances rather than the use of vehicles; saving energy by switching off electrical appliances when not in use, and more. Through a signature campaign, children pledged to protect and conserve biodiversity and use resources judiciously.
5th Asia Pacific RCE Meeting
The 5th Asia Pacific Regional Centre of Expertise(RCE) ESD Meeting was held in conjunction with the International Workshop "Disaster Risk Reduction (DRR) and Climate Change Adaptation (CCA) in the Perspective of Education for Sustainable Development" from July 16-18 2012 at Balikpapan, East Kalimantan, Indonesia. Mr. Abdhesh Gangwar, Programme Director, CEE, moderated the technical session on "Safe Schools in DRR and CCA" during the workshop.
On July 17, 2012 the 5th Asia Pacific Continental Conference was hosted by RCE East Kalimantan at the same venue. The current status of Asia-Pacific RCEs was discussed, and selected new RCEs presented their recent activities. Thematic Group discussions were held on themes Youth, Biodiversity, Schools, Community and DRR.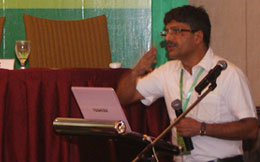 Mr. Gangwar presented a paper "Managing Disasters at Village and School Level towards Realizing a Disaster Free India" at the international workshop.
Mr. Gangwar was invited by UNU-IAS to be the lead resource person to cover the theme 'biodiversity' during the 'National Workshop on Reorienting Teacher Education towards EFA and ESD in Indonesia' held from July 10-14, 2012 at Jakarta, Indonesia. The last day, July 14, was devoted to biodiversity and was handled by the RCE group. Along with Mr. Gangwar, Mr. Ian Manticajon of RCE Cebu, Philippines and Ms. Hartisari Hardjomidjojo of RCE Bogor were also the resource persons. Abdhesh took the session on Biodiversity: The Web of Life; Biodiversity and its Conservation – A Multi Perspective Approach; Resource Material for Teaching Biodiversity and its Conservation; Biodiversity footprint and handprint- Increase handprint and reduce footprint to enhance biodiversity conservation; and Developing innovative locale-specific resource material and translation-adaptation of relevant resource material. The workshop was attended by 50 ASPNET school teachers and 8 others from 4 universities. There were 2 schools from Kalimantan, the venue of 5th RCE AP Meeting.
The UNESCO Asia and the Pacific Regional Bureau for Education, Bangkok, Thailand in cooperation with UNESCO Office Jakarta and Indonesian National Commission for UNESCO organized this meeting.
Paryavaran Mitra at Science Express Biodiversity Special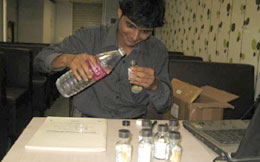 Of the reports received from 49 schools in Orissa, water samples of 21 were found to be contaminated; remedial measures were suggested to them.
Schools on the route of the Science Express Biodiversity Special train, have been testing the quality of water in their regions with the use of the Bacteriological Water Testing Kit being provided to them as part of Paryavaran Mitra platform activities. Students are oriented on the use of this kit, and also on the procedures of conducting the test. The students then share their findings within a week. In addition to this, the PCRA painting competition has been witnessing participation of hundreds of students everyday who have been eager to share their messages on energy conservation.
To know more click here
CEE is the ENVIS centre on Environmental Education (EE). As an ENVIS centre, CEE caters to the information needs of environmental educators. Write to the CEE ENVIS Centre at
cee.envis@ceeindia.org