Snake Survey and Awareness Programme for Industries: A new initiative of Sundarvan
Lafarge India Private Limited approached Sundarvan, CEE's Nature Discovery Centre, Ahmedabad, to conduct a snake survey, and awareness programmes for their cement plants located in Chhattisgarh. A four member team comprising of Mr. S. Sivakumar, Programme Officer, CEE and Mr. Shivbhadrasinh Jadeja, Programme Officer, CEE, and two traditional snake catchers who were hired to assist in the field, carried out the programme from July 22-31.
The programme was conducted in Sonadih and Arasmeta plants located in Raipur and Bilaspur districts respectively. An intensive search was carried out in the company's residential plant and mine areas and the snake diversity was documented. Snake rescues were also made on call. Six snake species, including two venomous, (common and banded kraits) were recorded during this nine-day survey. The number of snakes that were sighted and rescued were 24.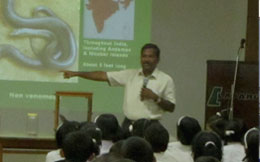 Powerpoint presentations provided the facts and information about different aspects of snakes, threats, and conservation issues.
A group of six security guards was deputed to join the CEE team and were capacity built on the preventive and precautionary steps to be kept in mind while rescuing snakes in future. Based on the observations made at the survey sites, safety measures were suggested to the management.
Strengthening bond between community and Rural Knowledge Centre
Just 3 km away from CEE's Rural Knowledge Centre (RKC) at Halvad, Gujarat is a colony of about 51 farmer families who have migrated from Kachchh over 20 years ago. Like others in this arid region, these groups also rely heavily on rainwater for farming. Once a group of 8 young farmers visited RKC to discuss their concerns regarding farming. They spent almost half a day to see various sustainable agriculture demonstrations and discussing the same. Since then a relationship between the group and RKC has been established.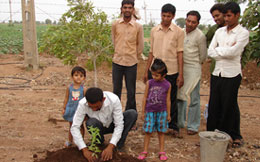 Planting a sapling and strengthening bonds.
Maheshbhai Patel is one of the farmers from this group. He is a nature lover. He encourages farmers to plant saplings. He often visits RKC to get more information and guidance regarding agriculture issues. He appreciated the diversity of trees found in the campus.
On July 27 when Maheshbhai and his family arrived at the campus, they informed that they had noticed that there was no sandalwood tree and to the extent that it did not exist within the village area as well. He also added that he desired to plant one in the camp and also as it would make their bond stronger. The family planted a sapling on the campus informing that the plant would now be another reason for him to regularly visit the campus. This was indeed touching experience for the team.
Greening the School Campus
A plantation drive which began on July 17 at the Children's Forest Programme (CFP) schools of Lucknow will continue throughout the monsoon season and will reach out to 70 schools of Lucknow where more than 7700 saplings will be planted in the school campuses.
The saplings include a mix of shady, ornamental and fruit trees. The popular choice of the schools included Neem, Jamun, Mango, Kadamb, Satparni, Mahua, Ashok, Guava, Bel, Arjun and Aonla. In 35 of the 70 schools, where last year as well around 110 plants were planted, the second round of plantation is being carried out.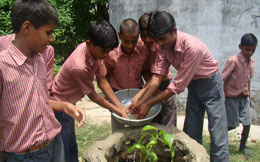 Students were motivated to pledge to protect the saplings by regularly nurturing these with water and manure.
The plantation ceremony began with the school taking and signing a pledge towards conserving and protecting Biodiversity. Community members, pradhan (head) of the village, non-teaching staff, and school management also took part in this ceremony. The week also marked the celebration of Groundwater Awareness Week where students, teachers and community members were sensitized about the issues related to groundwater and their role in conserving it.
The CFP is a five-year programme, that began with six districts of UP in 2010 as a component of JICA assisted UP- Participatory Forest Management Poverty Alleviation Project. CEE North has been selected to implement this programme in 100 schools of Lucknow district in three consequent batches.
Dolphin Melas
As part of the Ganges River Dolphin Conservation Education Programme, CEE North in association with the partner agencies, organized River Dolphin Melas at each Dolphin project cluster. River Dolphin Mela is a concluding event of the year-long school activities conducted by the dolphin schools. Koshish Charitable Trust in association with CEE North organized River Dolphin Melas at Faizabad cluster, Uttar Pradesh on July 27; at Ganga and at Hajipur cluster, Bihar on July 31.
Each mela saw participation from 15-20 dolphin schools, where a group of 120-150 students, teachers, and community members were present. Students displayed posters, models of dolphin, and slogans on conserving the rivers and the Ganges river dolphin. A poster and slogan writing competition based on the theme of 'River and Ganges river dolphin' was organized by CEE and partner agency. A quiz was also conducted. Students enacted street plays (nukkad natak) to raise awareness on the issue among the community members during the mela.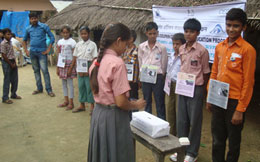 Spirogyra emerged as the favorite candidate for the National Mircobe, through votes cast by students.
Students also voted for the National Microbe during this mela. Eight students volunteered to represent a microbe and they canvassed for votes among students and teachers. They talked about the role that microbes play in our lives and their importance in the ecosystem. Once all students had cast their vote for their favorite candidate, the teachers took a stock of the count. At the end of the melas, winners of different competitions were awarded with dolphin t-shirts and caps. Students also took the pledge of conserving and protecting biodiversity.
CEE is the ENVIS centre on Environmental Education (EE). As an ENVIS centre, CEE caters to the information needs of environmental educators. Write to the CEE ENVIS Centre at
cee.envis@ceeindia.org

India and Afghanistan : ITP Programme Closing Workshop
CEE is the Asia coordination agency of a nine-month long advance international training programme that runs through five phases. The programme is globally coordinated by NIRAS Natura AB, Sweden.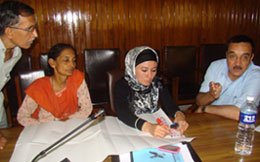 Sharing feedback on the programme structure and content.
13 formal education professionals attended the Afghanistan and the India Closing Workshop for the Programme on July 17-18 at the National Institute of Technical Teachers Training and Research, Chandigarh under the Sida sponsored advanced International Training Programme (ITP) in Education for Sustainable Development (ESD) in Formal Education (FE).
In addition to showcasing their enhanced work in ESD in FE, participants got an opportunity to get an in-depth understanding on the need for local specific education and learnt about the initiatives and programmes of Uttarakhand Seva Nidhi Paryavaran Shiksha Sansthan from its Director Mr. Lalit Pande. Mr. S.K. Sehrawat, I/C Additional Principal Chief Conservator of Forests (Central), Ministry of Environment and Forests (MoEF), Northern Regional Office talked about the functions of his office. Mr. Subhash Chandra, IFS Deputy Inspector General of Forests, (FP, FIC), MoEF, Government of India awarded certificates to the successful teams.
CEE's efforts showcased at Sirohi
CEE was invited to exhibit its efforts in field of environment education with a focus on educational programmes, resource material and activities for students by the Azim Premji Foundation at the launch of the district institute at Sirohi on July 25.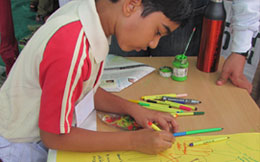 A variety of creative activities like wishing tree, tattoos and face painting engaged the visiting children.
CEE Jaipur team set up a stall to showcase various publications on environment education. Displayed posters provided a glimpse of different educational activities like master trainer and eco-club in-charge training programme; environmental day celebrations, and events organized at regional, national and international level under the National Green Corps and Paryavaran Mitra Programme. Environmental games like snakes and ladder and energy relay were very popular with the children. The CEE team conducted the biodiversity pledge. The 350 visitors included students, teachers and community members
Paryavaran Mitra Andhra Pradesh Meet
Speaking at a Paryavaran Mitra event in Hyderabad on July 30, Dr. Kalam recommended students to map their environment; participate in drives for total sanitation and integrated waste management; move towards carbon neutrality; make a happy home, take up the mother smile mission and try to create a transparent and corruption-free home. He also administered a 10-point oath for environmental protection.
This event was organized to award 33 best Paryavaran Mitra schools of Andhra Pradesh who were selected through a State-level Competition which was organized between November 2011 to February 2012. The selection was made on the basis of their action projects. Mr. Vijay Bhatnagar, CEO, ArcelorMittal- India and Mr. Kartikeya V. Sarabhai, Director, CEE were also present at this event.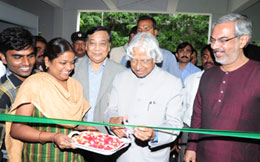 "I congratulate all the 33 Paryavaran Mitra Schools of Andhra Pradesh who have made notable contribution to the development of a clean green environment in their respective schools. I could see the dynamic thought process of the young minds in multi-dimensions of Environment".
- Dr. A.P.J Abdul Kalam, Paryavaran Ambassador
Mr. Bhatnagar shared that they had realized that any endeavour covering the entire country could not be accomplished without having partnerships at all levels. He reiterated that more than 160 partners nationally were the backbone of the programme.
Mr. Sarabhai informed that the Hand Print, integral to the Paryavaran Mitra programme, originated in Hyderabad. He added that it is now getting global recognition as the positive measure of action in ESD.
Happenings at DéCee CEE's Information Facilitation Centre
175 Students from Rachna School visited CEE on July 25 and 26 for a fun-filled session on biodiversity and conservation. The session was designed for grades 7 and 8 under the CEE ka Biscope (CKB) programme. CKB is an ICT enabled educational module that facilitates the use of internet enabled computer labs in schools as 'learning laboratories', towards meeting up learning goals in several subjects.
Mr. Kedar Champhekar, Programme Officer, CEE conducted a nature trail to orient students to diversity of life that one can encounter in a city. Students saw and learnt about various life forms right from trees to mushrooms to insects. The Scavenger Hunt activity demonstrated how nothing in nature is 'waste' as we know it, and that everything which is natural can be recycled. Students also took part in a Treasure Hunt and the winning teams were awarded special prizes. A fun filled activity 'Who am I' also tested the students' knowledge of the natural world.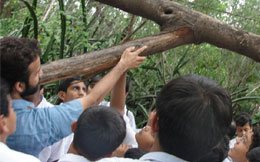 Exploring and discovering the world of insects.
Grade 8, also visited 'Manekbaug', a plot of land that has been developed by CEE. Mr. Keshav Chatterjee, Director Prabhat Education Foundation, who was the resource person, conducted various activities to demonstrate how nature has been instrumental in inspiring humans in variety of ways.
Pre Primary and Kindergarten students from Red Bricks School visited CEE on July 24 to learn about life cycles of different organisms. Children enjoyed the two-hour session listening to stories and songs on nature. Children also enjoyed making snakes out of clay. The session ended with a short movie.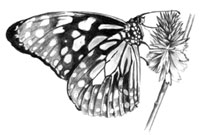 60 Students from Anand Niketan, Thaltej branch visited CEE on July 31 to observe different types of insects and plants during the monsoon season. They were able to understand the difference between millipedes and centipedes, they saw different types of spiders, monitor lizard, garden lizard, butterflies, mosquitoes, striders, fishes, various types of seeds, different types of medicinal plants, shells etc. They learnt how important it is to conserve biodiversity and how all are inter-dependent on each other.