Young India for Biodiversity : State Level Selection Workshop
The Environment Planning and Coordination Organisation, Bhopal which is the NGC Nodal Agency for Madhya Pradesh, and Centre for Environment Education, CEE (NGC Resource Agency for Madhya Pradesh) organised a two-day State Level Workshop on August 8-9 at National Institute of Technical Teachers' Training and Research, Bhopal. The Workshop was organized to select students who would participate in the side event 'Young India for Biodiversity' to be held at Convention on Biological Diversity (CBD) Conference of the Parties 11 (COP 11), Hyderabad in October.
On the first day, the participants visited the Van Vihar National Park and the Regional Museum of Natural History and then appeared for a written quiz. The team of Mr. Vedant Saxena, Class VIII and Ms. Falguni Rathore, Class IX and teacher Ms. Jaya Sharma from Gwalior Glory High School, Gwalior was selected to represent Madhya Pradesh at the CBD COP 11.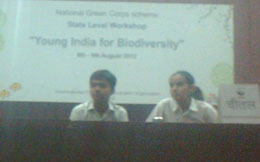 The second day saw 12 teams making it to the final round of the quiz.
I Care, I Protect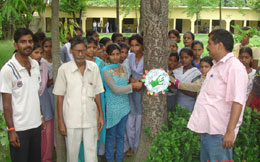 These unique rakhis not only conveyed the message of protecting tress but also demonstrated a creative way of reusing various waste items.
Inspired by Dr. A. P. J. Abdul Kalam's environment pledge, students of five schools from Lucknow took the opportunity of the Rakhsabandhan festival to spread messages of protection of nature, especially trees. The students prepared HandPrint rakhis using waste material such as CDs, hard board, old greeting cards, polythene etc. Students, along with teachers, principals and other staff tied these rakhis to the trees in their schools campus.
Solidarity Workshop at Udaipur
Solidarity Workshop, a unique employee-volunteering programme of ArcelorMittal, was organized at Udaipur from August 6-9, in collaboration with CEE Jaipur. The volunteer programme attempts to build assets to augment natural resources for sustainable livelihoods; undertake watershed development programmes and small conservation measures like building trenches/ bunding among others.The prime focus of this workshop was to build synergizes at the grassroots level.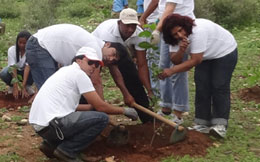 The workshop brought together international expertise with local knowledge and experiences.
International volunteers from nine countries, and employees from ArcelorMittal Foundation; local NGOs; Rajasthan State Bharat Scouts and Guides, and the local community of Girwa block participated in this Workshop. Eight schools enrolled under the Paryavaran Mitra Programme were also involved. Activities in the school involved setting-up high efficiency Chulas; plantation and bio-fencing; compost pit and painting of educational structures.
CEE is the ENVIS centre on Environmental Education (EE). As an ENVIS centre, CEE caters to the information needs of environmental educators. Write to the CEE ENVIS Centre at
cee.envis@ceeindia.org
Green Teacher Programme : First Contact Session
'Green Teacher Diploma in Environment Education' is a distance-learning programme for in-service teachers. It is being offered by CEE through its six study centers. The programme addresses the growing need for professional development in the field of Environmental Education and Education for Sustainable Development.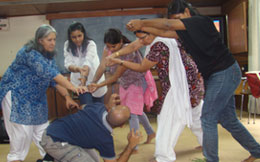 Learning by doing!
The first contact session of the Ahmedabad Study Centre was held from August 6-9 at CEE Ahmedabad. The participants were oriented to a range of topics like Education for Sustainable Development in context of school education; using 'Geographical Information System' (GIS) for EE; impact of human activities on Global Climate among others. They also visited Thol Bird Sanctuary and Manekbaug Park as part of the programe. Assignments and activities for the next few months were also discussed in detail.
Paryavaran Mitra News
Hand Print Action to save Electricity
Paryavaran Mitra initiated the Power Count Challenge in July this year in a bid to motivate children to reduce electricity consumption in their daily lives. Ideas on how to reduce consumption; relavant resource material and a Hand Print calculator were made available on the webpage for information.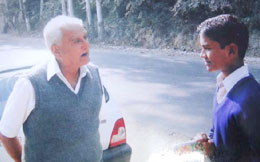 Students carried out household survey to find out about electricity usage.
486 students and individual households have committed to reduce their consumption by 8150 kWh. Some stories shared by students.
Shrikant, a Grade 3 student of Anand Niketan School, Ahmedabad completed the Power Count Challenge. He not only saved 17kWh of electricity but also shared ways innovative ways of bringing down the consumption. One of the ways was to turn the volume of the TV to the mute mode during an advertisement.
Students from JNV Wynad, Kerala opted for rain water harvesting as a strategy to reduce the consumption of electricity required for pumping water to over-head tanks. They reported to have saved 1018 kWh of energy in a month.
In Kasargod district, Kerala, Podavoor AUP school students, as part of the electricity audit, surveyed 450 households to find out their usage. Based on this they developed an action plan to bring down this consumption. To note the difference in the consumption levels, the students have planned to conduct another survey.
Paryavaran Mitra Teacher's Handbook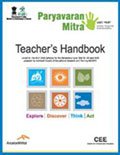 The Paryavaran Mitra Teacher's Hand Book includes information, and a series of active teaching-learning methodology and action projects that engage students to explore, discover, critically analyze and thereby take appropriate action. It encourages the use of the immediate school environment and the local environment as resources for teaching-learning, and arenas for demonstrating positive action.
The Paryavaran Mitra Teacher's Handbook is available at www.paryavaranmitra.in