Self Assessment based Monitoring System for National Green Corps
The CEE team participated in the national workshop organized by Ministry of Environment and Forests (MoEF) on August 31 at New Delhi. The objective was to test the manual developed for the Monitoring and the Reporting of National Green Corps (NGC) programme. The programme is being implemented in 1,00,000 schools across the country.
Dr. Nandita Chatterjee, Additional Secretary, MoEF emphasized that the changes in the reporting system aim at capturing field-level positive action taken by eco-clubs. Mr. B. M. S. Rathore, Joint Secretary, MoEF shared that the self-assessment system is to encourage reflections on actions at the individual, school and community level. The eco-club students will be able to measure their individual Hand Print. In this context, Mr. Pramod Kumar Sharma, Programme Coordinator, CEE; Mr. Parthesh Pandya, Programme Coordinator, CEE and Ms. Preeti R. Kanuajia, Programme Coordinator, CEE facilitated working group discussions to test this self-assessment manual with Hand Print as one of the tools, and also invited suggestions to improve the same.
Health and Well-being in the Changing Urban Environment
The International Council for Science (ICSU) Regional Office for Asia Pacific (ROAP) organized a workshop on Health and Well-being in the Changing Urban Environment : A Systems Approach, on August 28-29 at Bangkok. Considering that urbanization needs to be carefully managed if it is to enhance, not threaten, human health and well-being, ICSU ROAP has recommended a systems approach for various stakeholders to engage with each other and address these issues.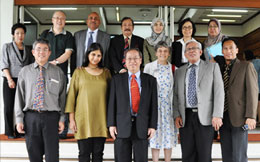 The workshop was supported by ICSU National Member - the National Research Council of Thailand.
The workshop has outlined a research programme on urban health and well-being in the changing environment in the Asia-Pacific region. A Steering Committee is also being set up to take forward this research programme. Ms. Sanskriti Menon, Programme Director, CEE Urban Programmes who was invited to participate in this workshop, will be part of the Steering Committee.
Evaluation Workshop for ENVIS centres
A two-day National Interaction cum Evaluation Workshop for ENVIS centres was conducted by the Environmental Information, Division of Ministry of Environment and Forests (MoEF), Government of India, at Bhopal on August 28-29. The meeting was attended by Rajeswari Gorana, Programme Coordinator and ENVIS Coordinator, CEE and Satya Mahakul, Programme Officer, CEE.
Ms. Nandita Chatterjee, Additional Secretary, MoEF, in her opening note, said that ENVIS acquires significance especially when environmental and forest issues have taken centre stage. She added that information collection and analysis needs to be defined by its purpose, need, and its user. She further elaborated and stressed that there is much demand for information globally, national and state governments and communities towards facilitating exchange of information; developing policies; monitoring; and managing and conserving resources respectively.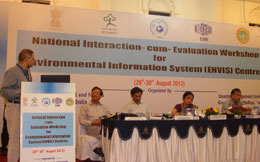 ENVIS is a network of subject specific centres to disseminate environmental information set up in 1982, by Ministry of Environment and Forests, Government of India.
Mr. Nilkant Ghosh, Statisitical Advisor, MoEF requested the State Centres to focus on Indian State Level Basic Environmental Information Database. MoEF has developed this comprehensive web-enabled database with GIS interface on 23 modules in various subject areas of environment and its associated fields which are relevant to the State ENVIS Centres. Mr. Ghosh said that the software was built to cover the gaps in environmental data dissemination with regard to broad parameters such as air pollution, water pollution, forestry, land resources, flora and fauna, and of course, help the states in bringing out their State of Environment Report.
Presently, the ENVIS network consist of 67 ENVIS centres, out of which, 28 ENVIS Centres are in State Government Departments dealing with the Status of Environment, and related issues of the concerned State Government and the remaining 39 have been set up on various environmental disciplines.
CEE is the ENVIS centre on Environmental Education (EE). As an ENVIS centre, CEE caters to the information needs of environmental educators. Write to the CEE ENVIS Centre at
cee.envis@ceeindia.org

Dolphin Mela
Under the Ganges River Dolphin – Conservation Education Programme, there are 20 schools clusters located in Assam, Bihar, West Bengal and Uttar Pradesh. The mela is concluding event of the year-long school activities conducted by the dolphin schools. 14 melas have been conducted so far. In August, Dolphin melas continued in four locations at Uttar Pradesh. The first dolphin mela, held on August 8 at Narora, Bulandshahr, was organized by CEE North in association with the WWF Narora Office. On August 17 another mela was organized at Varanasi with support from MANAS, a partner agency. The next two melas were held on August 30-31 at Bahraich and Gonda respectively in association with Turtle Survival Alliance.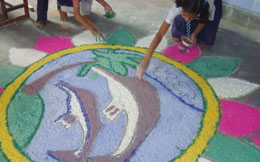 The theme of Rivers and Ganges River Dolphin was creatively presented in a Rangoli Competition organized during the mela.
These melas saw an overwhelming response from schools, with participation of 120-170 students, teachers, and community members. Students displayed posters, dolphin models, and slogans to conserve the rivers and the Ganges River Dolphin. Students also delivered short speeches on Ganges River Dolphin. A quiz was conducted too. Students also enacted street plays to raise awareness on the issues related with Ganges River Dolphin among the community members.
At the end of the melas, winners of different competitions were awarded with dolphin t-shirts, caps and books on environmental issues. Students also took the pledge to conserve and protect biodiversity and voted for the National Microbe.
Young India for Biodiversity : State Level Selection
Rajasthan State Bharat Scouts and Guides (RSBSG), the Nodal Agency for the National Green Corps organized a two-day workshop to select students who would participate in the side event 'Young India for Biodiversity' during the Convention on Biological Diversity (CBD) Conference of the Parties 11 (COP 11) at Hyderabad in October.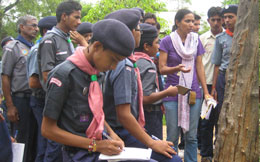 The field visit to Kulish Smriti Van facilitated the process of learning through exploring nature.
During the workshop, CEE Jaipur, the NGC State Resource Agency oriented the participants about biodiversity and allied issues. The Workshop provided the platform to discuss, share and learn through interactive sessions. 25 participants from the NGC network attended this Workshop that was organized at the RSBSG Training Centre, Jagatpura on August 16-17.
Biodiversity Conservation Campaign at Lucknow Zoo
CEE North in association with the Lucknow Zoo organized a campaign from August 22-25. The campaign aimed to spread awareness towards the conservation of biodiversity and towards the use of sustainable bio-resources. More than 1500 visitors to the zoo participated in this campaign which included taking and signing a pledge to conserve and protect biodiversity, and also voting for the national microbe.
Voting for the national microbe was an attraction for the visitors.
Of the eight contenders for the position, the role of Bacteriophage- T4 was appreciated the most. It helped in protecting the River Ganga from pollution and hence 'Captain Phago' emerged as the most popular choice during the campaign.
Paryavaran Mitra News
Paryavaran Mitra Programme at Bhatinda
CEE North in association with Bhatinda Vikas Manch organized a one-day programme for students and teachers on August 22 at Mata Sita Devi Senior Secondary School, Bhatinda. The programme began with a competition for students in the junior and senior category. The painting competition saw 500 students from 77 schools participating. The programme was organized in collaboration with PCRA.
A teachers' orientation workshop was also organized. Mrs. Amarjeet Kaur, District Education Officer inaugurated the workshop and motivated teachers to make their schools a Paryavaran Mitra school. Teachers shared examples of environmental actions, and were further guided to take up actions under the five themes. 120 teachers from 77 schools participated in the programme.