ESD through National Park Experiences at IUCN-WCC 2012
A side event "ESD through National Park Experiences' during IUCN's World Conservation Congress was held on September 11 at Jeju Island, Korea. The programme was jointly organized by Korea National Park Service, Victoria National Park Service Australia, McGill University Canada, and Korea National Commission for UNESCO. The programme was attended by more than 60 park rangers of Korea and participants from various countries to the Congress.
The programme aimed at sharing various strategies and approaches with reference to Protected Areas and Education for Sustainable Development.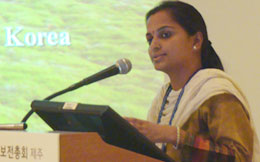 Ms. Kanaujia, shared CEE's strategies and learnings from the ESD programme implemented with the 'Tharu' tribal community residing around Dudhwa National Park.
Ms. Preeti R. Kanaujia, Programme Coordinator, CEE was invited as a speaker on the panel 'Local Community Engagement for ESD of National Parks'. She presented a case study titled 'Community – National Park collaboration in relation with indigenous knowledge and biodiversity conservation' from India.
Dolphin Melas at West Champaran and Etawah
A dolphin mela was organized at Bettiah, West Champaran of Bihar on September 8 in one of the many dolphin schools situated near the river Gandak. Around 400 students and teachers of 15 dolphin schools participated in this mela where they put up an interesting exhibition and street play. A painting and quiz competition having a focus on river Gandak and Dolphins were also organized. The mela was conducted by CEE North and Adhar, a partner agency.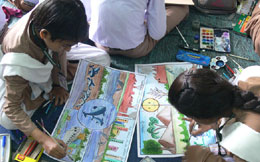 The river and the dolphins - painting a pretty picture!
The last and 20th Dolphin Mela was organized at Etawah, Uttar Pradesh on September 14 by the Society of Conservation for Nature with the support from CEE North. The mela saw enthusiastic participation of 13 schools with 150 students and 16 teachers. Students participated in various competitions, in addition to taking the Biodiversity Pledge, and voting for the National Microbe. The District Magistrate and the Divisional Forest Officer were the Guest of Honour. They awarded prizes to winners of the various events.
PCRA painting competition at Hamirpur, Himachal Pradesh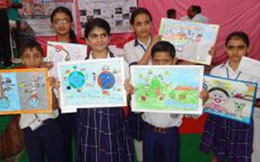 Communicating conservation messages creatively
CEE Himalaya in collaboration with the Education Department, H.P. organized the Regional PCRA Competition at the Government Boys' Senior Secondary School, Hamirpur, on September 14. Over 500 children from 94 schools, representing all the 12 districts of the State participated in this competition. Children expressed their thoughts on the themes 'Save Energy & Save Environment' in Group A (standards 3-5) and 'Save Fuel Yani Save Money' in Group B (standards 6-8). The programme was inaugurated by the DC Hamirpur, who also signed the Pledge for Life. The chief guest Hon'ble Education Minister awarded cash prizes to the winners of both the groups. The event coincided with the ongoing 2nd State Level Model Exhibition that displayed innovative science projects by budding scientists of the State.
Teacher's Training and Handbook Launch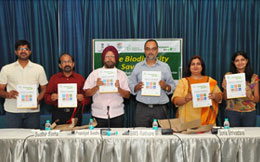 The Paryavaran Mitra Teacher's Handbook was launched by Dr. B M S Rathore, Jt. Secretary, MoEF and Mr. Sudhir Kumar Sinha, Country Head CSR, ArcelorMittal
A one-day teacher training programme was organized on September 1 by CEE, Delhi. Over 60 teachers from 45 different schools of Delhi and the National Capital Region (NCR), which are enrolled under Paryavaran Mitra programme, participated in this training program. The Paryavaran Mitra: Teacher's Handbook was also launched at this workshop.
To learn more about the Handbook, read here.
Young India for Biodiversity: Bihar State Selection Workshop
CEE North, the National Green Corps (NGC) Resource Agency for Bihar, in association with Bihar State Pollution Control Board (BSPCB), the State Nodal Agency, organized a State-level selection workshop on September 7. The workshop was attended by 14 of the 18 shortlisted students from three districts of the state viz. Patna, Bhagalpur and West Champaran.
The one-day selection process comprised short presentations of Biodiversity Action Plans submitted by students, which will be implemented in the coming 6 months. The presentations were followed with the Just a Minute activity. The process helped in selecting students who will represent the State at the Young India for Biodiversity event being held at the Convention on Biological Diversity (CBD) Conference of the Parties 11 (COP 11) at Hyderabad in October.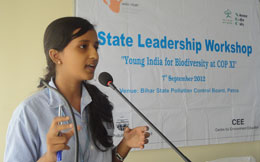 Two NGC School students were selected to represent the State of Bihar.
The judges for this selection process were from Zoological Survey of India, Tarumitra, Bihar State Pollution Control Board, Patna and CEE. The chief guest for the programme was Mr. Rakesh Kumar, Member Secretary and Nodal Officer, NGC from BSPCB.
CEE is the ENVIS centre on Environmental Education (EE). As an ENVIS centre, CEE caters to the information needs of environmental educators. Write to the CEE ENVIS Centre at
cee.envis@ceeindia.org
Pledge for Life Campaign and National Microbe Voting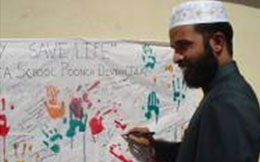 CEE Himalaya team along with its Parayvaran Mitra partners carried out the campaigns simultaneously in the Himalayan States.
People across the states of Himachal Pradesh, Jammu and Kashmir (J&K) and Uttarakhand enthusiastically participated in the Pledge for Life Campaign. Students and Teachers from Paryavaran Mitra Schools, Degree Colleges, University, Technical Institutions, and common citizens pledged to protect the biodiversity of the nation. This campaign has reached out to remote districts in J&K bordering neighbouring Pakistan and has received overwhelming response from students studying in elite schools, to economically challenged children; from parents to local community members; and officers from the State Education Departments, among others. Over 125,000 biodiversity pledges have been signed and Handprints have been collected. Students also voted for the National Microbe at many places.
Peoples' Voice Matters: Citizens' Opinion Poll on Biodiversity
September 15 is observed as World-Wide Views Day across the globe. This year theme was Biodiversity. As part of the project World Wide Views on Biodiversity (WWVB), citizens meetings and opinion poll on issues related to biodiversity were held in 25 countries and 34 locations across the globe. Four such meetings were held in India by CEE at Ahmedabad, Delhi, Chennai and Bhubaneshwar respectively.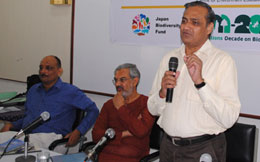 Mr. Bharat Pathak (IFS), Director, GEER Foundation, Gandhinagar and Mr. Kartikeya Sarabhai, Director, CEE shared their views.
The meeting at Ahmedabad was organized by the Rural Programmes Group at CEE. More than 115 participants from various walks of life voiced their opinions on the theme.
The participants represented varied age groups, and back grounds. Group included, fisherfolk, farmers, pastoralists, vaids, religious leaders, housewives, traders, rickshaw drivers, doctors, security guards, house maids, slum dwellers, engineers, senior citizens, students from CEPT, NID and Gujarat University among others. Care was taken not to have any one who is 'expert' in Environment, so as to gather laypersons' opinions.
Short films on 4 themes - Introduction; Biodiversity of Land; Biodiversity of Sea; and Benefit and Burden were screened, followed by a briefing on the film. Participants were given a set of questions to vote for after each film. The questions reflected concerns and opinions of citizens on various issues like, 'what should come first, economic interest or establishing protected areas, or should there be a new treaty to conserve biodiversity of High Sea?
The results from each of the sessions were fed into the larger global portal and the analysis was made available to the participants immediately. It was interesting to note that 69% of the group were concerned about biodiversity loss, while more than 50% voted in favour of establishing more protected areas, as long as crucial economic aims were not at stake. Detailed analysis is available on www.biodiversity.wwviews.org.
The results from this global exercise will be collected, analysed and presented at the Convention on Biological Diversity (CBD) Conference of the Parties 11 (COP 11) at Hyderabad.
This project was created by the Danish Board of Technology and its partners and is being supported by the Secretariat of the UN-Convention on Biological Diversity, and the Danish Ministry of Environment.
Himalaya Diwas Celebrations
Himalaya Diwas, was celebrated with the community members of Surala Gram Panchayat, Sirmour, Himachal Pradesh in collaboration with YUMDAH, a Paryavaran Mitra partner. On September 9, 2100 people participated in this event where they discussed about the local environmental issues affecting their lives and livelihoods. Some of the issues that were discussed included people's rights on land and forest, depleting resources, water availability, disturbances in weather patterns and local biodiversity-related concerns. They were apprised on the global environmental concerns in the context of CBD COP 11. They took the 'Pledge for Life' and joined the national campaign on conserving local biodiversity.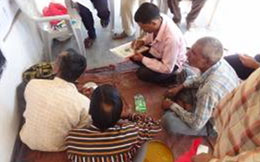 Observing September 9 as Himalaya Divas is building a movement to draw interventions from policy makers, national leaders and common citizens.
Environmental activists from mountain states marked this day in 2010 to raise awareness among the masses and the government on working towards the need to conserve the Himalayan ecosystem that is threatened due to human interferences.
Eco- clubs in Jaipur celebrate World Ozone Day
The painting competition provided children with an opportunity to depict their understanding of the various aspects of biodiversity.
Eco- club members from five schools enrolled under the National Green Corps programme celebrated World Ozone day at Vidya Sagar Academy, Bassi, Jaipur on September 14. The event highlighted the links between various environmental issues and Biodiversity. The CEE Jaipur team oriented the students on the importance of biodiversity and the possible ways of conserving it at the local level. Students were encouraged to adopt an eco-friendly lifestyle as a positive action towards increasing their handprint. Children actively participated in the signature campaign and also took the pledge to protect biodiversity. This event engaged around 85 participants. The programme culminated with the prize distribution ceremony.