International Day for Natural Disaster Reduction
The International Day for Natural Disaster Reduction was observed by over 70 students and 12 teachers at the Govt. Boys' Middle School, Kralpora, Srinagar on October 13. The theme for the year 2012 was 'Women and Girls: The (in) Visible Force of Resilience'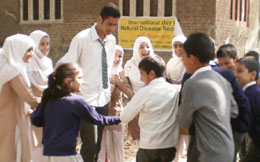 Participatory field activities were effective to help explain concepts of 'capacity', 'vulnerability' and 'hazards'.
The event began with a briefing on the history of this day, and the significance of the theme that highlighted the role of women and girls in the management of disaster situations; their fortitude in the face of tragedy, and their resilience and adaptability in adverse circumstances. Emphasis was laid upon women and girls being powerful, but often invisible drivers of change in any community. It was highlighted that in a conservative society such as in Jammu and Kashmir, women get fewer opportunities to voice their concerns and take leadership roles outside their homes, and reiterated that this must change as women in the Valley are now educated and have immense capacity and potential to protect their families and communities in times of difficulty. CEE's work during 2005 Kashmir Earthquake response towards building capacity of the women was shared with the participants.
Disaster Risk Reduction measures such as preparation of school evacuation plans, mock drills, forming of teams and committees, and training, planning and coordinating emergency tasks and other important aspects were shared at the event.
Wildlife Week Celebrations
Sundarvan celebrates Wildlife Week
The Wildlife Week (October 1-7) saw several activities being organized at Sundarvan, CEE's Nature Discovery Centre. A bat show was organized on the first day. Handouts received from Zoo Outreach Organisation (ZOO) were distributed to those who attended. The handouts were used to explain the importance of pollinators like bats. On the second day, children actively participated in competitions like painting, quiz and elocution and also received gift vouchers to Sundarvan's camps as prizes. Reptile awareness workshops were conducted for school teachers and students. More than 300 students attended this workshop.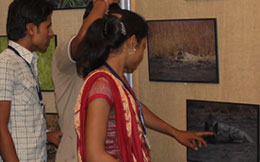 Photographs captured the variety of flora and fauna.
Members and friends of Navgujarat Multicourse Training Institute under the guidance of Mr. Ketan Modi, Director, and Mr. Nirav Bhatt, Naturalist, from Savannah Nature Conservation Society, displayed photographs on October 4-5 and October 6-7 respectively at the Sundarvan campus. A workshop on basic photography by Mr. Modi, and another one on 'birds' by Mr. Mayank Ghadi, Naturalist were conducted on October 4 and 5 respectively. A trip to Hingolgadh and Lothal was organized for the general public on October 7.
Celebrations at Jaipur Zoo
CEE Jaipur collaborated with Jaipur Zoo and Rajasthan State Pollution Control Board to celebrate Wildlife Week. This was done as part of CEE's role as a State Resource Agency of National Green Crops (eco-club) in Rajasthan. The main objective of the event was to create awareness and interest along with better understanding, about wildlife among schools children and other segments of the society.
During the week, CEE facilitated Jaipur Zoo in conducting a number of activities including quiz, drawing and painting, essay writing, photo identification and elocution competitions. Nearly 8000 students participated in different activities. In all 50,000 students of 230 schools visited the zoo during the week. Apart from this, youth from colleges and representatives from Government; NGOs and media also participated in the programme.
Mr. U.M. Sahai, Principal Chief Conservator of Forests and Head of Forest Department, Rajasthan was the Chief Guest of the Valedictory function that was held on October 6. Mr. A.C. Chaubey, Chief Wildlife Warden, Mr. P.S. Somasekhar, Chief Conservator of Forest, Wildlife, and Mr. Ajay Gupta, Director Jaipur Zoo were also present at the programme. Children were awarded with prizes for the various competitions that were held during the week.
A fun-filled day at Kulish Smriti Van
CEE Jaipur also organised a one-day event on October 2 for Wildlife Week celebration along with Nature Club of Rajasthan at Kulish Smriti Van. Activities held during this day included wishing tree, face painting, canvas painting and environmental games like snakes and ladders; web of life; break the pyramid.
CEE is the ENVIS centre on Environmental Education (EE). As an ENVIS centre, CEE caters to the information needs of environmental educators. Write to the CEE ENVIS Centre at
cee.envis@ceeindia.org
Science Express Biodiversity Special –
A Study of Visitors' Response to the exhibition
'Science Express – Biodiversity Special (SEBS), an innovative and unique mobile exhibition on a specially designed 16 coach AC train, was flagged off from Delhi on June 5. The exhibition aims to create awareness about the biodiversity of India, climate change and similar issues among students, teachers and the general public. By the end of September the train had already been visited by over 1 million visitors.
What do visitors look for, look at, and take away from the exhibition? Between July and September 2012, a team from CEE undertook a research study at two locations, Chennai and Pune railway stations to assess visitors' response to the exhibition, and to provide information for mid-course correction, and future initiatives similar to this one. The team administered survey questionnaires to school children, a major group from amongst the visitors, before and after their visit to the Science Express exhibition. The team conducted in-depth interviews of a variety of visitors, had a focused discussion with the Science Educators and carried out structured observations inside the train.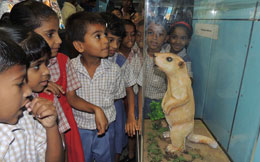 The life-like models and the interactive elements attract old and young alike.
The first level analysis of the results indicate a positive trend in terms of information recall among the school children. The results also provide useful suggestions for improvements for the next phase of the train. These include suggestions on better planning of school visits to manage crowds at the station, local language use in the exhibition, inclusion of certain topics of interest and so on. The train seems to have made a definite impact and has been able to garner interest from a variety of people wherever it goes.
Lifelong Learning = Resilient Communities
The 52nd Adult Learning Australia Annual Conference 2012 was held during October 10-12 at the Byron Community College, Byron Bay, Australia. The conference, with a theme of 'Lifelong Learning = Resilient Communities', was attended by over 100 adult learning practitioners.
A paper based on the Sida sponsored International Training Programme in ESD in Formal Education titled 'Managing Change in the Formal Education Sector for a Sustainable and Resilient Society Tomorrow' by Ms. Shivani Jain, Programme Director, NCB and Ms. Carol D'souza, Programme Officer, NCB was accepted by the Conference. With support from CEE, and part sponsorship from the Sir Ratan Tata Trust, Ms. D'souza facilitated an hour-long workshop on the same at the Conference.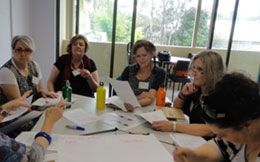 The critical feedback received on the ITP case would be incorporated while designing new adult training programmes at CEE.
The Workshop, one of the parallel events at the Conference, was attended by 16 adult learning experts. The Workshop presentation established CEE's experience that to be successful, on-the-job training programmes must engage not only individual professionals, but more wisely 'the individual located within an institutional system' as the unit for change and capacity building. The Workshop also provided a forum to seek feedback on the structure, the design and the methodology used in this significant global experiment on adult training. Ms. D'souza closed the Workshop by highlighting impacts of the Programme in the Asia region and sharing examples on how formal education professionals, through this training programme, were engaged in innovative and path breaking work towards infusing SD into formal education.
The Workshop highlighted that the ITP, through continued learning processes, laid the foundation for a society that is economically, socially, culturally and environmentally more resilient.
Nature Trail Programme
CEE recently started a Nature Trail Programme for students and teachers on the CEE - NFD campus. The 13 acre campus is an example of nature's power of regeneration, when it is protected well. During the trail the participants learn about vegetation; birds; invertebrates; and other components of nature through observation. Normally the trails are of two hour duration for groups comprising of 20-25 participants.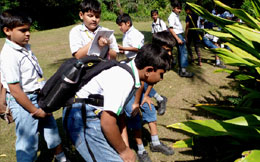 The joys of exploring and discovering the wonders of nature.
Between October 10-13, eight groups of students from Euro School and the Community Science Centre visited the campus to learn about various aspects of nature. They were introduced to the life cycle of fig trees like pipal (ficus religiosa) and bargad (ficus benghalensis) and they learnt about food plants of some butterflies like Plain Tiger and Common Jay. They also saw birds like the Golden Backed Woodpecker, Babblers and Peafowl.