Side event on Low Carbon Vision for a Sustainable India at UNFCCC – COP 18
During United Nations Framework Convention on Climate Change COP 18 Doha, CEE was involved in the side event on 'Low Carbon Vision for a Sustainable India' that was held on December 3. The side event aimed to reflect on low-carbon scenarios for India based on the concept of a threshold level of 'well being' for every citizen of India, derived from a perspective of the right to development and equitable access to carbon equivalent space.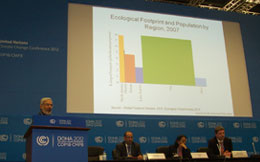 Mr. Sarabhai stressed the need for a shift in paradigm of development.
Mr. Kartikeya Sarabhai, Director, CEE in his keynote address, stated that the current paradigm of development is unsustainable. This is evident from the crises (climate change and biodiversity loss among others) that we are facing. He shared his concept of 'Leapfrogging' and said that we need to adopt the sustainable development model. He said that education is one of the key drivers of change required to bring the required shift in paradigm of development.
Other Speaker during this event were Mr. T.S. Panwar, WWF India; Mrs. Jyoti Parekh, IRADe, India and Ms. Tasneem Essop, from WWF International.
CEE along with various other organizations in India and Germany like Breat for the World (BfdW) and German Agro Action (Welthungerhilfe), Bonn, Church's Auxiliary for Social Action (CASA) and Laya, and WWF India and WWF Germany is undertaking a study on 'Low-Carbon Pathway for a Sustainable India' with an aim to promote the development of a low-carbon pathway for sustainable India.
Students to participate in the Global Youth Meet in Seoul
Paryavaran Mitra Programme in association with the TUNZA Eco-Generation of Samsung Engineering organized an online Environmental Essay Competition across the country. Over 500 students sent in essays on the topic "How Climate Change affects our life: Climate Change and my efforts towards a sustainable life." CEE facilitated a face-to- face orientation on the topic in schools in and around Delhi. The first and second place winners have been awarded a fully sponsored trip to the 2013 Global Youth for the Environment Forum to be held in Seoul, Korea in February.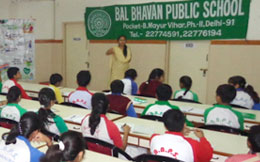 The winners will join 400 other young leaders at Seoul to share and engage in cultural exchanges.
More about the competition at: www.paryavaranmitra.in
Paryavaran Mitra at SSA training
Paryavaran Mitra teams from CEE North East acted as facilitators in the Saturday Club training programmes for School Managing Committee (SMC) members of schools of Goalpara district, Assam. Saturday Clubs have been formed in schools of Assam under Sarva Siksha Abhiyan (SSA). The Clubs provide an opportunity to engage students in diverse and multi-dimensional activities like gardening, clay-modeling, campus cleaning, song, drama, art and craft works, literature and sports under the supervision and support of the community.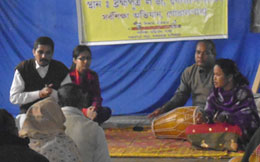 Ideas for active teaching-learning and action projects were discussed.
The Paryavaran Mitra programme is being implemented in 3000 schools through such clubs. The module for the club has been based on the Paryavaran Mitra booklet to ensure action-based whole school approach towards sustainability. The trainings were conducted for Lakhipur, Dudhnoi and Balijana blocks on 15, 18 and 19 December respectively. These involved group discussions on the five themes; games and activities for teaching environment-related topics; ideas for action projects; discussion on curriculum linkages of the programme, and classroom implementation.
Read more: www.paryavaranmitra.in
School Medicinal Garden
CEE Kannur collaborated with Oushadhavali (Biodiversity Conservation Samiti), Kasargod, in setting up a Medicinal Garden at Government Welfare Higher Secondary School, Cherukunnu (Kannur District) on November 23. The programme included a session on "Local medicinal plant varieties and their uses"; a field visit around the campus to identify medicinal plants, and plantation of medicinal herbs.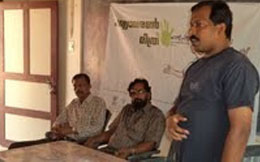 The school Principal Mr. Muralidharan K welcomed the guests, while Mr. Prasannan PP (Project Associate, CEE Kannur) spoke about Paryavaran Mitra activities in Kerala. Mr. Aneech C delivered the vote of thanks.
The programme was inaugurated by Shri Raveendran Mykeel (Charakan), Hereditary Physician. During the class he introduced 40 varieties of medicinal plants to the students and explained their usage and the importance of conservation. He then took the students on a campus walk to identify the medicinal plants. The school has a 3.5 acre campus surrounded by wetland and mangroves. During the walk, 13 medicinal plants species were identified and the students promised to protect the plants in the campus.
The students and teachers planted the saplings of herbs in the school compound. Some of the herbs planted were Brahmi, Changalam peranda, Shathavari, Somalatha, Uzhinja, Vayambu, Venkurunji, Vishnukranti, etc.
National Youth Forum on Green solutions
Dr. Abdhesh Gangwar, Programme Director, CEE Himalaya was invited as a resource person by the International Centre for Integrated Mountain Development (ICIMOD) to address to their three-day 'National Youth Forum (India) on Green Solutions'. This forum was organized by ICIMOD with Young Uttarakhand Voluntary Action (YUVA), from December 9-11 at Swami Ram Sadhak Gram Ashram, Rishikesh, Uttarakhand. The event was a part of ICIMOD's youth programme Post Rio+20 contexts. The event culminated on December 11 which marks International Mountain Day. In addition to the youth participation, staff of ICIMOD, several local governmental organizations and NGOs also took part.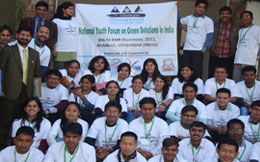 More than 30 youth across the Indian Himalaya Region participated in the forum.
The Forum was to an opportunity to orient youth to ecological, economic and social problems that the mountains are faced with, and how youth can become ambassadors of sustainable mountain development to promote green solutions. Climate Change and adaptation challenges, opportunities in the mountain states of India and Green Solutions were the key thrust areas of deliberations. Mr. Gangwar addressed the issue of footprint, and Handprint focusing upon 'Youth and Lifestyle', and discussed how youth can help contribute to increase Handprint and reduce footprint, and be mobilized as a force to address to issue.
Field testing of Knowledge Products
CEE Himalaya, under its UNDP supported 'Developing Communication Strategy and Tools' for the conservation of medicinal plant diversity in the state of Uttarakhand, has brought out several knowledge products. These have been field tested them in and around the Medicinal Plants Conservation Areas (MPCAs) and Medicinal Plants Development Areas (MPDAs) of Mohan and Bastiya.
The different knowledge products are developed to cater to varied clientele. Year Planner 2013 focuses upon the 'flagship' species. The book labels for school children depict 35 'globally significant medicinal plants'. A set of six posters address themes of forest fires, water management, sustainable and scientific harvest, herbal home gardens, and traditional health care systems and various threats to medicinal and aromatic plants respectively. Another poster gives tips to farmers on Medicinal and Aromatic Plants cultivation, procurement of planting material, information, training, subsidy, registration, value addition and marketing.
School children gave feedback on the 2013 Year Planner.
Initial field testing was done in villages and schools, with forest officials at varied levels. On December 13, in a workshop organized at Bastiya, various stakeholders discussed these knowledge products. On December 14 another workshop was organized with UNDP, State Medicinal Plants Board, State Biodiversity Board and the two other communication agencies engaged in Arunachal Pradesh and Chhattisgarh. All the knowledge products developed by CEE were found to be useful and well designed.
Science Express – Biodiversity Special in Rajasthan
Science Express–Biodiversity Special (SEBS) entered the state of Rajasthan on December 6, and SEBS events were organized at three railway stations-Barmer, Bhagat Ki Kothi (Jodhpur) and Durgapura (Jaipur), from December 6-17. Team members from CEE Jaipur and Rajasthan State Bharat Scouts and Guides were present at these three places. They mobilized schools enrolled under the National Green Corps and Paryavaran Mitra programme to actively participate in SEBS activities. As a result, in-spite of half yearly examinations in the schools, a total of 36680 students and 1574 teachers from 363 schools enthusiastically visited the train.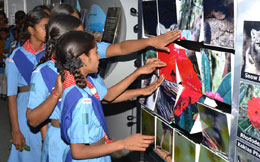 Students enjoyed the interactive exhibits in the SEBS train.
Besides the exhibits in the train, a series of biodiversity education and awareness programmes in form of platform activities including environmental games were jointly organized by CEE and SEBS team. Volunteer from SAVE youth group helped conduct these activities. 11694 students actively participated in these activities. The Joy of Science lab received participation of 6860 students who performed experiments and activities on their own. Resource persons from CEE oriented teachers about project based learning, and how schools can take up the projects related to biodiversity in connection to their curriculum. Students also participated and expressed their artistic ability to use colours with fun in PCRA painting competition organised by CEE on the themes "Energy and Environment" and "Save Fuel: Save Money".
CEE is the ENVIS centre on Environmental Education (EE). As an ENVIS centre, CEE caters to the information needs of environmental educators. Write to the CEE ENVIS Centre at
cee.envis@ceeindia.org