e-newsletter of the Centre for Environment Education

June 1 -15, 2013
World Environment Day (WED) is celebrated every year on June 5 to raise global awareness of the need to take positive environmental action.' Think.Eat.Save.' was the theme of this year's World Environment Day. 'Think.Eat.Save.' is an anti-food waste and food loss campaign that encourages all to reduce their food print.
Various offices of Centre for Environment Education (CEE) across the country marked World Environment Day 2013 with different events.
Even puppets shared the message of 'Think Eat Save'!


CEE West:

Ahmedabad
The day began with a birdwatching trail on the campus, followed by treasure hunt. During the trail, the participants learnt about the intrinsic relationship between various components of nature participants. The treasure-hunt had participants following various clues around the CEE campus, along with solving interesting word puzzles that revealed names of some nutritious food items. A number of parallel activities like one-minute games giving environmental messages to the young ones in a fun-filled way; snakes and ladders; darts, breaking the pyramid game were held. Face painting and pottery, as always, were prime attractions. An hour-long game 'Quizzola' was also organized.
Competitions for poster-making; poem-writing and photography were held. A puppet show on the theme was enjoyed by more then 200 children. Children were creatively engaged in making best out of waste material. They learnt to make useful items from waste material such as used plastic water bottles, old tyres, CDs etc.
A chef demonstrated making interesting recipes using leftover food, and generally unused parts of vegetables such as peels of bitter-gourd, onion etc.
A group of children from a school in rural Gujarat, accompanied by their teacher, joined the activities. Together they demonstrated the making of greeting cards by using locally available material, dried leaves and flowers, pods, seeds etc.
Concept Biotech, a composting consulting firm was invited to set up a demonstration unit of home and community based compost. A display and collection of e-waste was set up by Eco-friendly Computech Solutions (ECS), which sponsored the day-long event.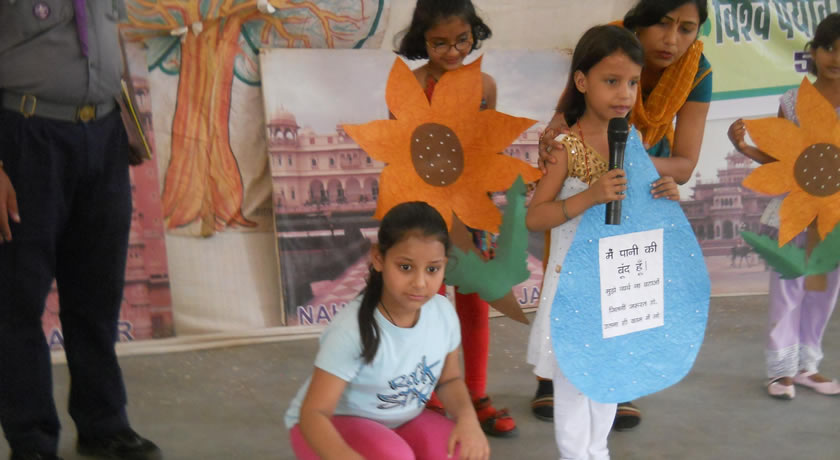 CEE Jaipur
Week-long WED celebrations were organized by CEE Jaipur in collaboration with Rajasthan State Bharat Scouts and Guides from May 30- June 5. Programmes were organized at different locations of the city to encourage individual contribution for a better environment.
800 students enthusiastically participated in different thematic competitions like essay writing; slogan writing; elocution; best out of waste; collage; poster-making.
Children also participated in a 'Run for Environment' race, organized by State Pollution Control Board and Forest Department, Government of Rajasthan, appealing to the people to work towards saving food and environment. The event culminated with an exhibition put up by the participants showcasing products developed during the week-long event.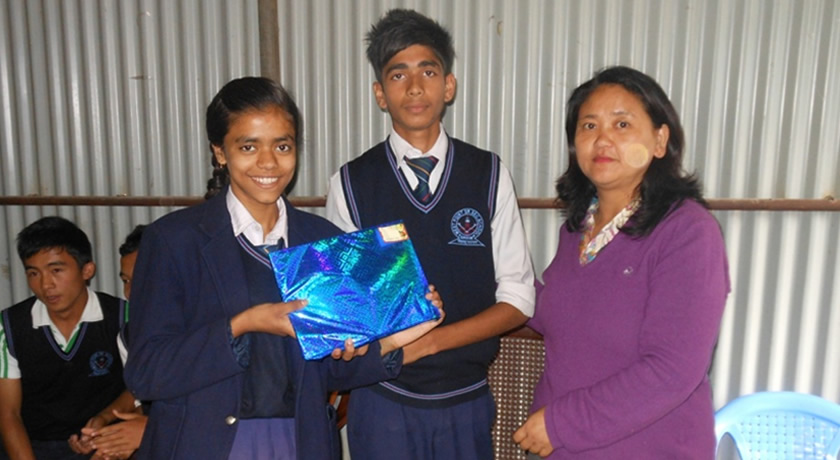 CEE Himalaya
Gangtok, Sikkim
CEE Himalaya in collaboration with the Gangtok Municipal Corporation celebrated the day at West Point School, Gangtok. The celebration was an effort to improve public awareness and understanding of the environment and sustainable use of natural resources. Given the theme, CEE focussed on the topic of food wastage and several activities were planned around the same.
An important part of the event was the discussions on solid waste management in Gangtok, which is also the focus of CEE's project on Supporting Urban Sustainability in Gangtok. In addition to generating awareness amongst participants regarding food wastage and management of domestic waste, other environmental issues were also touched upon by resource persons.

During the opening speech, Ms. Pemba Lhamu, Principal, West Point School talked about nature and the environment and said that it was important to conserve nature today for a better tomorrow. She stressed upon the theme of this year's WED and urged participants not to waste food. She appreciated efforts made by CEE towards sentizing students on important issues that are affecting the world on a large scale. 
A Nature and Environment Quiz for students from grades 8 to 12 was conducted by Mr. Nitish Kumar, Project Officer, CEE Sikkim The quiz included visual clues to environmentalists, animals, trees and birds of Sikkim and North-East India.
Two video films titled 'What Can We Do about Food Wastage?' and 'Ideas de Reciclaje' were also screened for the participants. While the first video focused on ways to manage food wastage in our daily life, the second video included suggestions to utilize/recycle abandoned materials for various purposes.
Over 200 students participated in the event.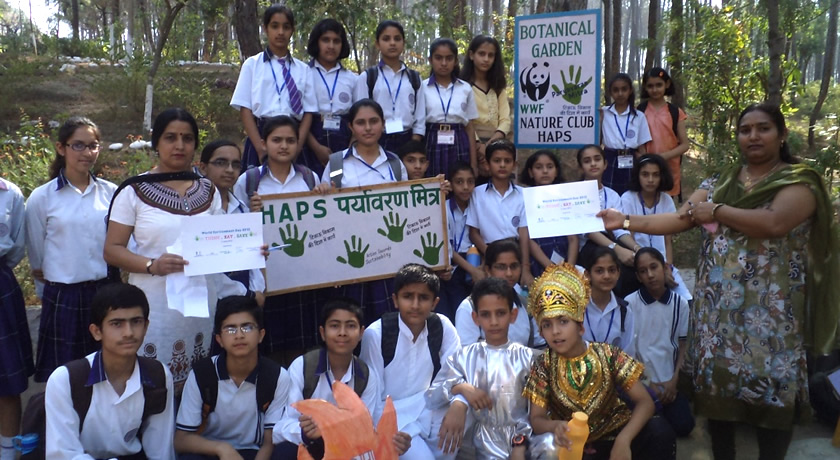 At Himachal Pradesh
CEE Himalaya celebrated the day at two different locations in the Hamirpur district, Himachal Pradesh in collaboration with two Paryavaran Mitra Schools: Him Academy Public School (HAPS), and Government Boys' Senior Secondary School (GBSSS), Hamirpur.
On 5th June 2013, HAPS commenced WED celebrations by organizing a rally in areas surrounding the school. The participants carried placards and posters made by students that had messages related to conservation of the environment and various other environmental issues. Following the rally, the students visited a nearby jungle with teachers and experts to learn about the rich biodiversity of the area. They then learnt about the causes of forest fires and ways to protect jungles from fires. The students proceeded to clear a patch of the jungle by collecting Chir Pine (Pinus roxburghii) needles, a major cause of forest fires in summers. After the exposure visit to the jungle, the students returned to their school and participated in various events like painting, poetry writing, slogan writing, skit, environmental quiz, declamation etc. All activities and competitions were carried out to promote the theme. Students also visited Institute of Biotechnologies & Environmental Science, Hamirpur, where they interacted with scientists and discussed various environment related issues. Around 200 students participated in the activities at Him Academy Public School.
On 6th June 2013, WED 2013 was celebrated at GBSSS, Hamirpur. All schools of the district headquarters participated in the celebration of the event. The event commenced with a 'welcome speech' by the principal of the school. Mr. Vipin Sharma, a resource person from HAPS, spoke about the emission of harmful gases and other products into the atmosphere. He stressed that every individual must strive to alter their lifestyle in order to directly reduce their carbon footprint. The principal of HAPS said that there are many ways in which one can follow a low carbon lifestyle. Some options that can directly influence climate change impact include using BEE Star rated appliances, installation of solar water heaters, efficient use of the geyser, petroleum products, electricity, power, and electronic gadgets.
A skit highlighting the importance of sustainable development in the modern world was performed by students of GBSSS. All 220 students participated in various events like painting, poetry writing, slogan writing, skit, environmental quiz, declamation etc. Prizes were also distributed to the winners of various activities. Towards the end of the event, all participants visited the herbal garden created by students of GBSSS in order to learn about the importance and high value of medicinal and aromatic plants. Some students were also inspired to create their own herbal gardens either at school or at home.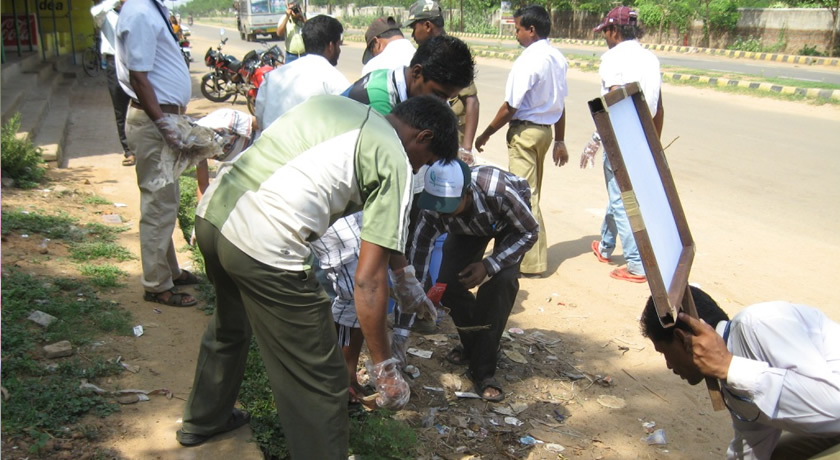 CEE Odisha
CEE Odisha in partnership with Nandankanan Zoological Park and WWF Odisha organized a cleanliness drive both inside and outside the Nandankanan Zoo campus.
The cleanliness drive reiterated to avoid the use of polythene within the zoo campus, especially as this had been declared as a non-polythene zone since WED last year. Around 50 people participated in this campaign. The participants were divided into two groups. They focused on educating the visitors, the shopkeepers and vendors on why not to use polythene, and also on the importance of keeping the campus clean.
In the evening, Mr. Bibhu Prasad Tripathy, Programme Officer, CEE Odisha participated in an event that was organized by Jeevan Rekha Parishad in partnership with 92.7 BIG FM and Odisha Stone Crushers' Association.  Addressing the gathering, Mr. Tripathy, made a presentation on the theme 'Think. Eat. Save'. Delegates from various Government and Non- government bodies were present at this event. Mr. S N Patro, Honorable Revenue Minister, Government of Odisha graced the occasion as the Hon'ble Chief Guest.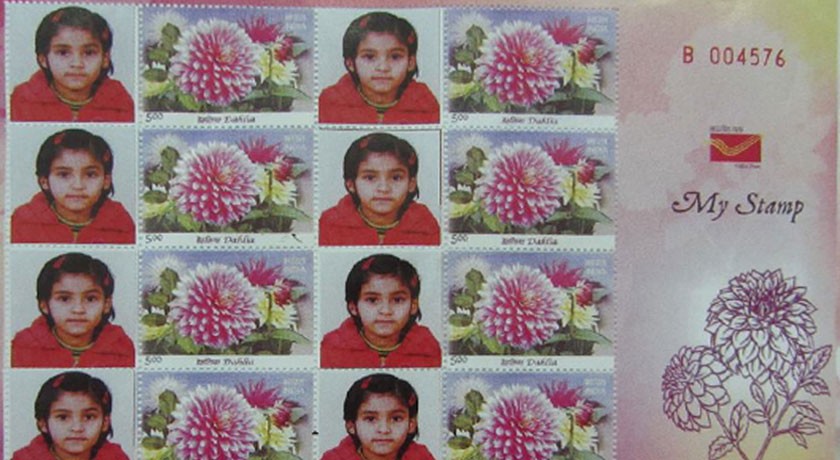 Sundarvan: Nature Discovery Centre at Ahmedabad
30 participants identified 23 bird species during the early morning birdwatching session conducted in Sundarvan park .They were oriented to the importance of bird watching, steps to identify birds and data keeping. A talk on house sparrow conservation was arranged in the evening. Mr. Jagat Kinkhabwala, a management consultant and nature enthusiast, highlighted the reasons for the decline in sparrow population and actions that we can take to save them. A snake awareness programme was also conducted for the visitors.
A Philately exhibition on the Wildlife of India was on display at the park for a week, beginning June 5. The Army Postal Service opened a counter at Sundarvan for 'My Stamp'. Under this activity, a person's picture is printed along with a set of Indian postal stamps in a sheet. Four different flower designs, Dahlia, Lily, Pansy and Cineraria were used in this activity.
This exciting activity was made possible with the support of the Chief Post Master General, Gujarat Circle, Mr. Pawan Kumar Dalmia;
Sr. Supdt. of Post Offices, Ahmedabad City Division; Mr. Soloman H. Christian, Supervisor, Philatelic Branch, Ahmedabad G.P.O.;
Mr. Mainak M. Kathiara, President, Ahmedabad Philatelic Association (for the philately exhibition); and Major M.L.E.John, Army Postal Services, Ahmedabad (for My Stamp).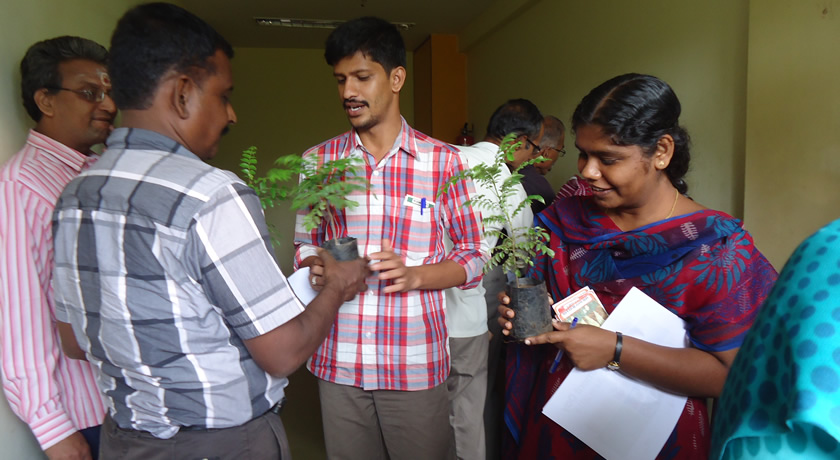 CEE Andhra Pradesh
The day was marked by a meeting with all the staff members of Tamil Nadu Pudhu Vaazhvu Project (TNPVP) at the project office at Chennai. CEE Andhra Pradesh is State Environment Resource Agency (SERA) for the TNPVP. The objective of the meeting was to discuss and deliberate, with the staff members, on this year's theme and also to emphasize among the staff members the need for individual responsibility and action to contribute to the protection of our environment.
The meeting was inaugurated by
Mr. R.Dharagam, HR Specialist, TNPVP. He addressed the gathering explaining to them the importance of celebrating the WED. He also spoke at length about climate change and its impact. Dr. Kathiresan, BDPS II, TNPVP, also addressed the gathering explaining to them how each one of us contributes to the greenhouse gas emissions which lead to global warming. He spoke about the threat of rising sea water levels and reiterated that each one of us should care for the environment and use resources like water, fuel, electricity etc. in a judicious manner.
Ms.S.Rejini, Programme Officer, CEE delivered a presentation on this year's theme.  With the help of statistics she established the irony that existed in the world in terms of the quantity of food being wasted and millions going hungry to bed, and added that food production uses enormous amount of water and energy.
Ms. Rejini suggested ways to reduce food wastage at individual and household levels.
A short video documentary on food wastage and loss was also screened to demonstrate that arresting food wastage and loss would contribute to poverty alleviation and environment protection in a substantial way.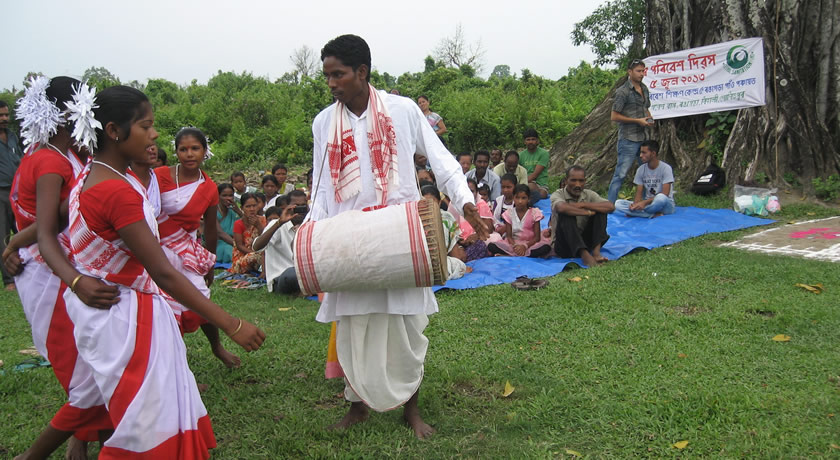 CEE North East
Rangagora Village, Assam
CEE North East celebrated this day with the community members of Rangagora village, Assam; Gram Panchayat members, and other stakeholders of the project 'Promoting Sustainable Sanitation in Rural India' (PSSRI) CEE is one of the sub-grantees of this project which is supported by Global Sanitation Fund (GSF) of the United Nations. Natural Resource Management Consultants (NRMC), India Pvt. Ltd. is the Executing Agency for the PSSRI project in India.
PSSRI project aims to stop open defecation and make 90 target villages falling under nine Gram Panchayats of Behali Block 'Open Defecation Free' (ODF). For ODF it is required of the people to practice point defecation; use sanitary latrines; wash hands with soap after defecation, and before eating food; and practice other related hygiene practices.
The celebration was held at Ganeshthan (a sacred spot of the village). It provided a good platform to introduce the PSSRI project; share its aims and objectives with the members of the nine Gram Panchayats; inform and update the community on the status of the project, its methodology, approach and also targets to be achieved.
In addition to talking about sanitation and hygiene, Mr. Gonaram Das, a Public Health Engineering Department engineer of the Block Development Office, Behali highlighted the significance of trees for a healthy and balanced ecosystem. He urged the participants to take special interest in the protection of the local environment. The other guest speaker was
Mr. Bati Ram Orang, President, Rangagora Gram Panchayat. In his inaugural speech he talked about the importance of enlarging the green cover of the area and its multiple benefits for the community at large. On this occasion, the participants planted about 50 saplings of local fruit bearing trees within the Panchayat office premise to commemorate the occasion.
A 'village triggering' activity was conducted involving community members, ward members, councillors and field volunteers of the nine Gram Panchayats. The participants took keen interest in drawing the map of their village where they highlighted areas used by the community for open defecation. They also engaged in discussions regarding health and hygiene issues. The participants found the activity stimulating and towards the end of the programme, through consensus, expressed the desire to make their villages ODF through the construction and use of sanitary toilets.
In an effort to demonstrate small acts by which one can ensure better health and hygiene, a six-step hand-washing activity was performed for the audience, along with information about the importance of washing hands before eating and after defecation. While conducting this activity, Ms. Papi Biswakarma, local Anchalik Parishad member, highlighted various water-borne diseases that affect humans due to lack of hygiene. She not only talked about health issues but also man days and monetary losses that arise due to ill health. She urged the participants to become aware, proactive and vigilant and there by bring an end to such diseases. She requested everybody to follow simple hygiene practices and adopt sanitation facilities in the villages.
Mr. Ganesh Biswakarma, social worker, appreciated the sanitation and hygiene sector, and the current approach of organizations towards mobilizing communities to adopt best practices in promoting sustainable sanitation in villages. 'Jhumur' a traditional dance of the Adivasi community was another attraction of the day-long event. 
In his concluding remarks Mr. Orang appreciated the efforts made by GSF-NRMC and CEE and assured his Panchayat's continued support and involvement in promoting hygiene and sanitation initiatives in his own, as well as nearby villages.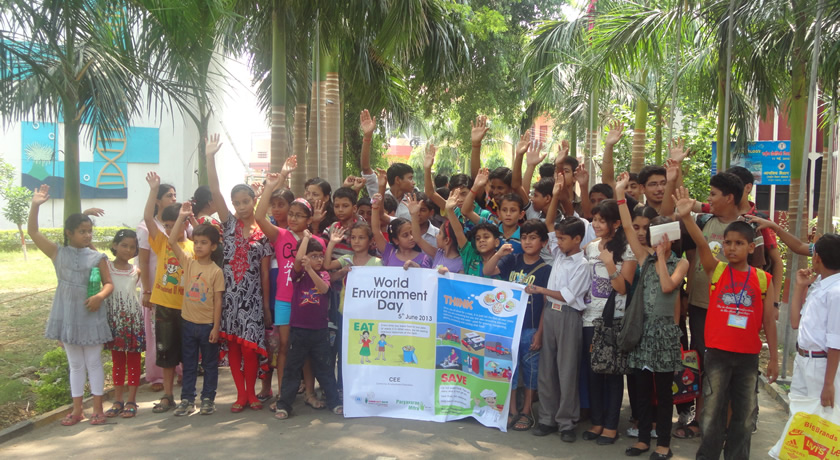 CEE North
Coming Together
On the invitation from Panchayat leader of  Hasanpur Khewali village in Lucknow district, CEE North and District Science Club joined hands to organize the WED event for Children Forest's Programme (CFP) schools and local community. The programme began with plantation by chief guest Mr. Sarvada Nand, Basic Shiksha Adhikari (BSA) Lucknow. Students of Purva Madhyamic Vidyalaya at Hasanpur Khewali, the host school presented a welcome song. Around 200 participants attended this programme. These included school children and community members. Around 70 Shiksha Mitra; Block Resource Coordinators (BRCs); Nyaya Panchayat Resource Coordinators (NPRCs); teachers along with Additional BSA of the block also participated in the Programme. Students participated in painting competitions. A puppet show was also organized for community.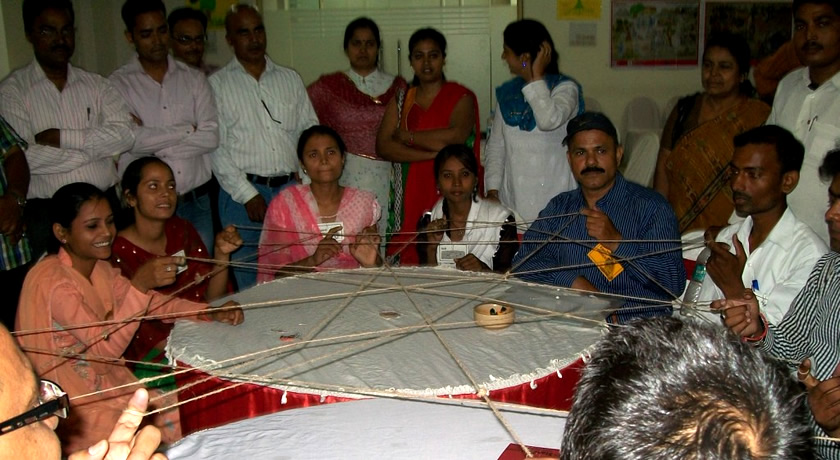 Paryavaran Mela
Continuing its association with Regional Science City (RSC), CEE North organized a Paryavaran Mela on this day. Over 500 participants including students, parents, youth, visitors, media and children from slum area actively participated in this mela. The mela had 14 activity corners. The activity corners were crowded with children patiently queuing up to participate in these activities. Pottery and green tattoo-making were extremely popular corners for all ages. A 'best out of waste' stall was put-up by teachers from CFP and Paryavaran Mitra schools. This stall was the centre of attraction for the visitors on this day.  

CEE is the ENVIS centre on Environmental Education (EE). As an ENVIS centre, CEE caters to the information needs of environmental educators. Write to the CEE ENVIS Centre at cee.envis@ceeindia.org



This message is sent to you by Centre for Environment Education, Thaltej Tekra, Ahmedabad, India and delivered by ceedo@ceeindia.org

© CEE 2013 Editorial team: Mamata Pandya, Carol Dsouza, Design: Pankaj Gorana