e-newsletter of the Centre for Environment Education
August 1-15, 2013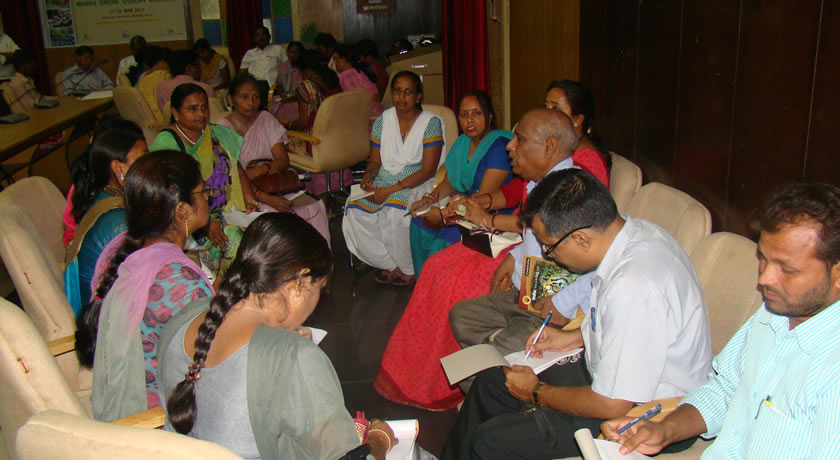 Working group discussions in progress

Capacity Building of Teachers for a Green School Campus
CEE North organized a two-day teacher training workshop under Children's Forest Programme (CFP) on July 17-18 at Lucknow. The workshop aimed at building teachers' capacity in using effective teaching-learning methods to transact concepts related to environmental conservation and in creating mini-forests in their school campus. The workshop was attended by 70 teachers from 50 schools of Lucknow District.
During the inaugural address, Mr. V. K. Thakur, Chief Project Director, UP-Participatory Forest Management and Poverty Alleviation Project (UP- PFMPAP) spoke about the value of involving students in creating mini-forests at their school campus. Mr. Atul Jindal, Project Director, of UP-PFMPAP said that UP Forest Department is planning to take CFP to all districts following the overwhelming response from schools. Presently CFP is being implemented in around 650 schools of Agra, Allahabad, Kanpur, Lucknow, Noida, and Varanasi.
Mr. Mohammad Ahsan, former Principal Chief Conservator of Forests of UP Forest Department spoke about the role of forests and dealt with teachers' queries related to trees and forests. He spoke about the ecosystem services provided by forests that help to maintain human well-being. Various educational activities were conducted with teachers focusing on approaches of environmental education such as games, demonstration, performing arts, etc. Teachers shared their experiences about action projects being undertaken in the field of water conservation, waste management etc. Ms. Preeti R. Kanaujia, Programme Coordinator, CEE North guided teachers on the need to conduct environmental audits in schools to develop their own action plans. She also introduced to the participants the environment calendar which they could use as part of their plantation schedule. Each school prepared their action plans keeping in mind the Paryavaran Mitra activities and the environment calendar.


Happenings at CEE's Information Facilitation Centre
Learning from Nature
Grade 7 students of Rachna School, Ahmedabad were in for a thrilling experience on their visit to the CEE Campus on August 8. Resource persons Mr. Dipak Gohil, Nature Enthusiast and Mr. Kedar Champhekar, Programme Officer, CEE informed the students about the variety of life forms that one can encounter even in the middle of a city.
The nature trail was followed by a game titled the 'Web of Life'. The game helped in explaining the intricate relationships that exist among all living beings and non-living elements like soil, water, air and sunlight, and how each and every component of this web is interlinked and thus is important. The students also played "Who Am I?" which is an activity designed to teach students the fundamental characteristics of different categories of animals. The session ended with students playing the 'Scavenger Hunt' that enabled students to understand that the 'waste' generated by nature i.e. leaves, flowers etc decomposes faster than some of what is created by humans.

Generating Awareness
A Step towards Action
Mr. Abdhesh Gangwar, Programme Director addressed the Eco Club students of Welham Girls' School, Dehradun on August 7. The eco club members included students of grades 8-12. Discussing the 'Living Planet Report', the concepts of 'living planet index', 'ecological footprint', and 'bio-capacity' were explained. Increasing consumption, waste generation, falling regeneration trends were highlighted and impressed upon. Using the on-line footprint calculator, the footprint of different students was calculated and discussed. Easy and convenient changes that can be made in our lifestyles to bring down footprint were explained. CEE's CO2 Pick Right Campaign and how individual choices can make a difference were exhibited and explained.
Knowledge products developed by CEE Himalaya under the UNDP-supported programme 'Developing Communication Strategy and Tools Promoting Conservation of Medicinal Plant Diversity in Uttarakhand' were explained and distributed to all the students. Saplings of medicinal and aromatic plants were planted on the school campus. The students were oriented about their medicinal value and were also taught to nurture them.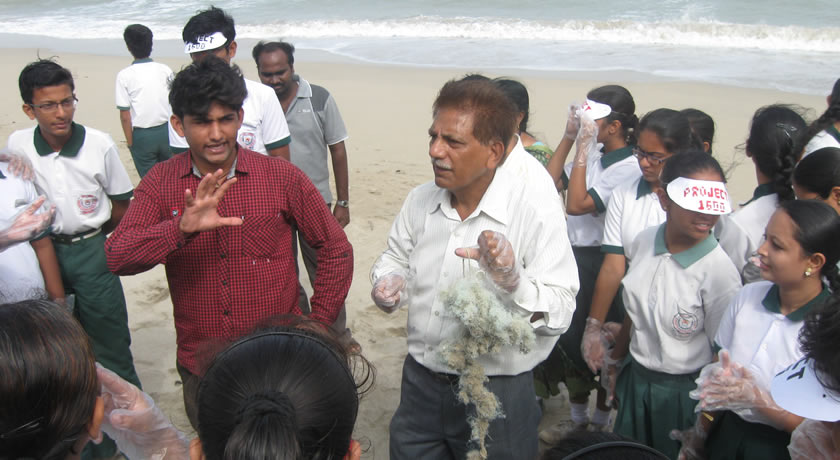 Catching them young

Schools Network to foster Global Citizenship for Sustainability
Global Citizenship for Sustainability (GCS) is an interactive school education programme which offers an exciting and challenging opportunity for students to work on sustainability issues and build leadership and problem-solving skills.
The GCS Marine Project 1600 that was launched on July 9 is a coastal and marine education program for coastal schools along the coastline of Gujarat, India and that of Queensland, Australia. The project derives its name as 1600, due to the length of Gujarat's coastline which is approximately 1600 km, the longest coastline for any state in India. This project will also be implemented along the 1600 km patch of the total length of Queensland's coastline.
This is a web-based exchange project between students of two countries, which will encourage them to develop an understanding of both the local and the global contexts of the coastal and the marine ecosystem, their issues, their differences and similarities and also learn about the cross country approaches of addressing them.
Tata Chemicals DAV Public School, Gujarat initiated their work with a beach cleaning activity. Students of grade 9 and 11 carried out beach cleaning activities twice, the first on July 31 and the second on August 31. The second time, a few members of the local community also voluntarily participated in this activity. Students collected 190 kgs of waste in the first round and during the second round they collected 170 kgs of waste. All the waste was segregated into biodegradable and non-biodegradable waste. Post segregation, the plastic waste was sent for recycling with the help of Tata Chemicals Limited Town Sanitation Department.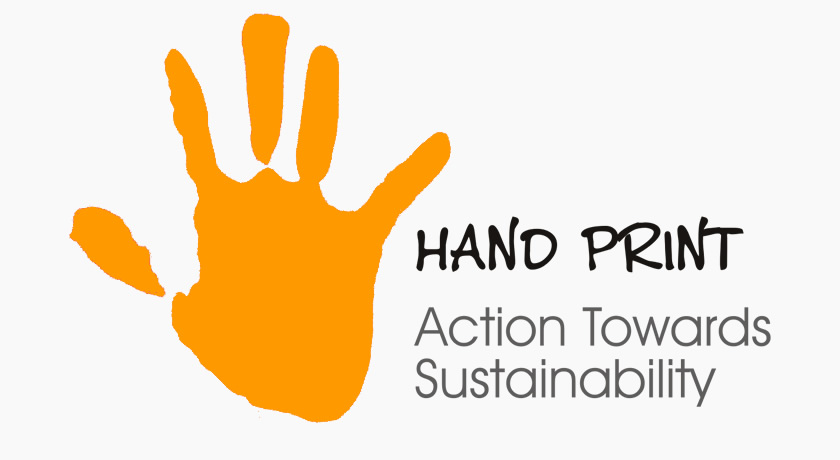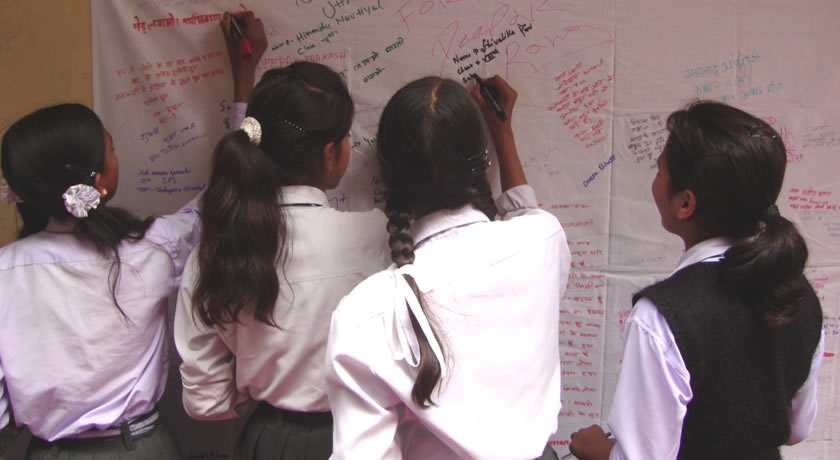 Rebuilding Faith 
CEE's Response to the Calamity in Uttarakhand
The cloudburst and torrential rains followed by landslides on June 16-17 leading to flash floods resulted in an enormous loss of life and property in Himalayan Uttarakhand. Chamoli, Pithoragarh, Rudraprayag and Uttarkashi are amongst the worst- hit districts of the State.
CEE Himalaya in response to the tragedy had begun with its interventions on psycho-social care and restoration of education in Uttarkashi district, most parts of which have no road connectivity. JSW Steel, a private company is supporting these interventions to reach out to around 2000 children from the worst-hit schools. Some severely hit villages will be identified for adoption and overall rehabilitation. CEE Himalaya is working closely with the Education Department and Sarva Shiksha Abhiyan and has been empanelled as one of the three Resource Agencies assisting in restoration of education in the district. Sri Bhubneshwari Mahila Ashram and Azim Premji Foundation, Uttarkashi unit are the other two local resource agencies.
While being a part of the District Coordination Committee and the planning process for restoring education in affected schools, CEE Himalaya team has been able to reach to two affected schools in the Uttarkashi town with its 'Umang' module that evolved from Kashmir and Gujarat disaster management experiences. A hundred and eighty six children from Government Kirti Inter College and 159 from Bhagirathi Children Academy participated in games and activities that helped them to be relieved from the trauma.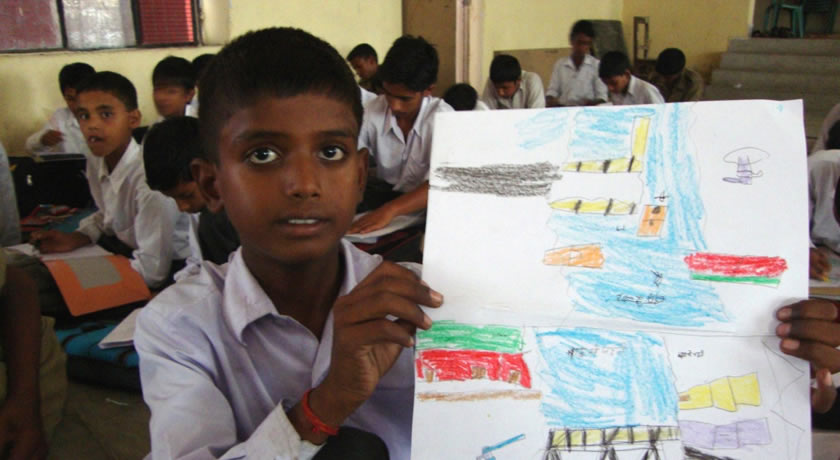 Children got an opportunity to express themselves using colours, paper and slogans.

CEE is the ENVIS centre on Environmental Education (EE). As an ENVIS centre, CEE caters to the information needs of environmental educators. Write to the CEE ENVIS Centre at cee.envis@ceeindia.org


This message is sent to you by Centre for Environment Education, Thaltej Tekra, Ahmedabad, India and delivered by ceedo@ceeindia.org

© CEE 2013 Editorial team: Kiran Desai, Carol Dsouza, Design: Pankaj Gorana