e-newsletter of the Centre for Environment Education
September 1-30, 2013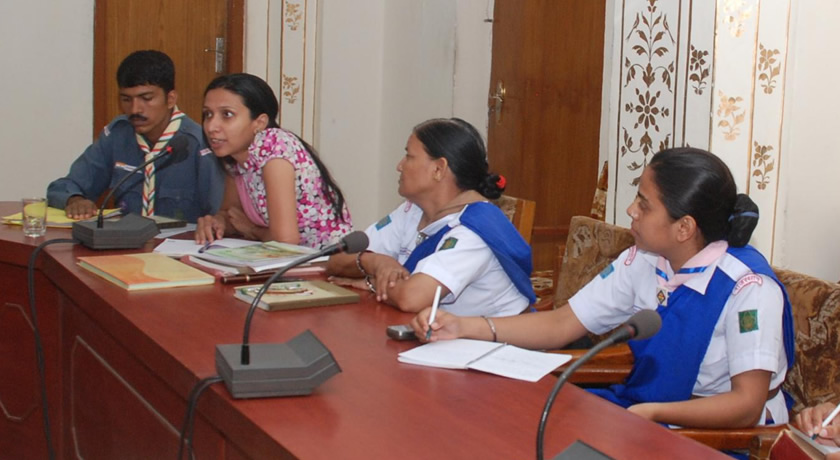 Participants brainstorming on strategies to strengthen EE activities in the state.

Gearing up National Green Corps Programme at district level
During the months of July and August CEE organized meetings with the District Implementation and Monitoring Committees (DIMC) in Rajasthan to strengthen the environment education activities under the National Green Corps Progarmme (NGC).
The idea of DIMC planning and facilitating activities through various stakeholders was discussed and appreciated by Rajasthan State Bharat Scouts and Guides, the NGC nodal agency of the state, which also supported circulation of the necessary information to all the district coordinators.  The meeting, chaired by the District Collector, saw representation from various district departments like Education, Forest and Environment and Public Health, NGC state nodal agency and state resource agency and the principals of NGC schools. 
At the meeting, CEE Jaipur team suggested that block level master trainers capacity-build the in-charge officers of the eco-clubs. The team also suggested that efforts of the eco-clubs should be showcased at major district level events and that DIMC's activities be aligned with other national initiatives like the Paryavaran Mitra Puraskar and National Environment Awareness Campaign. It was also suggested that DIMC provide a platform to discuss district-specific plans and build synergies with other initiatives of the State Government such as Van Mahotsava and Haryalo Rajasthan of the Forest Department and organize environment awareness activities by celebrating major environmental days along with the Environment Department.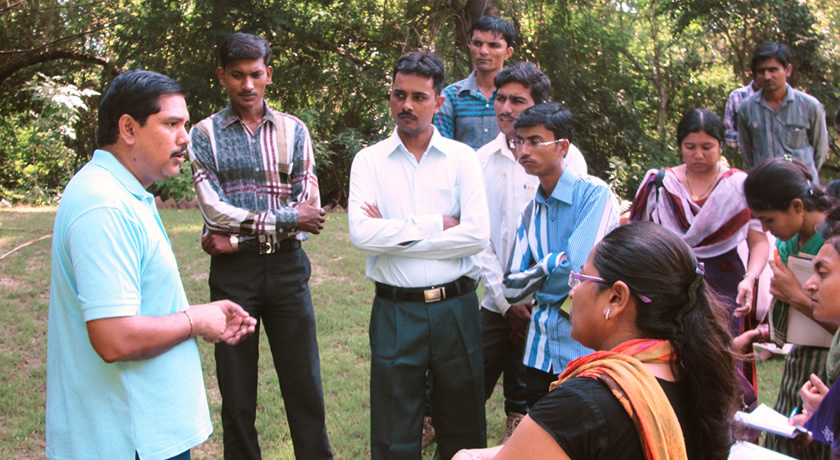 The group was introduced to a variety of plant species and bird calls during the trail.

Catching them Young with IFC
A group of young nature enthusiasts from Maharshri Sri Aurobindo Masters in Social Work College, Rajkot visited the CEE campus on September 17. The young minds took keen interest in CEE's vision and achievements in the field of environmental education and education for sustainable development. Facilitators from CEE took the group on nature trail and topics like ecosystem, food chain, diversity in nature were discussed. The group was introduced to a variety of plant species and bird calls during the trail. After the nature trail, the visitors were informed about the internship and volunteering opportunities at CEE. The Principal of the college Dr. Vipul Sherashiya thanked the CEE team and said they look forward to a stronger and long term association with CEE in future.

Celebrating World Ozone Day
The CEE Jaipur Team under the National Green Corps programme celebrated the
World Ozone Day in Pali, Rajasthan on September 16. CEE is the State Resource Agency of NGC for Rajasthan.
At Pali, the Ozone Day was observed with 150 eco-club members of Jai Adarsh Vidhya Mandir. The event started with the screening of 'Ozzy Ozone'. It was followed by essay writing and drawing competition, through which participants depicted their ideas for encouraging every individual to reflect on their eco-friendly and ethically rich traditional lifestyles that are essential in dealing with the current environmental problems.

Teachers Training Workshop Continues in Uttar Pradesh and Bihar
CEE North organized five workshops in Uttar Pradesh and two workshops in Bihar. These training programmes focused on the implementation of 'Earthian', Paryavaran Mitra Puraskar 2013 and also on promoting project-based learning within their school curriculum. Earthian, a Wipro Ltd. Initiative, is a national programme to integrate sustainability thinking in education.
CEE is partnering with Earthian to introduce this programme to schools on the Paryavaran Mitra Network, with a primary focus on the states of Bihar, Rajasthan, Madhya Pradesh and Uttar Pradesh.
In Uttar Pradesh, a series of teacher training workshops were organized in September at Agra, Allahabad and Varanasi in collaboration with Jindagi Foundation, E-Pahel, and Azad Welfare Society, respectively. In all, 35 teachers and 27 teachers-in-charge from 31 schools were trained.
In Bihar, two teacher training workshops were organized each at Bettiah and Motihari on 19th and September 20 in collaboration with Gram Pragati organization. More than 55 teachers-in-charge participated.
The methods used included discussions, screening of documentaries and group-based activities. Also, local resource persons and officials from respective district education departments were invited to interact with the trainees on the current environmental
concerns and challenges of their respective districts. Innovative plans to make each of these districts a hub of increasing Handprint actions were devised.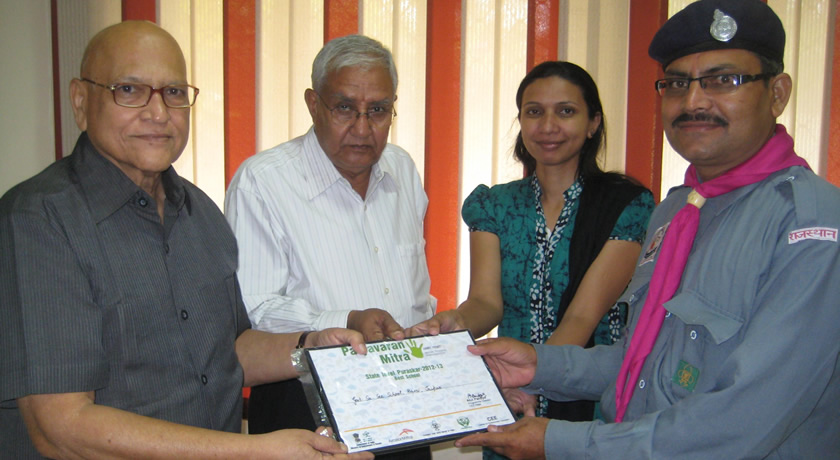 Mr. S.R. Jain, State Secretary, RSBSG, Mr. P. C. Jain, Headquarter Commissioner, RSBSG and Ms. Priyanka Sinsinwar, Programme Officer, CEE Jaipur at the certificates distribution ceremony.

Paryavaran Mitra State Level Puraskar 2012-13
The winners of the Paryavaran Mitra (PM) State level Puraskar 2012-13 felicitated on September 11 at Jaipur. The award is to recognize the efforts made by schools to strengthen and promote Environment Education initiatives under PM and also to encourage them to share their activities.
The CEE Jaipur Project Office received 292 entries from 33 districts of Rajasthan, and 106 entries were selected for the Puraskar under the categories of best school, best teacher and best student. The winners were awarded certificates at the State Headquarters of the Rajasthan State Bharat Scouts and Guides (RSBSG), Jaipur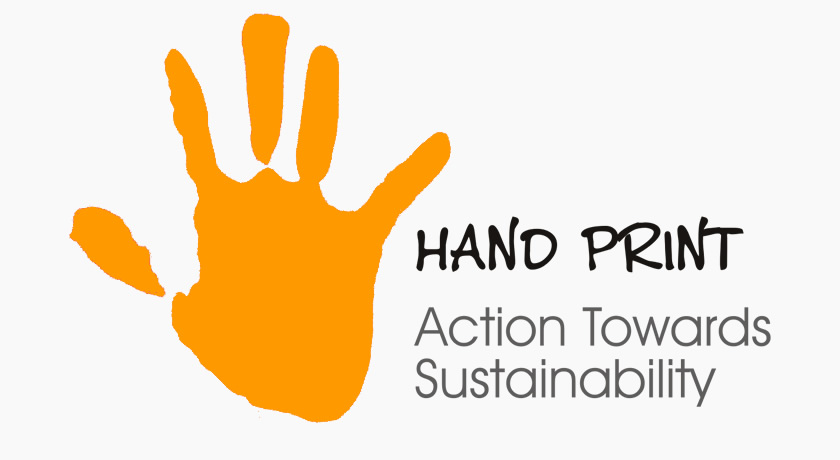 Hands-on Handprint for Environmental Sustainability
An article 'Hands-on Handprint for Environmental Sustainability' by Ms. Preeti R. Kanaujia, Programme Coordinator, CEE North was published in the 37th issue of the magazine Sangsaeng that focuses on the overall theme of 'Bow to Foster Global Citizenship'. This magazine is published by the Asia-Pacific Centre of Education for International Understanding (APCEIU).  The article is covered under Best Practices section titled as 'Hands-on Handprint for Environmental Sustainability'. The article shares the concept of handprint and how it is being implemented in schools by CEE through its Paryavaran Mitra initiative. Sangsaeng is also available online: www.unescoapceiu.org/sangsaeng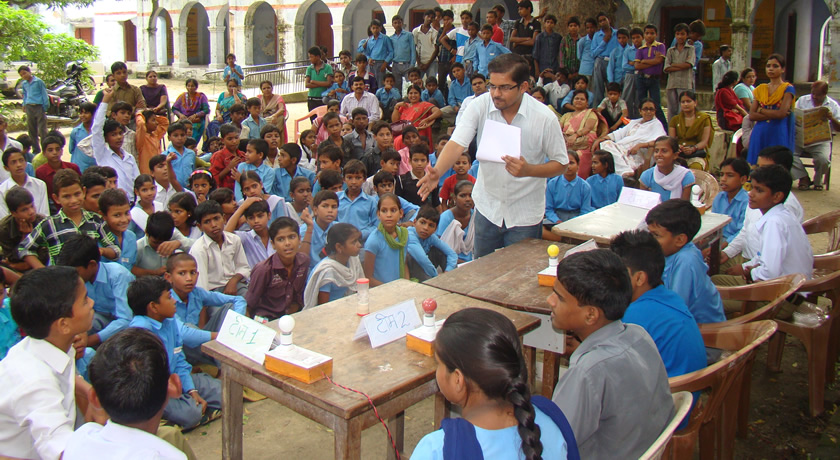 Schools participating the Quiz competition.

Green Consumer Day
CEE North
Every year Green Consumer Day is celebrated on September 28. This year CEE North organized a school environment awareness event at Purva Madhyamik Vidyalaya, Itaunja to observe the Day. About 200 participants including children and teachers from 14 Children's Forest Programme schools participated in the event.
The participating schools were briefed about how to become an environment-friendly school. Students were divided into two groups where one group took part in a competition while the other participated in painting and quiz competitions. The former was organised as a part of the national level painting competition of CEE and Petroleum Conservation Research Association under the Paryavaran Mitra Programme. The themes for the competition were 'Save Fuel Yani (means) Save Money'; 'The less you burn, the more you earn' and 'Use Petroleum with Care'.
Four out of 14 school teams were shortlisted for the final round of the quiz competition. Schools also made presentations on the work carried out by them in the area of conservation of water, energy and biodiversity, and waste management. Ms. Meena Kapoor, teacher-in-charge of the host school conducted a session on 'best out of waste' products developed by children of the school. Products like agarbati (incense stick) made from dried flowers left after pooja (prayer) offerings; and bandandwar (door hangings) made from other pooja offerings that are usually thrown in the rivers were showcased.
The chief guest of the event Mr. A. K. Singh, Sub Division Officer, UP Forest Department encouraged children to protect plants and animals. Mr. Rakesh Bajpai, Principal of the host school, expressed his happiness on seeing children in huge numbers actively working towards conserving the environment. The winners of both the competitions received prizes from the chief guest.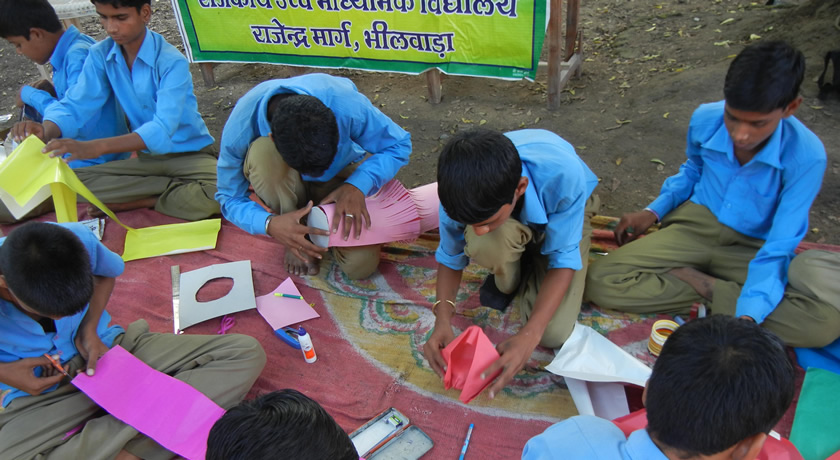 Sixty students enthusiastically took part in the Best out of Waste event

CEE Jaipur
To celebrate the Green Consumer Day,
CEE Jaipur organised an event at Goverment. Senior Secondary School, Bhilwara, Rajasthan. At this event the concepts of 4R's- recycle, reuse, reduce and refuse were discussed. A best out of waste competition was conducted too. Sixty students took part in it and made a variety of useful items such as envelopes from old marriage cards, carry bags from newspapers, wall hanging, lamp-shades, pen stands from used bottles, soft toys from used socks, etc. The event was widely acclaimed by the participants and their teachers.
CEE is the ENVIS centre on Environmental Education (EE). As an ENVIS centre, CEE caters to the information needs of environmental educators. Write to the CEE ENVIS Centre at cee.envis@ceeindia.org



This message is sent to you by Centre for Environment Education, Thaltej Tekra, Ahmedabad, India and delivered by ceedo@ceeindia.org

© CEE 2013 Editorial team: Kiran Desai, Carol Dsouza, Design: Pankaj Gorana