India 's First Paryavaran (Environment) Ambassador
Dr Kalam in his address put forth a mission of ten billion trees for the world, one billion of which would be in India. As part of the programme, Dr Kalam gave away plants to all the schools present.
An 18 month campaign covering 200,000 schools across India culminated in the announcement of Dr A P J Abdul Kalam as India 's first Paryavaran Ambassador. A total of 70 000 schools actively participated in the voting process, and Dr. Abdul Kalam emerged as the popular choice of children.
Dr APJ Abdul Kalam, eminent scientist and former President of India, was felicitated by Mr Jairam Ramesh, Minister of State for Environment and Forests as "Bharat Ka Paryavaran Ambassador" on 9 December at New Delhi. Mr Ramesh, while addressing the audience, said his faith in the future of India was reinforced, as by selecting Dr. Kalam, a signal was being sent to the future that Science and Technology can play a very important role in managing the natural environment and growth. He also said that with Dr Kalam as ambassador, environmental awareness would increase since his knowledge on forests and environment is immense.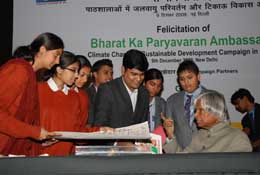 Dr. Kalam interacted with the children from the 20 schools present and made them take a pledge to plant ten trees each and to ensure their growth.
Mr. Vijay Bhatnagar CEO, Arcelor Mittal said he was looking forward to working on this unique programme to create 20 million climate ambassadors as part of the second phase of the Climate Change and Sustainability Programme by CEE, Ministry of Environment and Forests (MoEF), and ArcelorMittal, over the next three years. Shri RH Khwaja, Addiltional Secretary, MoEF was also present at the event. The event also included launch of the State of the World Report (Indian edition) by Mr. Jairam Ramesh.
The Kaun Banega Bharat ka Paryavaran Ambassador (Who Will Become India's Environment Ambassador) Campaign initiated by CEE for the MoEF was implemented in partnership with Arcelor Mittal. Launched on World Environment Day 2008 by Honorable President of India, Smt Pratibha Devisingh Patil, this was part of a larger programme – the CO2; Pick Right Campaign which involved sensitizing school children on climate change and the right choices for sustainable development. The campaign included schools sending in their vote for a role model who could inspire people on the path to sustainability.