EU - India Workshops
on E-Waste and Contaminated Sites
WaRM Group, CEE Delhi co-organized the European Union-India Workshops on 'E-waste and contaminated sites' at New Delhi along with Euro consult Mott MacDonald. The workshops held from February 1 – 4, are a part of the project 'Action Plan Support Facility (APSF) Environment Component' supported by European Union (EU) and Ministry of Environment and Forests (MoEF), Govt. of India.
The process focused mainly on generating shared solutions to the problems of e-waste and contaminated sites. The three day schedule included technical sessions, presentations and discussions on the theme including remedial techniques. The workshops helped the participants identify issues on E-waste and contaminated sites, to plan strategies, solutions and discuss the capacity building requirements for improvements in these two sectors.

Experts from EU, Central Pollution Control Board (CPCB), State Pollution Control Boards, and MoEF, private companies, technical institutions and NGOs offered their expertise.

The workshops provided a good platform for experts from India and Europe to share their concerns, their experience in addressing various common and specific issues on E-waste and contaminated sites, and devise approaches and solutions for the same.
Delhi Schools Go Green
CEE Delhi commenced activities with 3 schools in Delhi under Go Green Programme supported by the Ministry of Human Resource Development. The three-month programme aims at promoting sustainable lifestyles and environment education among children of these schools. An introductory workshop illustrating the first activity of energy and water audit was conducted in the schools.
The students of Ramjas School visited Okhla Barrage Bird Sanctuary and experienced the excitement of bird watching
The children were explained the importance of conserving energy and water through various demonstrations, activities and ICT tools like interactive CDs. The method of conducting electricity and water use audits in the schools was discussed.

The participating schools are Ramjas School Richmond Global School and St. Mark's Sr. Secondary School .
Visit of Army Contingent to CEE
A group of forty-one B. Ed. students from the Army Educational Corps Training College and Centre, Pachhmarhi visited CEE to know about the What, Why and How of Environmental Education.

The visit included orientation to EE and ESD through interactive methodologies, a brief discussion on CEE and its thrust areas, youth related activities under CEE's Youth Environment Network. The session ended with the group discussing about which of the activities conducted during the day could be effectively used at the individual level, and the need for stringent implementation of laws and policies, all leading to a Sustainable Future.

While on the CEE campus walk, participants spotted various birds, a snake moult, and asked questions related to the greenery and enhancing urban wilderness in institutional campuses. The facilitators answered several snake related question like their habitats, first aid after a venomous snake-bite and cleared myths like snake dance, revenge by snakes and snake charmer's immunity to the venom.
The visit was facilitated by CEE's Information Facilitation Centre with support from Mr. KLN Murthy, Protected Area Interpretation Group, Ms. Aparna Susarla, Youth Environment Network Group and Ms. Meena Nareshwar, Zoo Interpretation Group.
Saral Shiksha Module Two
The UNICEF and CEE partnership in Saral Shiksha , moves to the second stage with the release of a new Mathematics and Science module, on CD. The CD is for the 5 th , 6 th and 7 th standard syllabi of multi-grade schools. Multi grade schools are schools common in rural India , wherein a teacher teaches more than one grade during a day, often in the same classroom and at the same time. This leads to problems of quality of teaching. Also it leads to much confusion among the students and higher pressures on the teachers.

These CDs are being developed to address some of these problems of multi grade schools within the present system. They are being used by the students on the computers given by the government in rural primary schools. Saral Shiksha is targeted at 100 schools across Valsad district in south Gujarat .

Feedback from the first module has been very positive, with much appreciation for the inbuilt designed worksheets and visuals in terms of animation. Around forty teachers attended a training programme in Dharampur in using the second module. This workshop provided inputs on the CD and the use of the new module to support their teaching methods.

This Saral Shiksha initiative is an attempt to work within the current limitations of primary education and to evolve technologically sound and innovative methods to address quality education. Saral Shiksha will continue developing modules to cover the entire syllabus for the 5th, 6th and 7th stds for Maths and Science.
Presenting kidsRgreen
Mamata Pandya and Pankaj Gorana of Children's Media Unit (CMU) made a presentation on kidsRgreen, CEE's website for children, at the International Conference on Designing for Children with focus on Play and Learn . This was based on the paper titled Designing an Educational Website for Children , written by Rajeswari Namagiri and Mamata Pandya.

The Conference was hosted by the Industrial Design Centre of the Indian Institute of Technology ( IIT ), Mumbai from 3-5 February 2010.

The event aimed at exchange of viewpoints, deliberations and discussions concerning design and research issues related to children. The Conference was an opportunity to interact with a wide range of researchers and practitioners involved in different areas broadly addressing educational design for children—from toys to playgrounds.

The CMU team presentation discussed the pedagogical and design considerations that guide the development of the website www.kidsRgreen.org . This children's website, in the form of a monthly e-magazine, will complete ten years of an unbroken run this year.
In 2008, kidsRgreen was also among the finalists selected for the Stockholm Challenge Award, a pioneer among ICT for people and society.

Selected kidsRgreen activities and games are currently being used as part of the Kuder Galaxy System in the USA . Kuder Inc is the designated supplier of online education and career planning solutions and is implemented in more than 10,000 school systems across the US .

Kuder Galaxy, launched in July 2009 is a product for children from pre-kg to fifth grade. The system is accessed by students, teachers, parents and educators. A number of kidsRgreen activity-ideas and games are featured in this online system. Currently over 35,000 students and nearly 2,000 teachers are registered in this system.

Some highlights from the January 2010 Kuder Galaxy Activity Report:
kidsRgreen games consistently have high ratings – over 85 students rated kidsRgreen activities with a 5, the highest rating available.
Feedback from educators indicates that "environmental games" are a new concept to them, but that they are "very useful in the classroom." They would be interested in seeing additional games of a similar nature.
A New Home for GIR Cows
CEE's Gramnidhi programme is a community based eco-entrepreneurship initiative towards Education for Sustainable Development. With the Gramnidhi revolving fund, local entrepreneurs in the project site in Rajasthan, have taken steps to improve the existing set of animal husbandry practices amongst the tribes of Udaipur by adding to the livestock, the Gir breed of cows.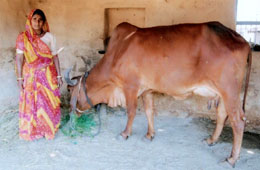 Ten farmers have been provided training and loans to start the enterprise.
The Gir breed is a prominent milk cattle breed of India and is found in Gir hills and forests of Kathiawar including Junagadh, Bhavnagar , Rajkot and Amreli districts of Gujarat The introduction of the Gir breed has accelerated the quantity of milk production and set the new parameters of management. 5 farmers have purchased GIR breed and it has improved income with better quantity and quality of milk. The extra available milk products will also help improve the nutrition status of the tribal families.
Prakriti Mela for Eco Clubs
Centre for Environment Education and Regional Institute of education (RIE), Ajmer conducted a four days regional level event called Prakriti Mela . The objective was to strengthen environmental education and to bring school children, youth and teachers together an interactive forum to promote environmental awareness. The programme was aimed at involving the network of Eco-Clubs from ten States under the National Green Corps Programme of Mini st ry of Environment and Fore st s, Government of India. The event saw participation from Rajasthan, Punjab, Haryana, Delhi , Uttar Pradesh, Uttrakhand, Himachal Pradesh, Madhya Pradesh, Gujarat and Bihar states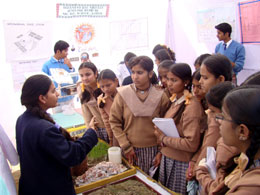 Participating schools and students of RIE put up stalls displaying their best practices through models, demonstrations and exhibitions.
Teacher orientation to the ESD manual ( Disha), children group discussions, quiz competitions, treasure hunt, poster making competitions for teachers and bird watching were among the activities conducted during the Prakriti Mela.
150 participants benefited from the programme and1200 visitors from local schools took part in different activities..