India Environment Summit
CEE co-organised Indian Environment Summit (IES) 2009, India 's premier environmental trade exhibition and conference on waste, water, pollution, energy and recycling for knowledge dissemination. The two-day workshop was supported by Ministry of Environment and Forests, Government of India and The European Union. IRWM & Co., UNDP-GEF Small Grants Programme, UNDP, GEF and UNOPS, New Delhi were also the coorganisers.
Despite several legislations in the country for regulating Municipal Solid Waste (MSW) and Biomedical Waste (BMW), the scenario of management of these wastes is dismal. The two-day workshop was to orient the participants to issues in MSW and BMW management and to plan for a series of regional meetings to devise a road map for better waste management. The workshop was attended by representatives from state environment departments, pollution control boards, state departments of municipal administration, municipal commissioners and mayors of bigger cities, NGO representatives, Medical and Para-medical Associations and private companies dealing with waste management.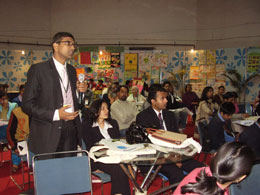 Presentations by representatives from a wide range of related sectors, both government and non-government, offered examples of best practices, and opportunities for sharing experiences.
Group discussion sessions on MSW and BMW management recommended that sustainable solutions are possible, and informal sector can be trained and integrated into all aspects of sustainable waste management.
The workshop concluded with the strong recommendation India and other developing countries should emphasise on the role of the informal sector in reducing GHG emissions and the importance of recognising their work and providing them benefits from it. This way both Climate Change and Poverty issues can be addressed.