Bt Brinjal Consultations Across the Country
The Minister, with the help of CEE Director Kartikeya Sarabhai, structured the consultation to hear voices from various interest groups.
CEE facilitated five more consultations on Bt Brinjal at different locations in the country after the first one held at Kolkata and reported in the last issue of ceenario . These were held at Bhubaneswar , Ahmedabad, Nagpur , Chandigarh and Hyderabad , on behalf of the Ministry of Environment and Forests (MoEF), Government of India. The consultations were held to gather views of different stakeholder groups regarding the commercial introduction of Bt Brinjal (transgenic brinjal by inserting cry1Ac gene from Bacillus thuringiensis ).
The Minister, Mr Jairam Ramesh, chaired all the consultations and listened to opinions and concerns of various stakeholder groups, namely farmers, scientists, agriculture experts, farmer organizations, consumer groups, NGOs, government officials, lawyers, doctors, nutrition experts, ayurveda experts, and concerned citizens. More than 5000 people participated in the consultations from across different states.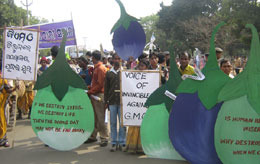 The Minister also took time to talk to the groups gathered outside the various consultation venues protesting against the commercialization of Bt Brinjal.
At each location, between 70 and 80 people got the opportunity to voice their opinion. Others submitted their opinions and suggestions in writing.
The Minister has stated that he will take an official stand on the issue after listening to the views of stakeholders at all the consultations. The last in the series of consultations will be held on 6 February at Bangalore . CEE will submit complete videos of the proceedings as well as a written report on the consultations to the MoEF.
More at: www.ceeindia.org