DESD - looking ahead
The UNESCO World Conference on Education for Sustainable Development marked the half way milestone of the Decade of Education for Sustainable Development (2005-2014). Its objective was to take stock of the progress on DESD, to plan the way forward for the remaining part of the decade and to strengthen, renew partnerships, and learn new ways of doing things.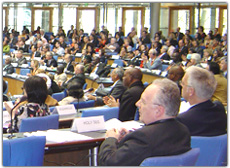 The Conference held from 31 March to 2 April 2009 at Bonn, Germany, had over 700 participants from around 150 countries. It was organised by German Federal Ministry of Education and Research, in cooperation with the German Commission for UNESCO.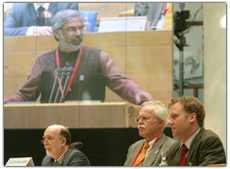 Mr. Kartikeya Sarabhai, the General Rapporteur for the 22 workshops, speaking at the closing ceremony.
A Conference Declaration drafted through an open process was unanimously adopted and is available on the website
www.esd-world-conference-2009.org.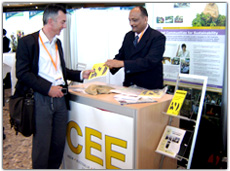 Two of CEE's projects, Samvardhan and Global Communities for Sustainability (GCS), were displayed at the Best Practices Exhibition. The projects were selected after a process that finally identified 25 projects, 5 from each UNESCO region.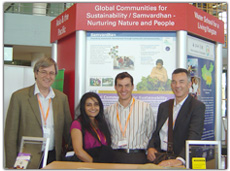 The GCS team from Australia, visited a school in Bonn to explore the possibilities of starting GCS in Germany, facilitated by CEE Germany.
India Report on ESD
A senior level Indian delegation comprising Secretary (Ministry of Human Resource Development), UNESCO Representative to the High Commission, Joint Secretary (Indian National Commission for Cooperation with UNESCO), and Vice Chancellor (National University of Educational Planning and Administration) participated at the High level segment, declaration drafting meetings, workshops and the plenaries. The India stall was placed at the Member States exhibition.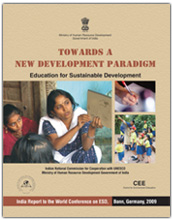 The India report on ESD prepared for the Conference.
Mountain Camps
"That which can be learned in the classroom should be taught there, and that which can be best learned in the outdoors should there be taught."
Experiencing nature has been one of CEE's thrust areas since its inception in 1984. Nature Camps are offered by CEE at a number of places on Gujarat and other states. These camps are for all age groups. Among the regular camping experiences offered by CEE are the adventure camps held at Mt. Abu in Rajasthan. Three recent camps saw the participation of 130 students between 10 and 13 years.

The activities during the 6-day camps are a unique combination of nature education and adventure moulded in a format conducive to learning through experience. Nature trails, bird watching, basic mountaineering techniques of rock climbing and abseiling; recognising the constellations and observing their motion; and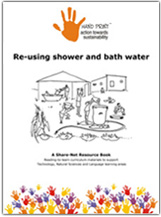 A set of 12 Handprint Resource books have been developed in South Africa by Rhodes University Environmental Education and Sustainability Unit. These are for teacher educators and teachers looking for practical ideas to work in the learning areas of the National Curriculum. The focus is on sustainability practices and locally relevant knowledge support materials in the context of African schools. This marks a big step forward in spreading the Handprint concept and providing practical guidelines for action for sustainable development. The books can be downloaded from www.handsforchange.org.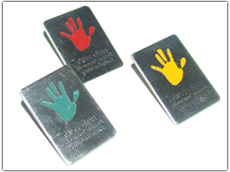 The Handprint Pin was a great success at Bonn.

Launched at the 4th International Conference on Environment Education (ICEE) in Ahmedabad, India, November 2007, the Handprint, is a concept developed by CEE to denote action towards sustainability. Today, many partners across the globe are promoting and further developing this tool.


Samvaad – A Dialogue
33 villages of Halvad, in Surendranagar District of Gujarat came together with an aim to exchange ideas and experiences on, rehabilitation and sustainable development. The Dialogue or Samvaad was organised on 27 March 2009 by CEE in association with CARE India, a leading humanitarian organisation fighting global poverty.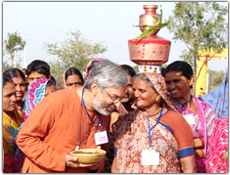 The inauguration ceremony was carried out with a local tradition, by bringing water and farm soil from various project villages of CEE, for planting a tree.

The programme included sessions on Self Help Groups (SHGs), Field Farmer Schools (FFS) and Village Development. The leaders shared their experiences on micro-finance, self-development, sustainable agriculture, and discussed about various issues faced by them and their possible solutions during this sessions.
This also marked the establishment of the Sustainable Development Centre at Halvad by CEE. Mr. Kartikeya Sarabhai shared that, 'today, people are confused between using, scientific method or traditional method. The need was felt to establish a centre which could balance both the methods through continuous dialogues. With support from CARE India, the centre will help to achieve this goal'.
'The leadership needs the commitment involving the local community and good liaison networking skills with various sections of society and government and non-government organisations,' said Mr. Atul Pandya, Programme Director Rural Programmes Group.

A Developing Country Perspective for CSD-17
Seventy-six representatives from a variety of NGOs and CBOs spread across India came together on 7 April 2009 at CEE, Ahmedabad to discuss their perspectives on the Commission on Sustainable Development (CSD) - 17 themes. The themes namely, Agriculture, Rural Development, Drought, Land and Desertification.

Participants noted that Indian thinking in rural areas was holistic and did not look at sectors such as agriculture in isolation, to issues of water, energy, livestock and livelihoods.

Participants suggested that there is a need for education on Code of GAP, especially for developing countries. It was also suggested that the skill development / vocational training under non-farm sector should be imparted to the local people and the course should be duly certified by a recognised agency. A need was felt to emphasise low interest regime for providing credit to rural communities. It was also felt that the text should take note of national and international cooperation for protection of water bodies.

Participants also felt that India has a lot to offer in terms of training, capacity building and research.

The perspectives emerging from the meeting will be taken in consideration while finalising the India's position for the CSD-17 meeting to be held at New York in May 2009.