Protecting the Ozone Layer: CEE Honoured
The Centre for Environment Education received the U.S. Environmental Protection Agency 2009 Stratospheric Ozone Layer Protection Award under Organization/Association category for providing leadership in ozone layer protection globally.This award places CEE among some of the world's most accomplished organizations working to protect the Earth's Ozone layer.
The award was presented at a special ceremony on 21 April at the Kennedy Center for the Performing Arts in Washington , D.C. Mr. Sarabhai, Director CEE received the honor on behalf of CEE.
Working with the OzonAction programme of
the United Nations Environment Programme
(UNEP) since 1995, CEE has consistently
provided technical assistance for the benefit of
National Ozone Units, industry and other
stakeholders in Article-5 countries.

CEE's Industry Initiative Programme, led by Dr. Gopichandran has also played an important role in the development of the global and regional
awareness strategies. In 1997 CEE developed an Educators' Kit for teachers and other environmental communicators to create awareness about the science of depletion, impacts and management aspects worldwide to protect the ozone layer. A set of slides and a script was developed to help teachers and other communicators present information to audiences.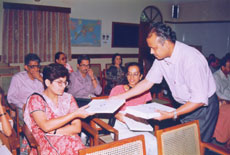 A special information kit for media specialists at the regional level was developed in 2006 with an aim to help media specialists communicate about curbing of illegal trade on ozone-depleting substances (ODS), assist technical partnerships for use of alternative chemicals and avoid "backsliding". CEE's pilot projects on alternatives addressed technical and institutional barriers in switchover in industrial applications especially in Small and Medium Enterprises. CEE has also contributed significantly to the development of technical publications on efficient servicing and chemicals management, and is presently working with UNEP for the development of phase out management plans targeting hydrochlorofluorcarbons (HCFC) and destruction of other ODS at the regional level.

As part of a CEE–UNEP collaboration , Dr. Gopichandran is currently working out of the UNEP office in Bangkok , working on the phase out of HCFC's in several countries in the South and South East Asian region.
Climate Change in Kashmir: It is for Real
The snowfall in Kashmir this year was the lowest during past 15 years; some snowfall on 12 November much before the usual time and no snowfall during usual time chillekalan (21 December-31 January, the coldest 42 days) have been cautionary indicators. Also there is unusual rainfall in April, the flowering season in orchards. The rise in temperature is also noticeable. All these unusual happenings confirm the much talked about Climate Change (CC).

The senior citizens in Uri and Salamabad say that the water flow in river 'Jehlum' has decreased at least by one third during past 20 years. Similar observations are made by people in Bandipora for river Madhumati that flows through the town there. Water supply in most of the streams and rivers of the Kashmir Valley has decreased considerably and the water quality also has gone down tremendously.

While the signs are evident and obvious, CEE Himalaya has taken up "CC Education and Disaster Risk Reduction" programme in schools, aiming to reach out to 2000 schools in 5 districts of the state.The programme has been initiated with three district level Teacher Training Workshops (TTWs) for districts of Bandipora, Kupwara and Srinagar each attended by more than 50 resource persons.
The workshop facilitated teachers in developing Disaster Management Plans for their schools.
Creative Best from Waste
Every team demonstrated great spirit, innovation and creativity. The team which creatively made use of waster paper to show the diversity of wild animals won the first prize.
World Heritage Day on 18 April was celebrated by CEE North with a creative competition for schools in Lucknow . An inter-school competition was organized where schools were given a topic revolving around four themes - Nature, Society, Development and Heritage. Eighteen participating schools selected a category of the solid waste from the given seven categories (Ceramics, Glass, Wood, Paper, Plastic, Metal and E-waste). Each school team had 5-6 students and a teacher to use the waste to develop a creative product which could be either a decorative or utility product. Experts from the field of environment, arts, waste management and science were present to interact with the group. The time provided for product making was 2.30 hours. A team leader from each team made a presentation to panel of judges on the process followed in making the product.
"I enjoyed reading the 'ceenario'. It is not only informative but also hints at a different vision."
Prof. Dinesh Awasthi, Ph.D. (Econ.)
Director,
Entrepreneurship Development Institute of India
Gujarat (India)
Greening Curriculum in the Maldives
As a part of reviewing and strengthening Environment Education (EE) in Schools, a study to review the curriculum in the schools in Maldives and Nepal in consultation with the Ministry of Education and Ministry of Environment and Forest in the respective countries were initiated with support from UNEP. South Asia Youth Environment Network (SAYEN) National Focal Points (NFPs) in the two countries facilitated the process in the respective countries and the study was undertaken by CEE, the SAYEN Secretariat.
The Maldives Green Curriculum Report was officially launched on 30 April, 2009 along with the Maldives National Sustainable Development Strategy and the Third National Action Plan by Dr. Mohamed Shareef, Deputy Minister, Ministry of Housing, Transport and Environment, Maldives ; Dr. Young Woo Park, Regional Director, UNEP and Mr. Amjad Abdulla, Director General. The report was well appreciated.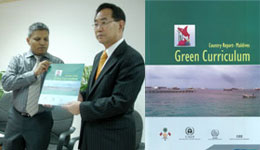 Country Report Maldives Green Curriculum includes the analysis of primary school curriculum in Maldives with recommendations on its Greening.
A variety of school events were held to mark Earth Day on 22 nd April. In Shimla, Mr. Sodhi, Programme Director, Small Grants Programme addressed over 1000 teacher and students on the urgent need to bring positive changes in our lifestyles and reduce our footprint and increase our hand prints to mitigate the effects of climate change. It was also an occasion to take the Kaun Banega Bharat Ka Paryavaran Ambassador (KBPA) Campaign ahead by getting the audiences to cast their votes for Environment Ambassador. This was also part of the programme at a school event in Gurgaon.

As part of the National Green Corps (NGC) Programme activities, CEE West celebrated Earth Day at two places.

A week-long painting workshop was organized in Diu, a small island Union Territory off the Gujarat coast, in association with Bal Bhavan Board, Diu and Forest Department, Diu .

Ten children from Gujarat , 5 children from Rajasthan and 15 children from Diu attended the workshop which focused on creating a sense of appreciation for the environment. Mr. Premjit Baria, a renowned art teacher and Director of Bal Bhavan, Diu facilited the workshop. Outdoor sessions were also conducted on Nagoa beach and in the Dagachi Forest , where children painted the view of a beach during day/evening and also a forest. By the end of the workshop, the children, some of whom had never used a pencil to draw, confidently handled paintbrushes.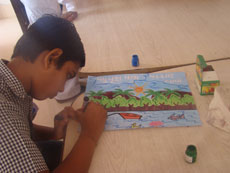 Earth Day celebrations in Jaipur, Rajasthan aimed at making school children and residents of Bani Park and Mansarovar areas in Jaipur city aware about the degrading environment and focusing on solutions to prevent the critical phenomenon of climate change. The event was organized in association with the Rajasthan State Pollution Control Board (RSPCB) and Rajasthan State Bharat Scouts and Guides.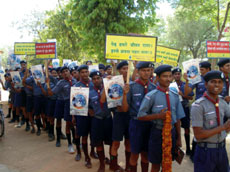 A rally and film screening on Climate Change were conducted. Resource material in the form of a brochure and a poster developed by CEE with support from RSPCB were also distributed for their awareness and sensitization.

As part of the Earth Day celebrations, Accenture, a Global Management Consulting firm organised an environmental awareness programme for its staff in Hyderabad. The programme, facilitated by CEE Andhra Pradesh started with a discussion on the use of plastics in daily life, and especially in the office campus. Later the staff made commitments for environment-friendly actions, including stopping the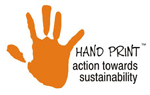 use of plastic bags. A Handprint campaign followed this wherein the members of the Bhoomi club of Accenture wrote messages of positive actions to be taken and stamped it with their handprint. Display and sale of eco-friendly products like jute bags, jute folders and cloth bags received an excellent response from the Company's staff.
The Green Generation in Action
CEE through its South Asia Youth Environment Network (SAYEN) Secretariat has launched the campaign on " Say NO To Plastic Carry Bags " in Ahmedabad.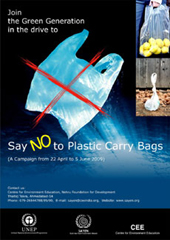 As a part of the campaign, scheduled to run from April 22 to 5 June, the youth volunteers plan to interact with community members in selected residential areas, conducting surveys, creating awareness on the harmful effects of plastic carry bags, and identifying individuals and groups interested to work for the campaign. Following this, a series of activities and events such as street corner theatres (Nukkad Nataks), rallies, exhibitions and competitions are planned to be conducted along with other interested youth groups in the city.

The youth have also initiated a signature campaign across the city by putting up stalls at various public places encouraging people to pledge on "Say NO to plastic carry bags". Within the first two days of the signature campaign, more than three hundred people have signed up, and the numbers are growing each day.