Public Consultation with the Fisherfolks and Community on Coastal Regulation Zone (CRZ) NotificationPartnership Across the Gulfs

The Ministry of Environment and Forests (MoEF) has commissioned CEE to facilitate public consultations on strengthening Coastal Regulation Zone (CRZ). Following, the consultations in Mumbai (12 August 2009), the second consultation was held in Chennai on 19 August 2009. Around 800 people, from coastal districts and towns of Tamil Nadu, Andhra Pradesh and Puducherry turned up for the meeting. Around 60 percent of the participants were women from the fisher and coastal community. The participants included the local political leaders, fisher federation leaders, CBOs, NGOs and policy advocacy networks. Mr. Jairam Ramesh, Union Minister, (MoEF) chaired the meeting.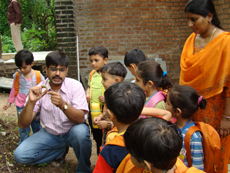 The board game has both Arabic and English versions.
Before opening up the forum for discussions, the Union Minister made it very clear that the Coastal Management Zone (CMZ) Notification, 2008 had lapsed and that his priority was to seek the viewpoints from the local communities, especially the women and fisher people to strengthen the CRZ.

The viewpoints of the participants covered various coastal issues pertaining to livelihood, ecology, pollution, habitat development, CRZ violations, conflict with industries, pressures due to coastal infrastructure development, ports, thermal power plants, sand mining and tourism.

As in the meeting in Mumbai, the Minister gave his remarks after hearing the viewpoints and grievances of the local community members. Some of the most important remarks and decisions arising from the Tamil Nadu and Mumbai consultations, including the press conferences were:

" A draft of Fishermen Rights Bill will be introduced in Parliament in December to protect the traditional rights of fishermen.
" The Ministry of Environment and Forests is going to setup a Centre for Sustainable Coastal Zone Management under Anna University, Chennai, for sustainable development of coastal areas.
" CRZ violations would be put up on the Ministry's website.
" A study on the cumulative effects of ports on the beach profile and coastal ecology is being carried out and report would be available by December.
" The setting up of a National Green Tribunal to address grievances due to environmental pollution and damages.
" Mapping of vulnerable coastal areas in the country.
" Doing away with the "in-principle" approval; in future MoEF will only give "final approval or non-approval" for environmental clearance of huge infrastructure projects.

The meeting in Chennai concluded with a reassurance from the Minister stating that when it came to managing coastal areas, the welfare of fishermen and their families would be given priority over the construction of luxury hotels and other commercial development activity.
Details are available on www.ceeindia.org website.