Action Plan for National Environment Policy (NEP)
The Ministry of Environment and Forests (MoEF) along with CEE took a major initiative involving over 70 people from various departments and Pollution Control Boards across India to work out action programmes based on the NEP 2006. Shri Vijai Sharma, Secretary MoEF, inaugurated the workshop.
Small Grants Programme India Retreat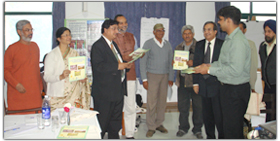 The 'Small Grants Programme (SGP) India Retreat' was organised from 14-17 January 2009, in Udaipur, Rajasthan. The retreat provided a platform for the SGP team across India along with the National Steering Committee & Regional Committee members to come together and share their experiences and discuss the way forward towards the SGP in India. Local SGP partners made detailed presentations of their projects. Mr. Hem Pande, Joint Secretary, MoEF, GOI; Mr. Anil Arora from UNDP country office, NSC members, SGP RCs from all the seven regions and staff of the SGP secretariat were the key participant in the workshop.