Himalayan Wetlands and Climate Change

High altitude wetlands in the Indian Himalayan region warrant special attention in the light of climate change impacts. Most of these wetlands are of glacial origin and climate change may have impact on these ecosystems as well as the local communities dependent on these directly or indirectly. With CEE's experience of communication, education, participation and awareness activities in different parts of country, CEE's Himalayan initiative is working for people's participation in high altitude wetlands conservation through education and awareness.Relevant education materials including activity book for students, teachers' manual, posters for community and tourists and slide shows for community awareness have been developed.
Rashmi Gangwar, Programme Coordinator, CEE Himalaya attended an International Training of Trainers on Wetlands Management which focused on facilitation of multi-stakeholder process and curriculum development for wetland management. The programme was organised by Wageningen International from 8 – 26 June at Wageningen, Nederlands.

CEE has been working to create awareness among the people living around the Dal Lake, an urban Himalayan lake which is threatened due to sewage and solid waste pollution, encroachment, eutrophication and siltation. The lake is special for its human settlements within the lake accommodating a population above 60,000 people. CEE through its interventions has created awareness about the threats to Dal Lake , deterioration in water quality and its impact on the health and livelihoods of people, solid waste management and the role of individuals in conservation of the lake. Students, teachers, tour operators, houseboat owners, women, youth and community members have been addressed through school programmes, teacher trainings community meetings, health camps etc.

Hokarser and Wullar lakes are other wetlands in Jammu & Kashmir where CEE has conducted education and awareness activities about the importance of these wetlands for local people's livelihood as well as for the food and breeding of migratory birds visiting these areas. A community awareness programme was held at Asian wetland in Uttarakhand that attracts large number of water fowl. CEE is in the process of initiating awareness and education programme for preparedness towards climate change adaptation in Pongdam Lake in Himachal Pradesh.
Reaching out through Live Telecast
As a part of their capacity building activities to strengthen the higher education system in the state, Department of Higher Education, Government of Gujarat conducts a 2 hour orientation programme everyday for teachers and students across all the colleges in Gujarat. This is done using the Bhaskaracharya Institute for Space Applications and Geoinformatics (BISAG).




As a part of this programme CEE conducted a session on Environment Action in Colleges. Gopal Kumar Jain, Programme Coordinator and Aparna Susarla, Programme Officer, Youth Programmes at CEE facilitated this one-hour live telecast session. The focus was on initiating eco-clubs in the colleges of Gujarat and how the youth in these colleges could take up actions related to Environment and Sustainable Development.


Reshaping the World - Asian Youth Forum
The 3rd UNESCO Asian Youth Forum was held in Republic of Korea from 2 to 7 July 2009. The theme of 2009 Forum was Reshaping our Future: In Search of Asian Alternatives, and the participants from 26 countries in Asia actively engaged themselves in youth-related discussions related on the theme. One of the priorities of this year's Forum was to bring international solidarity.

Today's youth have become the most vulnerable generation to the current global economic crisis and young people all around the world have been isolated from society more than ever before. Young people's participation is of importance to help solve the current global economic phenomenon with their creativity and passion, and find alternative solutions in the Asian community. The Forum aimed to open a space for youth to approach their own concerns and explore Asia 's regionally-based alternatives. Mr. Kartikeya Sarabhai, Director, CEE was invited as one of the keynote speakers in the Forum. He called upon the youth to change the unsustainable lifestyles of the 'early developers', with ecological footprints several times larger than their share. He referred to Asia's ancient cultures endowed with a deep understanding of the ways of living in harmony with Nature. He said that it is time that these are articulated to reshape not only what is done in Asia, but also to demonstrate leadership and an alternative way of living to the entire world.

Young Buzz


CEE Central has started a new monthly page called EarthCare in Sakal Young Buzz (a weekly paper for children) that goes to schools in Maharashtra and Goa in the 'Newspaper in Education' mode. The online version is available at www.kidsrgreen.org. The first issue carries an article on the Forest Owlet and links to a bird feeder activity on this website, a slide show on owls and some owl calls.
"

ceenario is excellent - the contents are informative, style is lucid and get-up is attractive. Thanks for sending, keep it up!

"
Mr. S R Joshi, General Secretary
AV-CODE (Audio-Vedio Communicator for Development and Education)
Internship Programme

CEE North East in partnership with RCE Guwahati is conducting an internship programme of students from ICFAI University. As part of Social / Environmental orientation, ICFAI University have made this internship compulsory for their students. A group of 13 interns have been working with CEE North East on Climate Change issues. They have been given a brief orientation on science, concepts, climate change issues and measures for mitigation.


The programme has drawn very good response from students and teachers.

The interns selected school students as their target group for the internship assignment. They have already conducted awareness programmes in 45 National Green Corps schools in Assam, Nagaland and Sikkim. The school programme included Pick Right Campaign, Kaun Banega Bharat ka Paryavaran Ambassador Campaign, lifestyle and climate change linkages, environmental games and local issues related to climate change.

A partnership for WASH

The Kirloskar Foundation and CEE Central urban programmes are facilitating improvements in school water, sanitation and hygiene in 20 schools of Pune, most of which are under the municipal administration. In a novel CSR arrangement, volunteers from the Kirloskar group of companies are engaging students, teachers, principals and cleaning staff in developing School Improvement Plans. The expectation is that volunteers would facilitate the implementation of the plans with the support of the municipal administration. An event was held on 2 July 2009 to share the experiences thus far and plan this year's activities.


The WASH programme focuses on Education and Communication on Water, Sanitation and Hygiene.

Anandshala: CEE's Whole-School Initiative

Anandshala has been developed as a model and methodology for Rural Primary School Education in partnership with village communities, state government, local institutions and individuals through participatory visioning exercises, local capacity building and provision of financial and technical resources.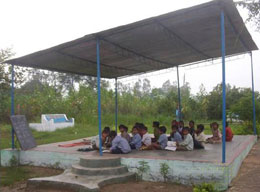 Initiated in 2002, till date CEE has facilitated the development of 41 Anandshalas in Gujarat.

As a part of this programme, 20 participants from 8 villages of Waghodiya block, Vadodara participated in a 2 day training of Village Education Committee conducted at CEE Ahmedabad. The objective was to generate enthusiasm and feeling of ownership of the village school among the participants. The programme included interactive games, lectures, power point presentations and an exposure visit. The first day of training brought about awareness on various responsibilities of the VEC. On the second day, they were taken to village which has developed as a model village. The education committee and panchayat (local self government) together do fruitful work in the village.

This exposure trip boosted the participants' spirits and they made a list of commitments towards improving the quality of education of their village.

Gram Shilpi

Gram Shilpi is a long-term commitment of cadre building for sustainable rural development based on the Gandhian Philosophy of development. This programme is organised by CEE's Rural Programmes Group in partnership with Gujarat Vidyapith.

After a long selection procedure, 8 graduates of Gujarat Vidyapith have now been selected as Gram Shilpis. They are currently undergoing a month-long training at Gujarat Vidyapith. The training includes water, soil and sanitation education; Participatory Rural Appraisal, Gramnivas (rural stay) etc. At the end of the training, the Gram Shilpis would be choosing the village where they would be staying and working for a longer term.

Total Solar Eclipse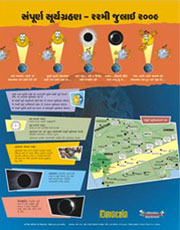 This poster will be posted on the notice boards of 36,000 government primary schools of Gujarat with the help of Sarva Shiksha Abhiyan of the state.
Parts of India will be experiencing a total solar eclipse on 22 July 2009. This solar eclipse is the longest total solar eclipse that will occur in the 21 century, and will not be surpassed in duration until June 13, 2132. As an attempt to dispel myths, superstitions and misconceptions related to eclipses, a poster for primary schools children has been prepared with illustrations to explain the phenomenon.


Building International Expert Network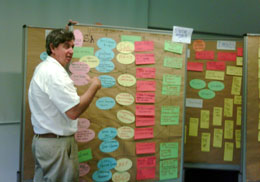 Rob O'Donoghue of the Rhodes University and EE Sustainability Unit making a presentation at the meeting. Rob is also the author of Share Net Handprint Resource Books
A capacity building program for experts in Education for Sustainable Development (ESD) was held in Bonn from 29 June to 1 July 2009. The programme, supported by InWEnt - Capacity building International, Germany, aimed to strengthen the global perspective and impact of ESD by building an international expert network. Experts from 4 countries, Mexico, Germany, India and South Africa were invited to exchange experiences, share approaches, join forces and extract synergies from their individual country. Kartikeya Sarabhai, Director, CEE was invited as one of the experts from India .

Presentation on needs and interests in the 4 countries to strengthen ESD activities in the formal and non-formal education sector was followed by discussions on measures that can address these needs and the possible value additions that the expert network can bring about.

Initially, cooperation between the four participating countries is aimed at, which would then be scaled up to a global level, so that many other countries can use these tools. The project plans to create a webpage as platform, followed by capacity building initiatives, exchange of young professionals for ESD, and the creation of an expert group. InWEnt is a non-profit organisation with worldwide operations dedicated to human resource development, advanced training and dialogue.