Interpreting a Stepwell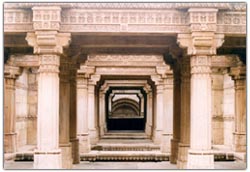 Stepwells – or stepped wells – are a unique heritage, especially in the state of Gujarat, India, which symbolise an amazingly seamless convergence of ecology, ancient engineering skills, architecture, sculpture, social cause, religion and mythology, trade, philanthropy, stewardship and ruler-ruled relationship.
Interpretation has been a key thrust area of CEE since its inception in 1984. CEE's interpretation programmes seek to convert the visits of people to natural and cultural heritage sites into an educational opportunity. They enhance the visitors' experience by providing on-site information through signages and exhibits, create a strong impact and go a long way towards increasing public commitment to the cause of conservation. Increasingly, interpretation is also emerging as a vital tool that helps to impress on visitors the critical link between environment and sustainable development.
The completion of an interpretation centre at Adalaj Stepwell 20 km from Ahmedabad is the latest in CEE's Cultural Heritage Interpretation. Thousands of people from villages and towns of Gujarat, from other states of India, and from abroad visit this stepwell, which is called Adalaj Vav, in the small village of Adalaj.
The interpretation facility will offer the many visitors to the Stepwell a glimpse of its history, environmental context, architectural and engineering aspects and, even more important, the two very significant aspects of the Stepwell – water conservation and blend of Hindu and Muslim sculpture. The Interpretation Centre is the result of partnership between NGO, government and the corporate sector.
Bio Vision World Life Science Forum
Mr. Simanta Kalita, Programme Coordinator, CEE North East and Mr. Ranjit Kumar Mohanty, Programme Coordinator, Rural Cadre Development, CEE were invited to participate in the Bio Vision World Life Science forum organised at Lyon, France. The main theme was 'Life Sciences challenging role in our expanding cities'.
The conference gathered 3000-4000 participants from across the world including NGOs, development actors, Nobel laureates, policy makers, and heads of major international organisations. A parallel session was held by Veolia Environment Institute, France under FACTS Report. The FACTS Report was initiated by Philippe Kourilsky, Professor at the College de France in Paris and Director General of the Pasteur Institute from 2000 to 2005. The major objective of the FACTS Reports Conference was to present, discuss and highlight important, innovative and highly interesting works from NGOs and international organisations that help to respond to some of the key global development and health problems of the 21st Century.
Mr. Kalita made a presentation on A journey of empowering communities for self reliance: Endogenous Tourism Project in the Governance and Sustainable Development Projects session, chaired by Dr. Peter Kearns.
Restoration of Village Ponds in Punjab

The Punjab government has invited CEE to devise a strategy for restoration and sustainable management of degraded village ponds in selected districts of the State. The project is an initiative of the Chief Minister Mr. Parkash Singh Badal.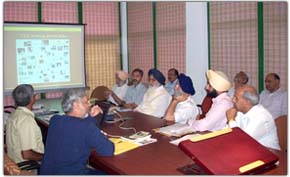 A a concept-level presentation to Chief Minister and senior state government officials in Chandigarh was followed by more meetings with state officials and a rapid appraisal of some proposed villages.
Based on detailed discussions with the State Government, a pilot-scale proposal covering nearly 100 ponds in 30 villages of two selected districts (Muktsar and Mansa) has been approved. CEE's 3-year, comprehensive and focused intervention will focus largely on social awareness, attitude and practices-based issues, with some degree of engineering solutions as more immediate, one-time demonstration measures in a few locations. A composite programme will cover awareness & education, capacity building, and implementation through both social as well as government-mediated action. Linkages will be built with the school system through the state-wide programme of Eco Clubs. Similarly, linkages with NGOs and village-level social groups will be strengthened for achieving the desired objectives.
The various administrative requirements are now being followed up, so that activities at field level may be initiated early. CEE will set up 2 teams to work in the 2 proposed districts, and a state-level coordination office at Chandigarh. It is expected that this project will lead to a revival of ponds in the two districts; a reduction in pollution and improvement in sanitation conditions; the formation and strengthening of user groups under Panchayats; the promotion of participatory solutions with local involvement; and a revival of village traditions and cultural practices related to ponds, which have eroded over the years due to the increasing dissociation of people from their ponds and other water bodies.
Travelling Exhibition on Gender and Water

The travelling exhibition on Gender and Water for South Asia titled 'Gender and Water: Insights, Innovation and Transformation' was displayed in United Kingdom, Pakistan and Turkey in March.
The travelling exhibition is made up of seven poster panels with photographs depicting issues related to Gender and Water in the South Asian region. The exhibition will travel to 6 countries: Bangladesh, Bhutan, India, Nepal, Pakistan and Sri Lanka. The exhibition has already been displayed in Sweden, India and Sri Lanka.
In U.K. the exhibition was displayed at University of Warwick and Birkbeck College, London. In Islamabad it was displayed by Aaurat Foundation, Sungi Foundation and DAAMAN development organisation. The exhibition will be displayed in Istanbul at the World Water Conference, by GWA with additional country panels developed by Pakistan, Nepal and Sri Lanka.
The exhibition has been launched by Gender and Water Alliance (GWA) in partnership with IW: LEARN (Global Environment Facility's - International Waters Learning Exchange and Resource Network) and CEE, Ahmedabad, India.
| | |
| --- | --- |
| | |
| The presentation highlighted the Endogenous Tourism Project in general and the processes of empowering communities in Sualkuchi site of the Project in particular. | |

The key strategies especially the multi-stakeholder partnership, community as the decision maker and converting the process from top-down to bottom-up was discussed in the presentation. The present status of the project, community involvement, benefits and future plans were also highlighted. Rural tourism in India, with the entire management in the hands of the community is a new model. There were many obstacles in setting this new model. These problems in the context of Sualkuchi site were also discussed in the paper.
Mr. Mohanty presented two papers at the conference. The first presentation titled Students Grow Their Own Vegetables in School Yards under Efficient Responses to The Food Crisis section based on the CEE's experience in Andhra Pradesh on the project aimed to provide chemical free, nutrient rich vegetables to the children and to provide an opportunity to learn by doing. The second presentation titled Cadre Building for Grass root Governance was shared under Governance And Sustainable Development Projects section, focused on the experience of Samvardhan programme implemented in the tribal belt of southern Gujarat. The presentation aimed at presenting cadre building as an alternative approach to the concurrent rural development scenario. The outcome of the presentations will be published as an article in the journal of the FACTS Report.