Earth Charter + 10
The Earth Charter completes ten years in 2010. Ten years after it was drafted, the Earth Charter's integrated ethical vision increasingly serves as an inspiration as well as a "standard by which the conduct of all individuals, organizations, businesses, governments and transnational institutions are to be guided and assessed" (Earth Charter Preamble). www.earthcharterinaction.org/content

The recent Earth Charter International Council meeting held at Amana- Key in Sao Paulo, Brazil decided to organize and promote a series of EC+10 events in 2010. Earth Charter partners, affiliates, and local action groups across the world will be organizing Earth Charter events throughout the year to celebrate the extraordinarily diverse, global network of people, organizations, and institutions that are promoting and implementing the values and principles of the Earth Charter. The sponsors and organizers of these events include leading international institutions, national governments and their agencies, university associations, non-government organizations and community-based groups, city governments, faith groups, schools and businesses as well as thousands of individuals.

The purpose of this year round celebrations include among others to generate new political and public awareness, support and commitment to the sustainability vision enshrined in the Earth Charter and to stimulate
further uses of the Charter .

Major events will begin with an Earth Day/Earth Charter conference in Mexico in April 2010 and end with a a global gathering in Ahmedabad, India in early December 2010 at the CEE campus. An all religion prayer meeting at the Sabarmati Ashram, where Mahatma Gandhi started his work in India, is also being planned as part of the CEE conference, affirming our need for an integrated ethical vision to guide our path to a just, sustainable and peaceful future for the community of life on Earth.
Handprint Action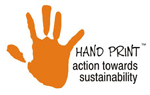 Sustainable Innovations in India is part of the UN-Decade 'Education for Sustainable Development' (ESD)-project, "Between Lecture Hall & Project Works", GTZ-Berlin. As part of this a summer training course was organized by GTZ with the aim of introducing participants from all over India to the concept of sustainable development, its approach and implementation in India.

CEE Andhra Pradesh team facilitated several sessions for the course. Dealing with the topic of Sustainability through positive actions, the concept of Handprint was introduced to the participants. This was followed by small exercise wherein the students compared the Footprints versus their Handprints.
Students, environment professionals, researchers, policy makers, NGOs, developmental experts were all active participants in the four week programme.


















To get practical insights to ESD the participants were taken on an exposure visit to Hussain Sagar Lake in Hyderabad on 7 May 2009 . The visit started with a nature trail in Sanjeevaiah Park situated at the edge of the lake to understand the ecological value of the lake. Later, the students visited a slum adjacent to the lake to identify the social issues and actions taken by government and non-government agencies towards conservation of the 400 year-old lake. The group also visited the Effluent Treatment Plant where they were exposed to different aspects of waste water treatment. The group also interacted with the concerned officials to understand the different dynamics of lake conservation.

The programme was conducted in 3 cities namely Hyderabad, Tirupathi and New Delhi. It focused on strengthening sustainable links between researchers and policy makers as well as strengthening the scientific and institutional capacities in developing countries.

Mr. Prabhjot Sodhi (National Coordinator, GEF UNDP SGP India) contributed as a resource person, trainer and facilitator of the training programme. On 6th & 7th May in Hyderabad, he also shared his experiences and ideas on Participatory Planning Systems in Programmes & Sustainable Institution Building in Urban setup.
CEE Join Hands for Science Popularization

CEE North joined hands for a science popularization programme of the District Science Club (DSC). The club is operated by Council of Science and Technology, Uttar Pradesh under the Department of Science and Technology. A month-long programme of school events is being organized to create awareness among schools on the science related to environment.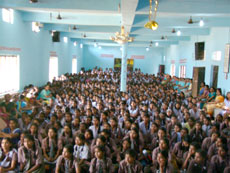 Each event is being attended by more than 500 students from 2-3 schools
As part of this, a series of 7 school events took place in various schools in the rural part of Lucknow district. CEE North participated in the programme with a focus on creating awareness among students about science of climate change. Briefing on the Pick Right and Kaun Banega Bharat Ka Paryavaran Ambassador campaign also took place. The other part of the programme includes a popular lecture by a scientist focusing on water conservation, a puppet show on conservation practices and demonstration session.
CSD-17

Commission on Sustainable Development as the Policy Session of the third implementation cycle was held from 4 - 15 May 2009 in New York. CSD - 17 focuses on the thematic issues on Africa, Agriculture, Drought & Desertification, Land, and Rural development.

The Chairman's draft negotiating text was the major input document during the meeting. CEE, on behalf of Ministry of Environment and Forest, Government of India facilitated a civil society consultation in April to invite comments, inputs, suggestions on official input document for CSD including the Chairman's Draft Negotiating Text.
The official Indian report to CSD - 17 "Sustainable Development - The Indian Experience" was prepared by CEE on behalf of the MoEF. The report highlights the experiences and key information on a range of areas like rural-urban divide, wage employment, traditional knowledge for enhancing health and livelihood, water conservation, corporate social responsibility and many more related areas.
4th South Asia Renewable Energy Conference 2009
ASSOCHAM with the support of Ministry of New and Renewable Energy, Government of India, is organizing the 4th South Asia Renewable Energy Conference on 29 July 2009 in New Delhi, to consolidate ongoing efforts towards comprehensive adaptation and commercialization of renewable energy technologies in the region.

CEE is the supporting organisation for the conference through development of programmatic content of the conference material, promotion of events, and participation.
www.assocham.org/4asia

World Environment Day 2009
World Environment Day, commemorated each year on 5 June, is one of the principal vehicles through which the United Nations Environment Programme stimulates worldwide awareness of the environment and enhances political attention and action. This year the theme for WED is
"Your Planet Needs You, UNite to Combat Climate Change".
CEE's offices across the country mark this day by conducting campaigns and other activities related to the theme.
www.unep.org/wed/2009/english/