WATSAN Activities

As a part of capacity building for Human Value Based Water, Sanitation and Hygiene Education (VBWSHE) in schools of the four project cities of Madhya Pradesh, a two-day workshop on "Rain Water Harvesting and VBWSHE was organized by UN-Habitat and Lake Conservation Authority of Madhya Pradesh at Bhopal on 1 - 2 September.
The first day of the workshop included a lecture on techniques of Rainwater harvesting, film screening, interactive activities and games on the theme of Water and Sanitation. More than 140 students participated from the different schools of Bhopal. On the second day, the workshop was conducted for teachers in which more than 50 teachers from different schools participated. The teachers were also oriented by Satish Awate, Programme Coordinator, CEE Central on how to use Guide Book-II in their schools and incorporate its activities in their regular curriculum.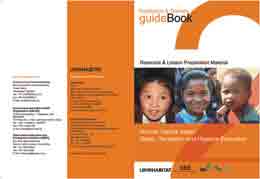 The education materials developed under the project were distribited. These include Facilitators & Trainers Guide Book-II on VBWSHE, Teachers Watsan Classroom activity manual, posters, and labels.
Similar workshops are being organized in four cities of Madhya Pradesh, namely Gwalior, Jabalpur, Indore and Bhopal, in which the materials developed by CEE for WATSAN project are being disseminated. About 200 teachers and 500 students will participate.