Outlook on Climate governance and water policy, with a focus on participatory approaches
4 February, 2021, by Srishti Singh
---
The increasing water stress and growing global demand, coupled with the consequences of climate change has forced tough decision-making in water resources allocation and has emerged as a dire need to tackle the developmental challenges.
India has 4% of the world's fresh water resources on which about 17% of the global population depends. With declining ground water level and with 92 million people without access to safe drinking water[i], India is the fifth most affected country on account of climate change as per the Global Climate Risk Index 2019[ii]. On the other hand, India acquires an intriguing dual position in the global climate politics – as a developing economy with low levels of historical and per capita emissions, and as a large and rapidly growing economy with rising emissions. The country also carries an additional responsibility of meeting the development needs and economic progress of its vast population, to build climate resilience and reduce the vulnerabilities. This essentially calls for appropriate governance mechanisms to address the changing water scenarios as well as mainstream climate adaptation into sectoral policies in order to ensure water security.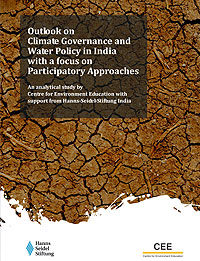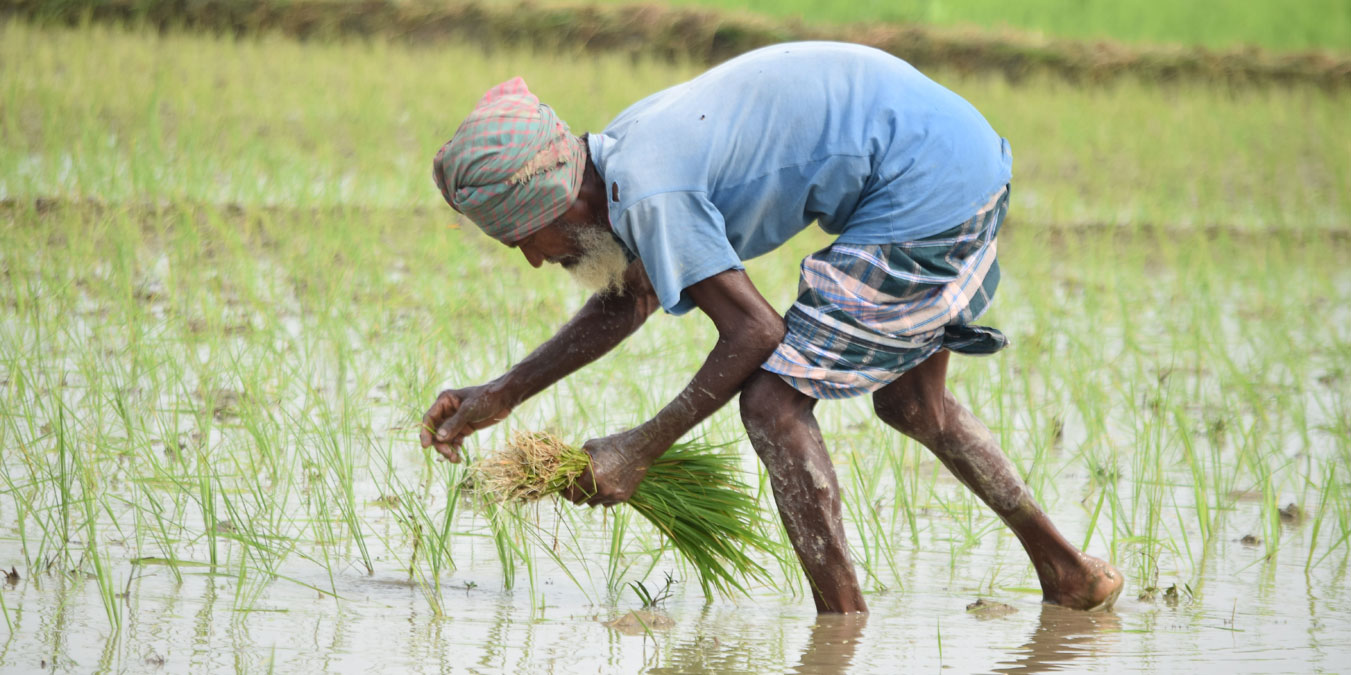 Picture Source: Ashraful Haque Akash, Unsplash
Climate change responses in India's water sector is emerging, primarily in the form of building adaptive capacity and no-regret type activities as response to multiple factors. The task of developing appropriate water policies to meet short-term water usage and demand priorities as well as in adapting to uncertain climate change impacts is tedious and requires long-term integration of economic, social, and environmental factors, with effective governance structures and approaches to optimize outcomes.
Participatory approaches, in the policy development process, are one of the core principles of good governance and have the ability to ensure coherence in cross-sectoral decision-making as well as implementation, thereby leading to sustainable solutions. The approach if strengthened across levels could prove vital for sustainable management of water as well as also helps bridge the gap between the policy formulation and implementation, striking a right balance between central top-down policies and subnational bottom-up approaches, along-with ensuring long-term ownership of the plans and projects to complement the adaptive water management initiatives.
Sustainable policy development, thus calls for imperative participatory approaches in order to have truly bottom-up decision-making processes for designing, developing and implementing coherent policies. This also will potentially help improve the water governance to facilitate vertical (among levels of government) and horizontal (among sectors, and geographies) co-ordination, and to resolve conflicts.
A human rights-based approach supported by good governance is at the core of water security. This approach has a potential to address critical gaps and bottlenecks, as well as emphasizing the establishment of regulatory mechanisms for efficiency, participation and accountability. The economic, social and environmental value of water would keep changing with the deepening climate crisis and this changing nature also needs to be kept in mind during policy formulation. Shifting of priorities to local, decentralized, small-scale, community-led adaptive water management and conservation hence need to be considered in the national planning processes.
"We do not have to worry about policy incoherence, if the people are truly involved in deciding their own water security arrangements." (Securing Water for all, Development Alternative, 2015)
[i]https://www4.unfccc.int/sites/Submissions
Staging/Documents/176_356_131503559958877314-India%20Submission%20APA%20Agenda%203%2
0NDC.pdf
[ii]https://germanwatch.org/sites/germanwatch.org/ files/Global%20Climate%20Risk%20Index%
202019_2.pdf
The blog is an excerpt from the study conducted by Centre for Environment Education (CEE) with financial support from Hans-Seidel-Stiftung India (HSS India) which draws opinions from secondary literature, policy analysis and organization's experiences over the years. The study is mainly intended for discussions to strengthen coherence between existing policies and potential actions, through promoting stakeholder engagement within water policy and climate change governance.
---
Gandhi and Cities
1st October 2020 - by Kartikeya V Sarabhai
Talk at 'Gandhi and Cities' webinar on 1 October 2020, organized by INHAF as part of its Rethinking Cities series
---
Most of Gandhiji's comments on settlements deal with villages. He has written about his concept of an ideal village. One which is largely self-sufficient for its essential needs and interdependent on the outside world only where necessary. [1] He saw a village unit meeting most of its needs of food, clothing, livelihood, education, recreation, playgrounds for children, worship and settlement of disputes. He saw these units as maintaining their own law and order through community recruited village guards. The community would also look after their own waterworks and ensure clean water supply. Sanitation was a core concern and the unit needed to ensure that.

One can think of replacing the word village with urban neighbourhood or ward. Look at the governance of a city in a much more decentralized way with increased local and community sense of ownership, control and responsibility.
The Covid pandemic has demonstrated that when human activity, especially mobility using motorized transport, slows down, it has a dramatic effect on the environment. Air becomes more breathable. We have witnessed people in north Indian cities like Jalandhar, going up on their terraces to see for the first time the Himalayan sky line at the distance. The digital revolution has given us tools of being able to work and communicate from a distance, including the holding of this series of webinars, without moving out from our homes. I remember my college days of spending hours inside libraries searching for books I wanted to refer. Today that too is largely possible from my home. Last night I wanted to refer to the Collected Works of Mahatma Gandhi (CWMG) and I could instantly do this on my phone using the wonderful Gandhi Heritage Portal being run by the Sabarmati Ashram. But to achieve a decentralized, neighbourhood community managed city in which ownership is felt by communities of their neighbourhood requires changes in the way we thing and govern cities. In my mind Gandhiji would have insisted on this.
Cities, with all their plus points can also alienate people. The sense of an ownership and belonging is critical to this and to make cities better places to live in. The local community in a Gandhian sense need to be the Trustees of their area, their environment. As we think of Gandhi and the City today, we need to expand on what Trusteeship means in the urban context. Trusteeship at the city level and at the neighbourhood level. In most of our historic cities, the business, trade and commercial elite have had and felt a sense a belonging, ownership and pride in their cities. There are innumerable examples of citizens building public facilities, institutions, giving in charity and doing things for the wider community. Today CSR enables businesses to give and get involved. But my sense is that today there is an increasing feeling that public spaces and public works belong to the Municipality or Government. The level of consultation and public debate, of involving people in decision making is lower. The feeling of efficacy is also lacking. Forums for public participation in civic affairs need to be enormously strengthened.
It would also be wrong to think of Trusteeship as something to do with the rich and more fortunate. A person looking after the tree in front of their dwelling as if it her responsibility, is no less a trustee of the city as someone who can engage at larger levels. The point is that a city needs to be run as a partnership between people, the community and the authorities. In many cases we do see Municipalities working in this direction. In Pune, the Centre for Environment Education, (CEE), has been engaged for several years in getting communities to participate in local ward level budgeting and deciding on priorities. Environmental agendas call upon a lot of people's participation, whether it is the Clean Air Action Plan or the call of waste management at source. Better segregation and neighbourhood level composting of wet waste. Writing in 1935, Gandhiji said, "What I would personally prefer would be not a centralization of power in the hands of the State, but an extension of the sense of trusteeship; as in my opinion the violence of private ownership is less injurious than the violence of the State….I would support a minimum of State-ownership."[2]
At the foundation laying ceremony for the MJ Library at Ahmedabad, Gandhiji remarked, "I wanted Ahmedabad to be a city beautiful. But beautiful in my own sense of the word. Of course it should have….. gardens and scenic beauty, but I expect it to have inner beauty as well…… If anything is bad here, we are to blame for it. We have made Ahmedabad dirty. Yet to this day I cannot certify that Ahmedabad is a clean city. There is no fragrance, the whole city stinks….. The neighbourhood could be cleaned if ……. (we) …….. could again rally men and women volunteers to do it".[3] Sardar Patel was the head of the Municipality at the time, but it is important that Gandhiji underscores that this can't be done by the Municipality without the active involvement of people. But he also concedes that "it is not recognized that a municipality does not deserve to exist where streets and lanes are not scrupulously clean all the hours of the day and night…… To think of all the municipalities in the aggregate and to wait till everyone has begun the work is indefinitely to postpone the reform. Let those who have got the will and the ability commence the reform in right earnest now, and the rest will follow"[4].
Today, 87 years later, we still have parts of our city that stink. When we started work at Thaltej Tekra, and Kirtee Shah and I ran the magazine AmdaVadmA in the late 1970's, the Thaltej hill was the highest in the city. Today that is no longer true! The Pirana hill of waste is taller and from a distance can well be mistaken for a natural hill.
Talking about Dr. Hari Prasad's seven month long effort to keep the city of Ahmedabad clean Gandhiji writes "Those who do not know how to serve their own city can never serve their country..….. This effort to keep the city clean is an example of co-operation between a municipality and the citizens..…..It is possible to raise the necessary funds to make Ahmedabad a model of cleanliness…….. The money given for this work will bring a handsome return, for if the city has sufficient number of open grounds with trees in them…… the health of the citizens will improve considerably and the price of the land will also appreciate. The citizens can insist that the expenditure should be incurred under their own supervision. Hence the money given for this work will not be a gift but will be an instance of economic foresight"[5]. It is interesting how Gandhiji well understands the minds of the wealthy and alludes to the price of land going up! But important in this quote is also the fact that citizens need at times to actually be directly involved in city improvement schemes.
We at CEE were given a barren plot by the AMC in 1996. We planted trees and tried to involve youth groups and the community. 18 years later, in 2014 this was handed back to the Municipality. A Community Walkers' group from the neighbouring residential societies had been actively contributing to the upkeep and protection of the urban forest as it developed. CEE therefore while handing over the plot to AMC involved them in the process for their continued involvement. The AMC on its part handed the plot to a Business house to manage it under a CSR project. The Community Walkers' group members continue to use the space and take up issues with AMC and others regarding its protection as a forest. Such projects are possible and Gandhiji's idea of voluntary citizen involvement in cities is possible.
Unfortunately waste is not the only 'stink' in our cities. We have a long way to go in removing poverty and unemployment, giving dignity to all our citizens including very importantly the informal sector. The rag pickers are a key to making it possible to take the city towards a circular economy. They remain on the fringe of the city's decision making and policy despite the important role they play in the city's economy, often as invisible citizens. The problems and prejudices of caste and religion continue to be deeply ingrained. I have always been a proud Amdavadi. But soon after the Hindu-Muslim riots in Ahmedabad, a senior staff at CEE, said that she has decided to leave the city because she as a Hindu women married to a Muslim man cannot find a decent house in Ahmedabad. They were refused everywhere. I think that moment for me was such a moment of shame for my city. Any number of such stories of Dalits and Muslims and a few other groups continue to shame us on a daily basis.
Writing to Dr. Hariprasad Desai in November 1944 Gandhiji writes, "I Shall be satisfied only if Ahmedabad helps me realize my dream, that is, if untouchability goes root and branch, men and women…attain equality, the inequality between the rich and the labourers is removed, drink and gambling are stopped,…ideal cleanliness of the heart as well as in outer life is observed and no one suffers hunger. Do whatever you can out of this and persuade others to do so"[6].
Gandhi's key concepts on decentralization, trusteeship, participation, importance of sanitation, discrimination, non-violence, are all crucial to building a sustainable future for our cities.
For Ahmedabad a special contribution of Gandhi was also the establishment of Majoor Mahajan Sangh (the Textile Labour Association, TLA) for the peaceful settlement of disputes in this case between workers and mill owners. Institutional mechanisms to take these ideas forward are essential if they are to become a reality.
---
[1] M K Gandhi, India of My Dreams, Navjivan, 1947, 2016 edition p 98.
[2] M K Gandhi, ib.id. p. 68
[3] Speech at foundation laying ceremony at MJ Library, Sept 21, 1933. CWMG vol. 56, p 15-16
[4] M K Gandhi, Municipal Life in Young India, 29 -10-1925, Vol. 28, p. 400-402
[5] M K Gandhi, Navjivan, 9-5-1926, CMMG vol. 30, p. 424-425.
[6] Letter to Dr. Hariprasad Desai, November 19, 1944, CWMG vol. 78, p. 316